A Q&A with Logan Bearden, graduate times three
---
A Q&A with Logan Bearden, graduate times three
By Molly Wexler
Florida State University alumnus Logan Bearden is currently assistant professor of English Language and Literature at Eastern Michigan University. Before being hired at MSU, which includes the position of First-Year Writing Director, Bearden's academic journey in higher education began and ended in FSU's Department of English.
After earning a Bachelor of Arts in English Literature in 2010, he joined the Master of Arts program in Rhetoric and Composition. Upon completion of his M.A., he continued on and earned his doctorate in Rhetoric and Composition in 2016.
Now an accomplished scholar and professor, Bearden shares his appreciation for his time at FSU below. He thanks the professors who shaped him along the way, and he describes how the Rhetoric and Composition Program inspired his teaching style.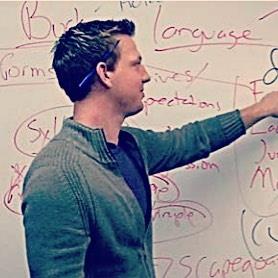 Q: What influenced you to complete your three degrees at FSU?
A: Like most people who go to Florida State University for their undergraduate degrees, I grew up in Florida. I've known since I was 15 that I wanted to be an English professor, so I found my home in the English department at FSU. I happened into ENG 4020: Rhetorical Theory and Practice with Dr. Kristie Fleckenstein during my senior year, and I loved it.
I asked Dr. Fleckenstein about graduate programs in Rhetoric and Composition, and she told me that FSU had a great program. She was right. I applied to the M.A. in Rhetoric and Composition and found my academic family. When it came time to go for my Ph.D., it made more sense for me to stay and study with leading scholars in the field who already knew me and who knew my work.
Q: What inspired your interest in Old English literature and its connection to multimodality in your master's thesis?
A: I took Medieval Literature in Translation with [former FSU English] Professor Elaine Treharne in the summer of 2009 and fell in love with the materiality of illuminated manuscripts. When I got into my M.A. program and discovered multimodal theory, I found a new vocabulary for understanding those manuscripts. I thought that by looking to history we could understand multimodality in the present differently.
Q: What FSU faculty members stand out to you as particularly inspiring in the Rhetoric and Composition Program?
A: All of them stand out to me for different reasons. When I was 19, Dr. Fleckenstein gave me the confidence to apply to graduate programs in Rhetoric and Composition, and she always gave me the most generative and generous feedback on my writing.
When I entered the graduate program, Dr. Kathleen Yancey asked me what I wanted to do with my career, and she then helped me map out how I could use my time in graduate school to work toward those goals. Dr. Rhea Lathan's mantra of "read yourself full; write yourself empty" is something that I will always carry with me.
Dr. Tarez Samra Graban reminded me that, while it is important to challenge myself and embrace the rigor, it's even more important to make sure that I am where I want to be. Dr. Michael Neal always emphasized the importance of community and collaboration, helping me see the importance of building my Rhetoric and Composition family.
And not least, Dr. Deborah Coxwell-Teague [FSU's former director of the First-Year Composition Program] showed me that you can lead an innovative, ground-breaking writing program with grace, kindness, and humor.
Q: Did you always see yourself teaching or did the Rhetoric and Composition Program interest you in different fields?
A: Yes. I always saw myself teaching, and that was why I chose to stay at FSU. The Rhetoric and Composition Program's commitment to excellence in teaching is, I think, one of the program's many strengths.
Q: How has the Rhetoric and Composition Program at FSU influenced you as a professor?
A: The program has shaped every part of my identity as a professor—my attention to multimodal composition, to collaborative assessment practices, to productive and generous feedback, to embracing the rigor, and to documenting learning via portfolios all come from my experiences in the Rhetoric and Composition Program at FSU.
Bearden's academic career has not only enriched his own understanding of rhetoric and composition, but he has also brought that enrichment to his students at Eastern Michigan University. Much like the professors who inspired him to push himself to the highest academic achievements, he will positively affect a new generation of motivated students.
Molly Wexler is a recent graduate who majored in English with a concentration in editing, writing, and media, in addition to a Teaching English to Speakers of Other Languages certification.
Follow the English department on Instagram @fsuenglish; on Facebook facebook.com/fsuenglishdepartment/; and Twitter, @fsu_englishdept