Professors' friendship inspires scholarly alliance
---
Professors' friendship inspires scholarly alliance
Serendipity influences much of what happens in life. Take this path instead of that one, and a person can end up in a different life altogether.
Sometimes, though, a chance meeting between two people pushes one of them a little bit further in a direction they were already headed. Marcus Mota, a University of Brasilia, Brazil Professor since 1995, had such an encounter with Florida State University English Professor Stan Gontarski.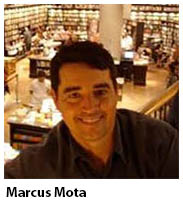 Mota, who teaches in the Performing Arts Department at his institution, had a chance meeting with Gontarksi in 2005, and Mota then fatefully found himself teaching courses on playwriting a few years later in FSU's English department. Based on that experience, Mota transformed his course notebooks into a text, which became his 2018 book, Dramatugias. Conceitos, Exercícios e Análises.
When recounting the events leading to his publication, Mota calls the 13-plus years of his friendship with Gontarski "an amazing history."
The two first met when Gontarski conducted a series of seminars on the work of Samuel Beckett at Brazilian universities, in São Paulo, Goiânia, and Brasilia, for the Samuel Beckett Research Group. The organization is a community of scholars from a range of disciplines who advocate for the "advancement of scholarly and creative engagement with the works of Samuel Beckett," according the group's mission statement.
"What was most appealing to me," Gontarski notes, "was that very few of the seminar participants were literary scholars. Many were in theater history and performance, but others were in sociology and particularly in anthropology. Brazil has a strong history of anthropological interest in indigenous performance."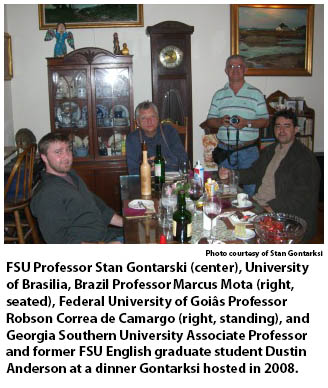 Mota was responsible for organizing Gontarski's seminars on Beckett in Brasilia, and he worked on the entire program with his colleague Robson Correa de Camargo, who is currently a theater director and a professor of drama and criticism at Federal University of Goiâs in Goiânia.
"Stan, Robson, and I had good times in Brasilia," Mota says. "For me, Stan is an example of a scholar so cool and so prepared."
Gontarski appreciated the full scope of his experiences in Brazil.
"The seminars in Brasilia were also exciting because Marcus himself works in the broad field of performance studies, and in the Brasilia seminars I showed some of my early films, from the 1980s," Gontarski says. "Through those seminars I also met a remarkable pair of artists and theater directors who were also interested in staging Beckett's work in unconventional ways.  I subsequently worked with Fernando and Adriano Guimarães in Rio di Janiero and São Paulo, and I remain in touch with them as well." (For examples of their work, see art-breath.com/guimaraes/)
Around the time of those 2005 presentations, Mota's wife, Gisele Pires, was considering doctoral programs for her degree in piano accompaniment, and Gontarski suggested she look into the programs at the FSU School of Music since it is world class. She eventually chose FSU.
Mota came with her to Tallahassee, and for his own research into theater staging, he began to observe classes in the College of Music, specifically ones taught by Professor Matthew Lata, who is the stage director of the Florida State Opera. In addition, Mota sat in on several of Gontarki's seminars, especially ones on James Joyce's Finnegans Wake.
"I remember that one year," Gontaski recalls, "he brought the Portuguese translation of Finnegans Wake to the seminar and read portions in Portuguese to my astounded students."
During those seminars and weekly lunches, Mota and Gontarski came up with the possibility of Mota offering classes at FSU on writing for stage. At the beginning of 2008, he taught his first class in FSU's English department.
The first course, Mota explains, was about basic dramatic writing skills—space, isolated scenes, conflicts between characters, among other topics. The next year, he taught an advanced seminar on dramatic technique, which followed the planning and writing of a complete play over the course of a semester.
"At first, I was not fluent in verbal exchange in English, so I wrote out all my lectures, and studied a lot, having meetings with several students and colleagues," says Mota, who specializes in ancient Greek tragedy and classical reception. "FSU for me was my first extended contact with a real experience in the U.S."
Gontarski notes it was remarkable to see Mota apply himself to teaching dramatic writing skills to American undergraduates.
"Marcus is a world-class playwright, director, opera librettist and musical composer, and he brought all those skills to the classroom for our undergraduates, for adjunct or T. A. wages, I might add," he says.
Mota also started keeping a journal, writing down the contrasts between living in America and Brazil. He also wrote a musical, two novels, and several essays during his time in Tallahassee.
"I'm so grateful to Stan and to FSU for providing so open an environment to pursue some goals I couldn't pursue in Brazil," Mota says. "Because of teaching all the time, I've never had this opportunity of dedicating myself to writing. Because of that, Stan became more than someone I've admired—he became a friend, someone to trust, and to exchange ideas and experiences with."
The inspiration to turn his course notes into books stemmed from lessons he learned in school from his professors who used the Humboldtian-German model for teaching. Mota says he follows the model to this day.
"For me, classes are not just for students," he says. "First of all, I teach myself in their preparation. Then I learn a lot from the students, even from those who resist, those against me, my role, or my ideas."
That teaching experience at Florida State became Dramatugias. Conceitos, Exercícios e Análises, one of 19 books that Mota has published, all with Brazilian and Portuguese publishing houses. Gontarski sees the FSU-focused book as an exceptional representation of Mota's teaching philosophy.
"This is a wonderful publication by a world-class theater practitioner struggling through a new sort of environment, in a new language for him," he says, "and it generates for me warm memories of his teaching our students dramatic technique here in Tallahassee and a nostalgia for the lunches we had discussing his work in those classes."
When Mota returned to Brazil after his teaching stint at FSU, he became involved in several artistic projects in music theatre and music orchestration. Then, in 2016, he started an online academic journal, Dramaturgias, and he asked Gontarski to collaborate and consult on the first several issues.
"It's so difficult to find someone like him. Academic worlds are full of vanity and waste of time. Stan is unique: it's quite impossible to escape his charm and elegance."
For his part Gontarski says that Mota is a brilliant dramatist and composer and director of operas, particularly his Saul.
"We were lucky to have him in our classrooms," Gontarski says, "even for only a few semesters, but now we have a permanent record of that experience in his Dramatugias. Conceitos, Exercícios e Análises."
Explore more of Marcus Mota's work
-- Watch an interview with Marcus Mota about Dramatugias. Conceitos, Exercícios e Análises and his research.
-- See his program for the opera Saul: academia.edu/6906271/Saul._Drama_Musical_Saul._Musical_Drama._Programa_Guide
-- Many of his musical compositions, particularly Samba variations, can be found on Soundcloud: soundcloud.com/marcusmota
Links to the Orchestral Suite Kandinskyana (description by Marcus Mota)
The videos linked below are based on 10 Kandinsky's Compositions, and the project took two years for Mota to finish. His next step is to have the orchestrations performed onstage by a live orchestra. 
He developed this project at DramaLab at University of Brasilia, Brazil, and the project proposal was based on the theoretical texts of Kandinsky, the secondary bibliography specific to the theme, and the analysis of a cycle of paintings called "Compositions," in order to perform musical orchestrations that dialogue with the images and creative decisions of each frame studied. These orchestrations are not illustrations of the visual works: they are sound scripts for digital interventions into each painting, converging in a video that integrates music with the movement within Kandinsky's visual work. 
Audiocena X, based on Compositon 7 : https://youtu.be/jd6q8TKssoQ
Audiocena IX, based on Composition 3 :  https://youtu.be/m8NKAf16TYs
Audiocena VIII, based on Composition 1:https://youtu.be/1u7CKFZyjmQ
Audiocena VII, based on Composition 9 : https://youtu.be/v5qlrff7TDE
Audiocena VI, based on Composition 10: https://youtu.be/SM4HlsspB0E
Audiocena V, based on Composition 2: https://youtu.be/fvdqIQnkACQ
Audiocena IV based on Composition 5: https://youtu.be/HjGxNd9EMeo
Audiocena III, basede on Composition 8: https://youtu.be/JM1Hv2fSjok
Audiocena II based on Composition 6: https://youtu.be/BvT0nmWXFnA
Audiocena I, based on Composition 4 : https://youtu.be/-Ph550fz94c
Links to the Orchestral Heliodorian Suite
Movement 1;: https://youtu.be/4CRVRyNI23g
Movement 2: https://youtu.be/eL2SqxvWNJ0
Movement 3: https://youtu.be/VVTS_6xun2c
Movement 4 : https://youtu.be/7MPietEnR8Y
Movement 5 :https://youtu.be/6CoIWPXgKCE
Movement 6: https://youtu.be/WLelbIyWjC0
Movement 7 : https://youtu.be/3FXSP4Ujb6c
Marcus Mota's plays
Salomonicas. A Musical based on Contemporary Political Events in Brazil through King's Salomon Story, 2017. 
SEVEN. A musical version of Aeschylus'Seven Against Thebes, 2013. 
On the Wall. A Hipopera, 2010.