Poetry Club builds a welcoming and creative community for undergraduates to share their work
---
Poetry Club builds a welcoming and creative community for undergraduates to share their work
By Demetrius Winn
Undergraduate creative writing students Caroline Butler and Parker Logan have founded a new club for undergraduate students that centers on writing and sharing poetry. The group's meetings consist of not only workshopping each
other's works but also using imaginative methods to spark the writing process.
One activity Butler and Logan implemented at the club's first meeting involved giving each attendee a paint chip, all of which were different colors. Each person then wrote a poem, using the name of the paint chip for the poem's title.
"It was a great exercise to get people to think outside the box," Butler says.
The innovation did not end there; Butler and Logan continue to bring fresh and engaging ideas to the club in order to challenge those in attendance while offering an entertaining means of inspiration.
"We also played a game where everyone starts off with a piece of paper and writes one line," Butler explains. "We then passed around the papers every 30 seconds, adding a line to each poem."
Butler has been a student in the Creative Writing Program for a year-and-a-half and appreciates the club's welcoming environment: "I really like workshops, but I wanted a space where undergrads could go and talk about poetry without the pressure of a professor there."
For Poetry Club, Butler posts a poem of the week to the club's Facebook group, and members begin each meeting discussing the work.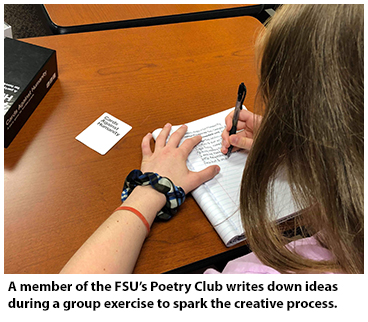 "We talk about what we like and what we didn't like, but it's usually what we like because they are such great poems," Butler says. "We then try to apply what we like about that poem to our own writing, followed by an activity."
The high attendance of Poetry Club is evidence of Butler and Logan's dedication to creating an intimate space for students no matter how well versed in poetry they may be.
"We had about 25 people come to our first meeting and more and more after that," she says.
With all the success and enthusiasm created within the poetry club, Butler and Logan felt it was time to showcase the talents of the poetry club in front of a public audience. Butler has been attending the Jerome Stern Distinguished Writers Series for graduate students for several semesters, and she saw what could happen for undergraduates.
"I always liked going and hearing work from people who attend Florida State," Butler says. "But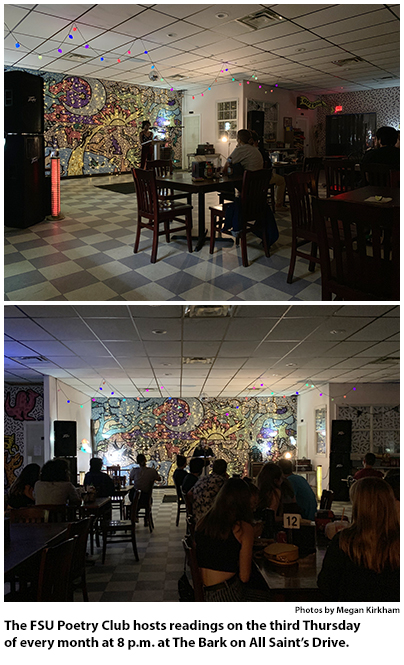 there isn't a lot of opportunity to show off undergraduate work in an environment where you are the featured reader."
Butler and Logan created the Undergraduate Reading Series, modeled after the Jerome Stern Distinguished Writers Series. At each reading, four writers are given 20 minutes to share their work, both fiction and poetry writing, in front of the audience. Anyone who is interested in reading can then take the stage to present their work.
The Undergraduate Reading Series takes place the third Thursday of every month at 8 p.m. at The Bark, a vegan restaurant on All Saint's Drive, just off Railroad Avenue. The first Undergraduate Reading Series of the semester produced a great turnout.
"My favorite part of the reading was seeing so many people come out to support other writers in the department," Butler says. "There was a really nice sense of community."
Butler says she and Logan are ambitious when it comes to the future of the Poetry Club. In the future, they will bring in guest speakers to lead conversations about attending graduate school and getting published. They also want to incorporate outings for all members of the club.
"I see Poetry Club as a place that will continue to foster building friendships amongst writers," Butler says, "that environment where you already have something in common creates a comfort zone which I hope to grow."
Students interested in Poetry Club or the Undergraduate Reading Series can attend the meetings at 7 p.m. every Wednesday in Williams 454.
Demetrius Winn is a senior majoring in English, with a concentration in editing, writing, and media, and media communication studies.