Perry Howell wins Fulbright Lecturer Award to teach in Japan for the 2019-20 academic year
---
Perry Howell wins Fulbright Lecturer Award to teach in Japan for the 2019-20 academic year
Florida State University department faculty member Perry Howell recently won his first Fulbright Lecturer Award, and the English department's associate lecturer did not have to wait long to achieve the honor.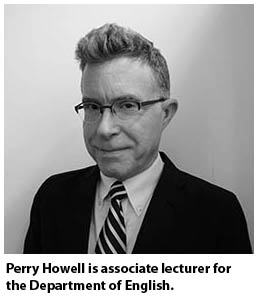 "I was very excited, as you might expect, when I received the award," Howell says. "I was expecting that it might take me several tries, so I was pleased to get this on my first attempt."
Howell's award provides him the opportunity to teach full time in Japan during that country's 2019-20 academic year, which spans from September 8 to July 7. His grant proposal was entitled "Public Speaking and the American Publics," and he will teach courses in American literature, history, and culture through a media studies lens.
"I focused on constructing my courses and framing my teaching project in ways that would be attractive to Japanese universities," he says.
Howell submitted the customary materials for the Fulbright's "Study of the United States (Teaching in the Social Sciences and Humanities)" grant, including his curriculum vitae, detailed plans for at least two proposed classes, class plans from a selection of courses he currently teaches at FSU, and recommendation letters.
"I had to construct a project—in this case, a set of courses that will benefit Japanese university students and communicate something about American culture and practices—and convey a clear rationale for both why the project makes sense as a whole and why it will be of value to the sponsors," he says. "This is additionally challenging for the Fulbright, since both of these criteria have to work for both the U.S. and the Japanese portions of the selection committees."

Howell will teach four courses at Yokohama National University during the fall semester and, during the spring semester, two courses each at YNU and Tokai University, which is located in Hiratsuka, about one hour by train south of Tokyo. He has already worked closely with one of the professors at Yokohama, his primary host institution, to develop courses that meet the needs and interests of as many different students as possible. (See Howell's course descriptions at the end of the article.)
This is Howell's first time teaching in Japan, but he lived there for the 2009-10 academic year when he was writing the dissertation for his Communication Studies Ph.D., which he earned at the University of Iowa.
"I had returned to school for a second doctoral degree after practicing for many years as a clinical psychologist, and my research focused on the introduction of surveillance practices into parenting in the United States and on how these practices promise to reduce anxiety but actually wind up making parents more anxious," he says. "It was useful for me to be in an unfamiliar environment as I was writing chapters about baby monitors, pregnancy guide books, and fetal ultrasound usage.
"Being in Japan helped me to keep in mind that parenting practices in the USA are culturally specific rather than universal—I think being reminded of this is one of the many benefits of traveling and working abroad."
Winning the Fulbright Lecturer Award gives Howell the time to further examine cultural diversity and to offer distinct American points of view to his Japanese students. Here is his list of courses.
Introduction to the U.S.A.: The "American Dream" This course explores cultural beliefs and values in the United States by looking closely at culturally important texts from different moments in American history that take different perspectives on "the American dream." We'll be looking at a wide variety of texts, from the Declaration of Independence to the musical Hamilton.
Calling Out American Values: Famous Speeches in United States History This course introduces students to the variety and development of American values and culture through a close look at public speeches that challenged some aspect of American politics or culture. We will look at how American ideals and values have been communicated, and challenged, by some of its most articulate spokespeople, including Patrick Henry, Sojourner Truth, Malcolm X, and Abraham Lincoln.
Speaking for Yourself: Public Speaking in Everyday Life in the United States This course looks closely at a particular sort of public rhetoric: speeches and other public self-presentations that occur in smaller, more everyday or intimate settings within contemporary United States culture—wedding toasts, public apologies, and mediated self-descriptions, such as online identity constructions (dating websites, blogs) and direct statements of beliefs and values from the "This I Believe" radio show. We will use samples from American pop culture (TV shows, movies, YouTube videos) to create an atmosphere that will encourage students to bring up interesting Japanese comparisons and contrasts.
Media and Society: Remix Culture in the U.S.A. This course explores how contemporary, internet-based media in the United States re-use, re-mix, adapt, and change older media forms.  We will focus on how a wide variety of media forms cover (and influence) race relations in United States culture.