Paul Shields uses his fascination with theater and performance to inspire his teaching and directing
---
Paul Shields uses his fascination with theater and performance to inspire his teaching and directing
By Melissa Kindma
After graduating high school, Paul Shields didn't have a master plan for his future. With his father's encouragement, though, he began his undergraduate degree at California Baptist University in Riverside, California.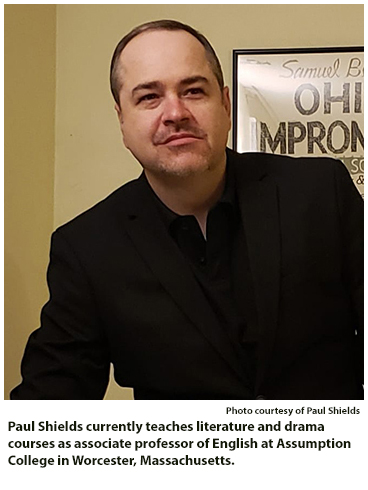 Shields quickly decided that he would continue his studies to the end. 
"The first semester I had an amazing English teacher who made me realize that I wanted to be a professor and probably an English professor," he says. "I made the decision in my head. I didn't go back....I stuck with it." 
During his time as an undergraduate at California Baptist, Shields became interested in theater and performance. Specifically, he admired the work of Irish novelist, playwright, and director Samuel Beckett. 
"I felt an instant connection to the strangeness of Beckett's work," Shields says. "His dexterity, the bizarre environments of his characters and particularly, the theater and performance."
He finished his bachelor's degree in English at Mercer University in Georgia. When considering a graduate program in the field, Shields was drawn to the work of Florida State University English Professor Stanley Gontarski, an expert in the study of theater and performance. Gontarski also was a personal friend of Beckett's, Shields' favorite author. 
"That's what drew my attention [to FSU]," Shields says. "Stan Gontarski is one of the top scholars of Samuel Beckett's work and I was really excited that he was willing to work with me."
Shields says he knew Gontarski could guide his study of Beckett and he says that Gontarski was very welcoming from the start.
"He knew Samuel Beckett. He had worked with him," Shields says. "He was very interested in the things I was interested in and he probably guided some of those interests too, to enlarge my understanding of theater and performance."
"He's brilliant. I was very fortunate to be able to study Beckett with him —an excellent mentor," Shields adds, while recalling his scholarly collaborations with Gontarski.
Gontarski has worked at FSU since 1988 as both a professor and graduate student advisor. In 1994, he was Distinguished Visiting Professor at the Samuel Beckett Centre for Drama and Theatre Studies and the School of English, University of Dublin, Trinity College.
"The real secret," Gontarski says, recalling his work with Shields, "is that the best graduate students are those that don't need you. They're really quite self-sufficient. You just point them in a direction, you correct course every now and then, but they're basically, self-starters.
"That was Paul. He knew what he was interested in. I augmented that and pointed him in directions. That's what makes a career."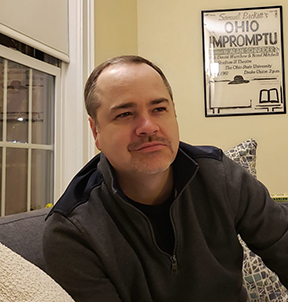 Shields went on to earn his doctorate in English Language and Literature in 2005. He is now associate professor of dramatic literature at Assumption University in Worcester, Massachusetts. Gontarski's friendship and shared passion for Beckett continue to inspire Shields' career as both professor and director. 
In fact, in October 2018, Shields directed a Beckett show in Worcester dealing with the topic of lost love among other themes. The show called "But the Cloudless: a Beckett show" comprised three one-act plays of Beckett's works Catastrophe, Breath, and Footfalls. The production included a film, "…but the clouds…," produced by Gontarski and inspired by one of Beckett's television plays that first aired in April 1977. 
Shields, who teaches undergraduate courses such as Introduction to Literature and 20th-Century American Drama, also held a senior seminar at Assumption College in 2014 called "Reading Bad." He and his students examined the representation of classic literary references in the award-winning television series Breaking Bad, which aired from 2008 to 2013.
Shields says he chose the Breaking Bad theme when it was in its climactic end in order to help students understand complex literature within the scope of pop culture, which he says is a part of who we are.
"I wanted to show students that to be an academic, you don't have to be stuffy or completely focused on the more complex literature that you would think only teachers and scholars would be interested in," he says. "I blended more classical literature with popular culture work. We talked about allusions to Beckett and Whitman and Kafka."
For Shields, sparking interest in education is key to guiding academic success and as he learned, can also lay the groundwork for a career.
"I want students to know about classical literature and classical texts," Shields says, "but having fun and enjoying it is an important part of learning."