Outstanding Senior Scholar Alanna Felton
---
Outstanding Senior Scholar Alanna Felton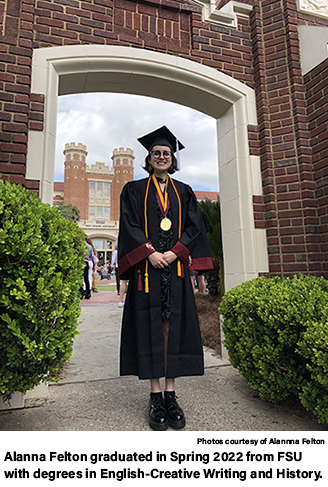 Each academic semester, the Honors Program recognizes graduating seniors who have distinguished themselves by completing three exceptional academic achievements:
Maintaining a 3.9 GPA or higher, graduating Summa Cum Laude;
Challenging themselves and enriching their education by completing the University Honors Program, in which they completed a minimum of 18 Honors points;
Earning Honors in their Major by completing a research or creative project.
To achieve any of these distinctions is a noteworthy accomplishment; achieving all three is a rarity. Alanna Felton, who graduated in Spring 2022 with her bachelor's degree in English-Creative Writing, earned a well-deserved spot on this semester's list. She earned a second bachelor's degree in History.
In addition to that honor, Felton earned several other awards and scholarships: a 2019 Hooked to Books Scholarship; a 2019 National Gold Medal and American Voices Award for Science Fiction/Fantasy Writing from the Scholastic Art and Writing Awards; a 2019 Richard G. Zimmerman Award for Studies in Journalism from the National Press Club; and a 2018 National Silver Medal for Critical Essay Writing from the Scholastic Art and Writing Awards. In 2021, Felton received the English department's Sassaman Undergraduate Critical Writing Award.
Q&A with Alanna Felton
The Honors site reads that students need to "complete three exceptional academic achievements." How did you plan your semesters at Florida State University to tailor to these program requirements?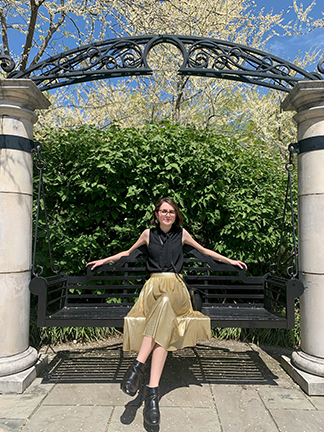 I planned my semesters at FSU with the help of advisors from the English and History departments (my other major was History). My freshman year I created a tentative schedule for each semester, listing the kinds of courses I would need to take to ensure I met the requirements for my majors and the honors college. When I decided to take on an Honors in the Major thesis, I adjusted my plan to account for the required thesis seminars and the time I would need to write my thesis.
Your honors thesis was She is Not Your Cautionary Tale: Stories of Magical and Monstrous Girls. Could you please describe the inspiration behind your project and give a description of the contents?
My thesis is a collection of short stories that explores the experiences of young women in patriarchal societies using fantasy and fairy tale archetypes. The title, She Is Not Your Cautionary Tale, refers to the treatment of powerful and ambitious women in fairy tales and myths. These women are often branded monstrous, selfish, and evil, punished for violating gendered expectations, showing female audiences about what kind of woman not to be. I wanted to subvert these patriarchal conventions by writing stories about messy, angry teenage girls who claw back scraps of agency in worlds that would see them rendered powerless.
English Assistant Professor Ravi Howard directed your thesis. Could you describe what that process was like and how Professor Howard helped you through the steps?
I reached out to Professor Howard at the recommendation of Dr. Rhea Lathan, the English department HitM liaison. I sent him a brief proposal for my thesis and he asked me for a writing sample. Happily, he agreed to be my thesis director. Throughout my writing process, Professor Howard provided invaluable feedback on drafts and helped me clarify the messages I wanted to convey.
Did you have any downsides or struggles when completing the three exceptional academic achievements?
Like all college students, my educational experience was heavily impacted by COVID-19. Attending and participating in class through a global pandemic has not been easy and I am deeply grateful for the teachers and administrators who were understanding.
What advice would you give to any English students who want to earn the Outstanding Senior Scholar achievement?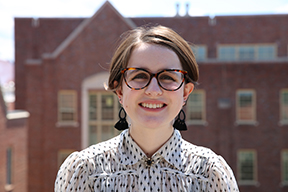 I would tell English students not to be intimidated, this achievement is within your grasp. If you are part of the Honors College and plan to complete or are completing a HitM thesis, then you have already met two-thirds of the Outstanding Senior Scholar requirements. Know that there are wonderful faculty and advisers within the English department who want to help you meet your academic goals.
What plans do you have post-graduation?
This summer I am interning with the non-profit Progress Florida, doing communications for their reproductive rights program. I am also currently completing the TEFL (Teaching English as a Foreign Language) certificate program at FSU's Center for Intensive English Studies and hope to teach English abroad in the future.