Nitya Pandey's research into online writing earns her a CCCC Scholars for the Dream Travel Award
---
Nitya Pandey's research into online writing earns her a CCCC Scholars for the Dream Travel Award
When students enter Nitya Pandey's classroom for a First-Year Composition course, they usually are unaware of how much relevant experience they bring with them. Pandey appreciates what skills they already possess, though, because she knows that most undergraduate students are avid users of social media.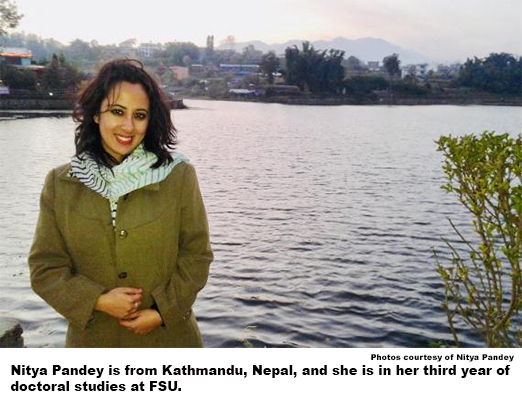 "I ask them, 'what learning do you gain from a non-academic setting, such as Twitter, what do you learn by tweeting," says Pandey, a Florida State University doctoral student in English-Rhetoric and Composition and graduate teaching assistant. "Then we will use that learning about writing, about composition, and bring it into the classroom context."
One goal of Pandey's as a researcher is to structure a learning plan for students to recognize their informal writing awareness and apply what they know in a formal, academic setting. Her goal recently became more attainable when the Conference on College Composition and Communication named Pandey as a Scholars for the Dream Travel Award winner for her proposal, "FYC Instructors as Agents of Transfer: Linking Multiple Writing Contexts," a submission based on her research.
Pandey is one of 10 national winners of the 2021 award, and CCCC will introduce her and the other recipients on Thursday, April 8, during the organization's Virtual Annual Convention. Previous winners from FSU's Rhetoric and Composition Program are Kendra L. Mitchell in 2018 and Liana Clarke in 2019.
"CCCC sponsors the Scholars for the Dream Awards to encourage scholarship by historically underrepresented groups," reads the press release announcing the winners. "This includes Black, Latinx, Asian, American Indian/Alaska Native, Native Hawaiian, or other Pacific Islander scholars—persons whose presence and whose contributions are central to the full realization of our professional goals."
Pandey, whose home is Kathmandu, Nepal, received the news in early February. The announcement came about six weeks later than she anticipated. 
"I thought the announcement was supposed to come out during December, so I was expecting something then, but nothing came," Pandey says, adding that there was some uncertainty at the time about whether the annual convention would be held in person or virtually. "I thought, OK, maybe they just decided to cancel the whole thing."
Pandey stopped thinking about the award, instead focusing on preparing for her preliminaries and defense of them with her doctoral committee. CCCC informed her that she was an award winner on Feb. 2, the day before her exams and defense took place Feb. 3.
"I had worked hard on the proposal, and I was really happy when I received the email," Pandey says. "I also thought, this is something really prestigious for my department as well. Somebody from the Rhetoric and Composition Program is representing the department. I felt really happy that I was able to be that person for the department, for the program."
English Professor Kristie Fleckenstein is Pandey's dissertation committee chair, and she has worked with Pandey over the past three years. She taught Pandey in her first graduate seminar.
"I have been repeatedly impressed by her work ethic, her intellectual insights, and her desire to seek out new learning experiences," Fleckenstein says. "One aspect of Nitya that especially resonates with me is her enthusiasm for teaching writing in its myriad incarnations."
She adds that Pandey's skill for translating abstract ideas into concrete strategies that address students' needs showed in both the paper she presented at the annual CCCC meeting and in her application for the Scholars for the Dream Award.
Her proposal is beautifully written and its acceptance to a highly competitive conference attests to its value to the discipline. But it is Nitya's application for the Scholars of the Dream Award that links theory with the practice emphasized by her presentation proposal.

Professor Kristie Fleckenstein
"Her proposal is beautifully written and its acceptance to a highly competitive conference attests to its value to the discipline," Fleckenstein adds. "But it is Nitya's application for the Scholars of the Dream Award that links theory with the practice emphasized by her presentation proposal."
Pandey went through several steps to apply for the award, but the original idea for her proposal came to her while taking a graduate course in the spring of 2020 with English Professor Kathleen Yancey. One of the topics covered was a specialty of Yancey's: students' transfer of writing knowledge and practice.
Specifically, they discussed issues related to questions like, how does prior knowledge work in a new context to gain a new kind of knowledge? What makes it easier? What makes it harder?
Pandey's academic research focuses on digital spaces, social media applications, and how to better humanize virtual communication, and she combined her previous findings with the talks in Yancey's class. She first submitted her presentation to the conference's call-for-proposals in late spring of 2020. The conference organizers then selected her proposal in September, and she applied for the Travel Award in October.
"I was fresh out of that class in the spring of 2020 and I also had this academic interest in social media applications," Pandey says. "I thought, what if I talk about teachers as agents of transfer that can bring students' pre-existing knowledge of writing to the first-year composition classrooms. Students already come into the classroom with an idea of what writing is."
Their experience with composing and sharing messages across social media platforms, she adds, provides a basic understanding of effective communication tools, such as knowing your audience on Instagram or economizing your word count on Twitter.
Pandey stresses that students in her class are not writing about those platforms—composing an essay on hashtags, for example.
"My focus is on where the learning comes from and where is that learning taking them in terms of re-appropriating or re-purposing that learning in different contexts," she says. "Also, it's important to teach students that writing is not just by paragraph, alphabetic text, and not just grammatically clean. They are learning to write with images and words, and videos and pictures, so it's multimodal writing."
Pandey started her own writing career as a journalist in 2008 right out of high school. She wrote for the Kathmandu Post, Nepal's national daily, producing opinion pieces, short fictions, and nonfiction write-ups about current affairs. Then she started working as an in-house correspondent for another national daily in Nepal, Republica, where she focused on feature articles.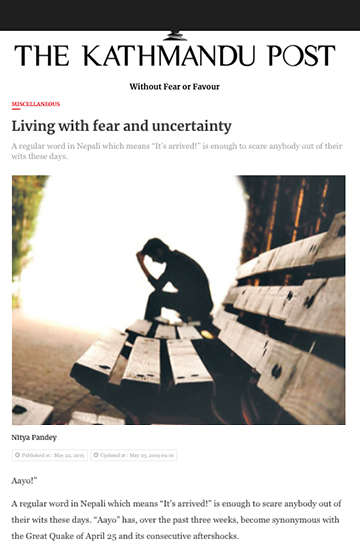 One of the most memorable events she covered was the magnitude 7.8 earthquake that struck Kathmandu in April 2015. She recalls exploring her neighborhood on a motorized scooter with a friend to assess the destruction, coming across buildings and homes that had collapsed into a pile of bricks, metals, and everyday items.
The way the women of the area took control of the recovery efforts fascinated Pandey. Mothers, daughters, and other women cooked meals and worked to bring back normalcy to the area, even going as far as directing the male workers who were clearing the rubble, pointing them to certain places in what was once a standing structure.
"We did our research and what we found was that during national disasters, it's the mothers, the wives, the sisters, the grandmothers who took charge most of the time," Pandey says. "In a South Asian context, they have been used to not having a lot of power, and when you don't have the power, or have less access to the power, you have to become resourceful to make your life happen."
At the time, Pandey was taking charge of her life. She graduated in 2011 from Nepal's Tribhuwan University with undergraduate degrees in English literature and sociology. She then earned her first master's degree in 2013 in English from Pokhara University in Nepal.
Her introduction to U.S. schooling was at West Virginia University in Morgantown, where she earned a second master's, this one in professional writing and editing.
"Morgantown is my second home—it's the first place that I came to in the United States and I lived there for two years," Pandey says, adding that she was within 200 miles of Washington, D.C., where her sister lives. "When I first came down to Florida, I took a while to get settled. I was so used to the Northeast, used to fall and snow and being close to family. It was my husband who initially helped me get adjusted to the life in Tallahassee. Actually, we were helping each other because he is from Nepal too." The couple drove to Florida together from West Virginia in August 2018.
Now in her third year as a doctoral student in the English department, and living approximately 8,000 miles from Kathmandu, visits to her home are rare. Her personal experience of staying in touch with her mom and friends through social media apps has fueled her research interest in digital spaces and how people communicate through those spaces in their daily lives.
"I think it is very important to look at this form of communication, to realize it's not just writing as an alphabetic text that goes on in these platforms, but pictures and videos are included," she says. "All of this was interesting to me even before the pandemic. Now, after the pandemic, a new dimension has been added."
Although she is currently working on her prospectus to refine her dissertation topic, she wants to examine how emotions work in those digital spaces.
"Providing effective response plays a crucial role in writing instruction because it is all about holding a direct conversation with your students about their work, encouraging them, providing them with constructive feedback, and guiding them through the process of composing," Pandey says. "There is so much scholarship on responding to students' work in face-to-face classrooms. I want to focus my research on responding to students' work in online writing classrooms, specifically regarding multimodal assignments."
Pandey will examine how the practice of relational care, an ethical approach that prioritizes relationships, can be of importance in writing spaces. whether in person or virtual.
"In short, how can we have 'care-full' online writing instruction based on the insights that we gain from the existing scholarship on responding to students' work and situating it within a virtual classroom with its unique affordances," she says.
Regarding Pandey's dissertation topic, Fleckenstein appreciates the overlap of Pandey's personal situation and her dedication to teaching. She will guide Pandey through the process of discerning ways in which care can become a pillar of OWI to the benefit of teachers, students, and composition theory.
"Hardworking, quick witted, with a ready sense of humor and a habit of thinking outside the box, Nitya is a delight," Fleckenstein says. "She brings to her teaching and her scholarship a valuable perspective on the need to balance emotions and intellect in both the teaching of writing and the study of writing. It is a privilege to watch her in action."
Pandey says she feels "blessed to have Dr. Fleckenstein as my advisor. I only have praises for her." As Pandey was preparing for her prelims, she was not feeling well. Fleckenstein reached out to her several times, supporting and encouraging her. They talked about their shared excitement for Pandey's project.
"We have been working on the initial drafts of my prospectus for the past couple of weeks," Pandey says. "And she has been amazing with the process. She has been helping me streamline my ideas and maintain a clearer focus. Also, she is immensely encouraging and kind."
Although Kathmandu is Pandey's birthplace and she considers Morgantown her second home, Tallahassee and FSU are becoming a central place for her. A class on online writing instruction Pandey took with English Associate Professor Michael Neal inspired her to make the subject her minor area. It is now a major component of her dissertation.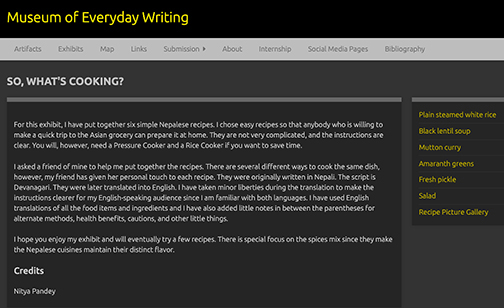 And two courses she took with Yancey helped shape her research. The second class with Yancey, on Teaching for Transfer, helped her structure the paper for CCCC. The first class, on Convergence Culture, provided her with greater insights on digital media.
Even though the financial aspect of the Scholars for the Dream Travel Award is not going to get her home to Nepal, Pandey has brought the flavors of Nepal to her colleagues in the graduate program. She created an entry on FSU's Museum of Everyday Writing called "So, What's Cooking?" where she has posted six simple Nepalese recipes, including black lentil soup and mutton curry.
For Pandey, any digital space can be a learning environment. Or even treated as a home.
Follow the English department on Instagram @fsuenglish; on Facebook facebook.com/fsuenglishdepartment/; and Twitter, @fsu_englishdept