A New Perspective: Literature, Media, And Culture At FSU 
---
A New Perspective: Literature, Media, And Culture At FSU 
By Sierra Kennedy
The Department of English prides itself on offering students the most innovative scholarly programs with courses that cover a wide range of fields such as women's studies, poetic technique, critical theory, film studies, and visual rhetoric, among others.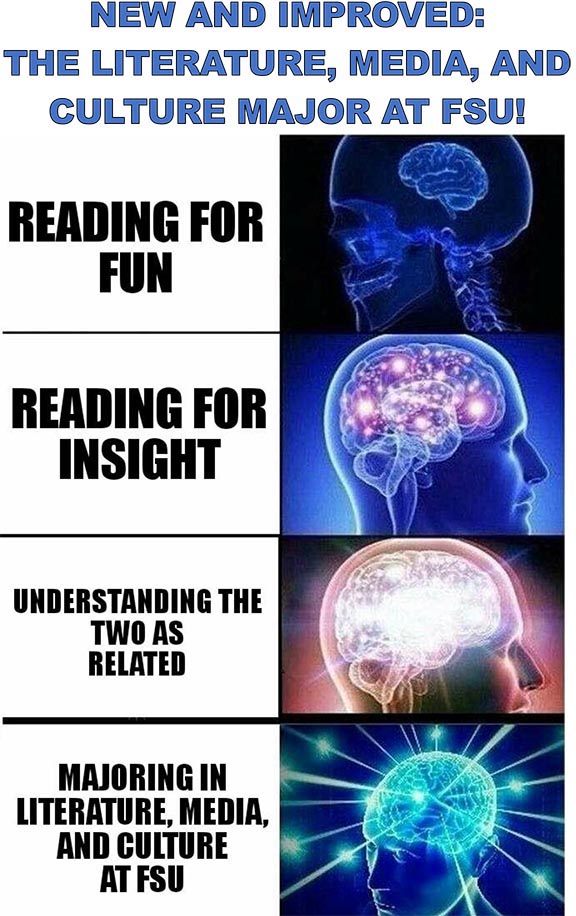 Always on the leading edge, the department recently decided one program, in particular, was ready for a new, fresh approach: the often-misunderstood Literature Program.  
Professor Robin Goodman, director of Florida State University's Literature Program, led efforts to revamp the program and says various issues helped to inspire the change and get the ball in motion.
Education was traditionally thought of as the place where citizens were taught civic engagement and democratic values, Goodman says, or where young people learned the tools for a "better life" in multiple spheres. However, as Goodman points out, some political currents have tried to redefine the purpose of education as vocational.
"Part of it is that there's this national and maybe international attack on literature," says Goodman, who teaches courses in critical and cultural theory, feminism, and postcolonial literature, among other academic areas. "We are reining in our major and trying to create a sense of what it is.  We wanted people to able to say 'I am studying literature and this is what it means' in the face of this incredible opposition at the state level, as well as at the federal level, to humanities-based education."
In addition, some parents even discourage their children from majoring in humanities fields, she says, because they adopt such political framing of education as "job training" or "job creation" in technical and scientific fields. Science depends on the questions constructed in humanities disciplines and has never been separated from innovations in thinking and storytelling that the humanities-based majors have always excelled at, she argues.
What is more, according to the Wall Street Journal, certain areas of study in English have "logged the largest gains in full-time employment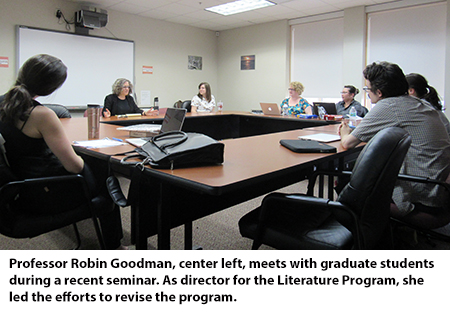 and pay," with starting salaries on the rise and pay increasing sharply over the course of full careers, earning more than petroleum engineers. Employers told the Journal that there was an increasingly urgent need to hire people with strong communications skills and other analytic skills.
In reshaping the program, which includes a new name, Literature, Media, and Culture, Goodman and other key members of the department also wanted students to share their sense of the social impact that literature and other cultural forms have always had in building a better society.
"So, they say, English is useless just because you don't learn skills, right? We don't think that's true," Goodman says. "English majors have always been the center of the university since the medieval times, and we wanted to create a sense of agreement around that—a consensus—about why it's important and what's important about it."
Many students interested in humanities-based education know that English is their passion, but are unsure about exactly where the major can take them. Potential enrollees are unaware that the program provides skills that are valuable in numerous professions.
Aaron Jaffe is Frances Cushing Ervin Professor of American Literature and he says the Literature, Media, and Culture program affords "an intellectually rewarding experience that provides a superb foundation in literary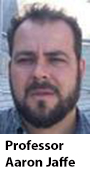 reading, writing, research, critical theory and critical thinking relevant to an impressive variety of professions, including journalism, public relations, publishing, film production, arts, sciences, medicine, law, and business."
The faculty also recognized that outside pressures—such as parents who believe that majoring in English does not offer job security post-graduation—could intensify insecurities students might have about the major. The Literature, Media, and Culture program is just one area of the overarching English major opening a gateway to a wide range of careers.
"Being an English major, you can do anything because it gives you language powers and analytical skills that you don't get anywhere else," Goodman says. "People who have English majors include Mitt Romney and Sally Ride, who's an astronaut. It's really broad-ranging what you can do. Many people go into communications or acting fields or teaching fields, but people do all sorts of things—including work in the sciences."
The program revision includes new core requirements, a gateway course, and additional elective options. Beginning in fall 2018, students who choose English as their major will be required to take the gateway course, Introduction to English Studies, which will serve as a foundation for the major. The core classes include Understanding Literary History I, which surveys literature in English from the Middle Ages to the Enlightenment. "Understanding Literary History II" analyzes literary texts from the Romantic period to the present.
Jaffe, who specializes in modern and contemporary literature, culture, and media at FSU, believes the courses and curriculum designed by the department will put students in the optimal position for success from the very start of the program.
"These courses provide a wide-ranging and thorough overview of the historical periods and multiple perspectives that are the foundation of literature and culture," Jaffe says. "By exposing students to this kind of breadth and depth early on in their time as an English major, we hope to give them a taste of many different types of literature and media, and enable them to make more informed choices about what they wish to pursue in their more advanced coursework."
The department also decided to change the course title for Critical Issues in Literary Studies to Understanding Literary and Culture Theory and Criticism.  Such targeted changes to the core curriculum were done with thought and care by the distinguished faculty within the FSU literature program.
Professor Gary Taylor, chair of the English department, explains that the process began with surveys and eventually progressed to the selection of this specific literature gateway and core courses.

"One of the things that emerged from the earlier questionnaires was that most students knew very little about the history of literature, or media, or culture," Taylor says. "They were familiar with a few texts or authors, but these varied widely—there was no shared experience or background."
He compares the new core classes to an appetizer platter.
"They make sure that everyone has had a chance to sample a wide range of authors, periods, and genres, and relate them to each other," he says. "After you have a taste of everything, you can better decide what you want to double down on, and explore more deeply."
With new classes, come new responsibilities. The department not only had to decide what courses would be brought to the new Literature, Media, and Culture program but also how these classes would be taught. At FSU and most other accredited academic institutions, the teaching staff comprises graduate students, visiting professors, and faculty.
Goodman says there are nearly 200 graduate students on the teaching staff in the department, to go along with approximately 50 faculty members. In developing the new literature program, the department made the conscious decision to have faculty rather than graduate students teach the core courses. As Taylor says, "a mix of newbies and nimble veterans" will teach the classes to offer new perspectives.
"We are working to ensure that the new core courses are taught by prize-winning teachers—we have a lot of those in this department," Taylor says. "In the 2017-18 academic year, two new senior literature faculty started teaching in the department.  Professor Judith Pascoe specializes in British literature, including the Romantic poets and novelists, and Professor Terri Bourus teaches in English and in the School of Theatre, specializing in Shakespeare, Irish drama, and women in drama."
The department welcomes two new literature faculty members as assistant professors in fall 2018: Lindsey Eckert, who teaches British literature and the relationship between literature and textual media, and Frances Tran, who specializes in Asian-American literature and science fiction.
Jaffe further highlights how important the faculty is to the core of the new program. The professors teaching the Literature, Media, and Culture track have ranges of expertise that are just as varied as the subject matter.
"Students in the LCM track have a lot of contact time with our world-class faculty members, who specialize in an amazing variety of areas," Jaffe says. Some of the areas he lists include: African-American literature; Caribbean, post-colonial and Anglophone literature; Latino/a/x literatures; queer, feminist, gender and sexuality studies; popular culture, film, and media studies; cultural studies; poetry; narrative; drama; epic; and history of the English language.
Though the name has been changed and the new curriculum has been set, the revamped Literature, Media, and Culture program is much more than a few additional course requirements and new professors. There was a two-year process involved in redeveloping the new program before its fall 2018 unveiling.
Taylor explains it began with both faculty and students expressing dissatisfaction with certain aspects of the program. Many moving parts had to come together in restructuring the program and getting it operational.
 "The faculty had some vigorous deliberations and debates about the launch of the new major," Jaffe says, elaborating on Taylor's comments. "We talked to each other and our students, compared notes, studied innovative things other English departments were doing and came up with what we think is a very good plan for our students."
The new Literature, Media, and Culture program aims to promote changes in perception that the department and the university hope become widespread. The long-term goals of the department go far beyond increasing enrollment numbers in the program and instead look to the bright futures that the quality education can bring to students. 
"We want to give students learning that will last a lifetime" Taylor says. Whatever you decide to do after college, you need to get more from what you read, and achieve more with what you write---both on the job, and in all those aspects of your life that are beyond a paycheck.
"That's what we teach. And that's why English majors are in enormous demand across many different industries and organizations." 
Sierra Kennedy is as FSU senior, and she is majoring in Humanities.