Nebraska native Michael Healy finds a home in the English department as he pursues his Ph.D.
---
Nebraska native Michael Healy finds a home in the English department as he pursues his Ph.D.
By Allison Mullin
Michael Healy is a soft-spoken Midwesterner who spent the bulk of his life in his hometown of Omaha, Nebraska. While he may be quiet, that's only because he is usually thinking of ways to help his fellow students.
Now a North Florida transplant, Healy is a third-year doctoral student studying Rhetoric and Composition in the Department of English. In addition to his time spent studying, he is also a graduate teaching assistant for English courses, such as Rhetoric and Genre, Research, and Context.
English Associate Professor Tarez Samra Graban, his doctoral committee chair, says Healy not only identifies problems but he focuses on solving them—with others in mind.
"From the first day I met Michael, he has been interested in how to set up learning environments that would allow students to arrive at smart, critical problems through very creative means," Graban says.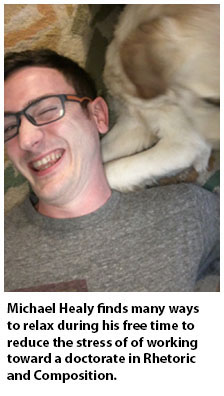 After earning his bachelor's degree in English from Creighton University, a private university in Omaha, Healy went directly into the work force, taking jobs in customer service and retail.
"When I graduated, the job market was bad," Healy says. "I worked for a few years but I didn't know my next step."
The memory of a teacher pointing out his natural talent inspired him to apply to graduate school. Healy had returned to school to pursue a secondary education teaching certificate, and Tammie Kennedy, associate professor of English at the University of Nebraska-Omaha, encouraged Healy to apply for his master's degree in English. He eventually earned his M.A. from UN-O.
While considering the differences between being an undergraduate student and a graduate student, Healy explains "there's a lot less variety but much more focus. I take fewer credits at a time and there's a much higher expectation that represents that focus."
With his third-floor corner office in the Williams Building, flooded with natural light, photos of his dogs, and students' projects hung above his desk, it's safe to say Healy has made his own space at FSU. Despite the stress that comes with earning a Ph.D., the welcoming people and lively events in the English department help alleviate the pressure.
"The English department as a whole has a lot of fun activities. There's always something going on to get involved with," Healy says. "There are so many opportunities to work with different types of people."
Since he has been in the Rhetoric and Composition program, he has made some weekly traditions, such as gathering with his peers to write together.
"I have a writing group I meet with every Sunday at Proof Brewing Co., which has been going on since I've been in the program" Healy says.
Though school-related activities occupy most of his time, Healy makes the effort to find time for his hobbies. Healy finds relief from the pressure of school by spending time in nature, either exercising himself or his two golden retrievers, Mardi (age 10) and Captain Janeway (age 1, named after the Star Trek character).
"I spend a lot of time with them—on the weekends my partner and I like to stop by Lucky Goat and take the dogs to play and hike at Tom Brown Park or Lafayette Heritage Trail," he says.
Healy also enjoys running on some of Tallahassee's many outdoor trails. As a music lover, he is almost always listening to something during his jogs. The current rotation on his record player mostly consists of indie-rock artists, such as Mountain Goats and Flaming Lips, with a little bit of old school Led Zeppelin. He would like to watch more movies, but currently does not have the time.
"I've been getting through Sharp Objects when I can, which is pretty great," he says.
Such a busy schedule leaves very little time for travel, but when he is able, Healy makes trips to Shell Point, south of Tallahassee, to stand-up paddleboard.
Healy is familiar with the tough decision of whether or not to attend graduate school. Healy's advice for students considering attending graduate school includes becoming familiar with the institution where they apply. He stresses the importance of getting a feel for the entire program before deciding.
"Get to know faculty members and see if the program is a good fit," Healy says, also emphasizing the helpfulness of asking other students in the program for their thoughts on it. He warns those who are considering an advanced degree to be particular about choosing a focus in graduate school.
"A master's degree is a first step," Healy says. "It's a good way to see if it's truly the path you're interested in. It's difficult to do well in grad school if it's not your niche."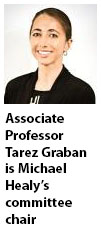 He recently finished and successfully defended his preliminary exams in early November. His next big project is his dissertation on rhetorical invention.
"I'm starting it now," Healy says. "Thinking about rhetorical invention and how we invent new things using digital tools and technology."
With the information he finds, he plans to implement discoveries into curriculum and pedagogy for other instructors teaching courses such as journalism and creative writing.
His committee chair, Graban, believes his work will contribute to English studies as a whole.
"Perhaps his dissertation will be used to challenge our contemporary understandings of invention and inventing learning spaces," she says.
More than likely, the final product of Healy's work will pave a new path of learning for future students.
Allison Mullin is a senior English major, with a concentration in editing, writing, and media.