A multi-media effort adapts alumna Mikaela Bender's novel Expiration Date for the digital world
---
A multi-media effort adapts alumna Mikaela Bender's novel Expiration Date for the digital world
Recent Florida State University graduate Mikaela Bender's science fiction stories have entertained millions of online readers for several years. Now, Bender's most popular work, her novel Expiration Date, has come to life on the SyFy network's website, with the pilot episode available online.
Bender graduated from FSU in May 2019 with her bachelor's degree in English, and she has been writing and posting stories to the website Wattpad since she was in her mid-teens. Wattpad is a site for both amateur and established writers to share their fictional pieces, and they are encouraged to actively interact with the readers who post reviews and comments.
Bender is part of the Wattpad Stars program, which is a group of the most influential writers on Wattpad. The initial idea for Expiration Date came from something she read on an online social media platform in 2014, when she was 16 years old.
"I found a writing prompt on Pinterest about having the date you're going to die tattooed on you," Bender says. "I saw a glimpse of a story I wanted to tell and started writing it at midnight. I posted the first chapter that same night at 1 a.m. When I woke up I had five reads, and I was ecstatic."
That initial post eventually grew to a 168-part novel in two books. And that first handful of reads has soared to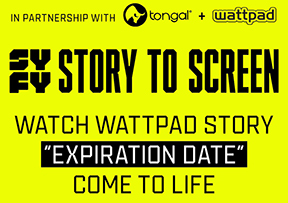 19.3 million as of May 2019. In addition, the "glimpse of a story" has turned into a full-fledged multi-media vision.
SyFy announced in July of 2018 that the network was collaborating with Wattpad and the crowdsourced video studio Tongal to adapt Bender's sci-fi thriller to the screen through the "Story to Screen – A Digital Pilot Project" contest.
"There were many stories from the Wattpad platform that were shared with the Tongal and SyFy team and in the end Expiration Date was selected as the perfect match – for both its quality and growing audience," wrote a Wattpad representative in statement.
Bender's story is a futuristic thriller that follows 19-year-old orphan Iris Levine, the story's protagonist. At birth, everyone learns the date they are destined to die, which is tattooed on their arm.
When Iris' time arrives, however, a mysterious man saves her from dying. That glitch in the system sets off a battle and race against the "Society," which rules citizens' lives and deaths.
"When I got the phone call, I tried not to freak out and to play it cool, but on the inside I was in shock," Bender says. "The moment the call ended, I called my mom to tell her the news."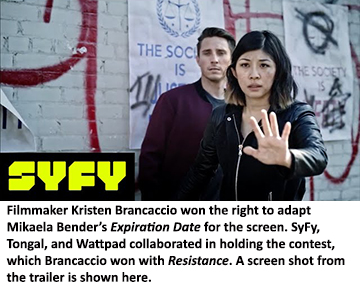 Tongal simultaneously solicited filmmakers to pitch ideas on how they would create a digital pilot that would be voted on by fans and viewers. The submissions were narrowed down to three trailers.
"The pilot that received the most votes [was] awarded the opportunity to work alongside SyFy and create both the trailer and first episode to bring the beloved story and characters to life," according to Wattpad.
Kristen Brancaccio won the right to visually tell the story Bender says she "just wrote for fun." The pilot episode is scheduled to be available on SyFy's website in the summer of 2019. Bender is in the process of expanding the initial story, turning it into a four-book project, and she is currently on the third one.
"Expiration Date was always intended to be novel length," she says, although she never expected the length to span four books. "As I wrote it, I didn't know where I wanted to go. I just wrote. I usually don't plot the first draft. I've rewritten Expiration Date twice for editing, and I've been creating an outline for the rewrites."
Russ Franklin teaches creative writing and American literature in the FSU's English department. Bender was a student in his Spring 2019 Fiction Workshop.
"Mikaela was simply one of those awesome students who did every assignment and conferenced with me whenever she could," Franklin says. During one of these conferences, Franklin adds, is when Bender casually mentioned that SyFY was serializing her novel, surprising him. "I was like, 'What?'"
Franklin praises her story idea for "Expiration Date" as "absolutely fantastic."
"I think the brilliance is not the original premise but the brilliance is that she thought two steps beyond that and said that the story starts when someone lives beyond their expiration date and can't figure out why," he says. "That's the beginning of a novel. That's why she's so smart. She will go far."
Expiration Date was the 2016 Collector's Edition winner of the Wattys, a prize given to the Wattpad member whose story the entire Wattpad community adds the most frequently to its online library. The novel also has been ranked No. 1 in the science fiction category.
This is not the first time Bender has achieved success with her writing. The Florida Writers Association in 2015 named her novel, Asleep, as the winner of the Candice Coghill Memorial Award during its annual Royal Palm Literary Awards competition. The FWA also included her 2015 and 2016 short stories "Aftermath" and "Terminated" in its year-end Collection, Volumes 6 and 7, respectively.
Gallery Books, an imprint of Simon and Schuster, published another Wattpad story of Bender's, "Of Sirens and Beasts," in the 2016 Once Upon Now anthology.
Travis Maynard, an English doctoral student in Rhetoric and Composition, says Bender is "a fantastic student, and it has been a pleasure to work with her across two semesters."
"In both Writing, Editing, and Print Online and Rhetoric, she took an earnest interest in the course material, and used her course projects as an avenue to contribute to the Wattpad community—illustrating her dedication to her studies and burgeoning career as a writer," Maynard says "In a lot of ways, an accomplishment like Mikaela's is what we hope students within the Editing, Writing, and Media program can achieve—finding professional success as writers and exemplifying the possibilities of an education in the humanities."
Her extensive experiences give her a head start on her post-graduation plans. She was accepted into two summer programs, New York University's Summer Publishing Institute and Columbia's Publishing Course at Oxford University.
"My goal is to work in publishing as an acquisitions editor," Bender says, "although I would be happy to work in most roles in publishing."
Considering all that she achieved before she even graduated from FSU, Bender is in a great position to create her own extraordinary future story.
Main page photo credit: I-Yana Tucker