Meet The Cyborg Jillian Weise, a new professor who aims to redefine disability understanding
---
Meet The Cyborg Jillian Weise, a new professor who aims to redefine disability understanding
By Sofia Cabrera
As a writer, a poet, and a teacher, The Cyborg Jillian Weise, who goes by Cy, says she has always admired Florida State University's Department of English.
"Every time I went somewhere else, I realized just how great the department had been and how much it continues to succeed and thrive," Cy says.
Luckily for FSU, the department hired Weise as an associate professor for its Creative Writing Program, and she began her time as a faculty member in the fall of 2021.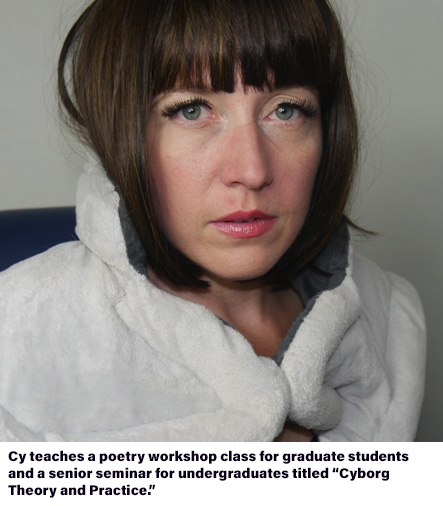 As part of the department's hiring committee for that faculty position, Distinguished University Scholar Barbara Hamby was impressed by Weise's national profile.
"She has published extensively and won national prizes. We were also impressed by her disability activism, which will be good for students and the department," Hamby says. "She is an extremely positive and personable addition to the department. We need her."
Despite her recent arrival at FSU, Weise has familiarity with the Tallahassee area. As a Florida resident, she stayed in-state for tuition purposes and attended FSU in the late 1990s.
While an undergraduate at FSU, Weise enjoyed her experience, but says she wanted to explore other places beyond Florida.
"After my undergraduate career, I attended the University of North Carolina at Greensboro, and I received my Ph.D. at the University of Cincinnati," Weise explains. Although Weise has a doctorate, she does not use the honorific "Dr" as she prefers the honorific of "Cy."
Following her university studies, Weise worked for Clemson University's English department for 12 years. She enjoyed her time living in the northwest corner of South Carolina, and she earned tenure at the university.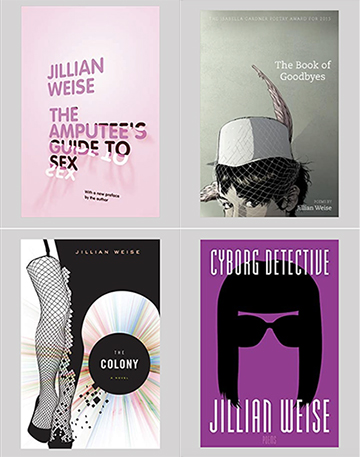 Everything was wonderful for her, she admits, but she kept thinking about her undergraduate career and wanting to return. Her goal was to return to the Sunshine State and teach at FSU.
"My decision to teach at FSU was based on the creative writing program, the undergraduate creative writers, and my colleagues who are doing imperative work regarding queer theory and gender and race studies," she says, expressing her appreciation for the department.
As a professor at FSU, Weise teaches a senior seminar course titled "Cyborg Theory and Practice" for undergraduate students. In the classroom, Weise raises awareness about cyborgs.
"I not only wonder if this course is relevant to my students," she says, "but also if my students can make connections with certain ideas regarding cyborgs."
Weise is a cyborg, by which she means a portion of her body is machine. She points out that "no one has ever argued this connection with cyborgs before, and it is definitely out there."
Rosalind Helsinger, a student in Weise's seminar, shares her excitement to understand disability from Weise's own voice and perspective.
"As a class, we are not learning about disability from someone who is not disabled; we are hearing first-hand experiences from Weise," Helsinger states.
Like Helsinger, another classmate, Baonguyet Duongkhuu, is "honored to take Weise's course."
For Weise, every day in the classroom is a new experience, and she constantly learns from her students.
"The most remarkable aspect for me is what my students remember that I may not consider important," Weise says. "I always emphasize the present, and I guess my students recognize this."
There are certain university goals required on a course syllabus, but according to Weise, the real goals in her classroom are "intellectual curiosity, daringness, audacity of ideas, freedom to think, speak, and write, and have pride."
Specifically, Weise wants her students to have pride and learn about any marginalized identities they may have.
"It is difficult to recognize disability pride because disability is seen as a lack and as a missing component," Weise says.
One of her goals is to turn this idea around and, according to Duongkhuu, Weise already has for many students.
"All of my classmates are very open and honest, which is truly incredible to witness," he states. "Weise's classroom environment allows us to be this way."
Hamby says one of the main lessons her students, both graduate and undergraduate, will take away from Weise's classes is her example in the world.
"Not only is she a delightful person and an accomplished writer, but she is also a stellar poet and activist," Hamby says. "A lot of people do not know this, but she has a beautiful singing voice as well."
Like her students, Weise is still learning about the current-day concept of "pride." These are conceptual goals in her own classroom, where she hopes to guide her students toward their own interpretations about pride.
She is currently working on a memoir titled Common Cyborg, in which she makes the case that disabled people are cyborgs. In addition to writing and teaching the senior seminar course, Weise also teaches a poetry workshop class for graduate students.
"The poetry course is filled with M.F.A. and Ph.D. students who have such good writing and have set the bar very high," she says.
Even though the courses are different from what she has taught in previous years, she is thrilled to have both on her schedule. As she reflects on her experiences, Weise realizes how her teaching philosophy has changed.
In the past, for example, Weise gave timed midterms to her students and took daily attendance.
During the pandemic, however, she asked herself, "What am I doing?" Weise then focused on her disability rights activism and wondered why she was not allowing accommodations in her own classroom.
She hopes her students can interact in a safe and comfortable environment, especially in her classroom. Today, Weise simply wants her students to thrive and stay alive.
Q&A with The cyborg Jillian Weise
What attracted you to the English department at FSU and convinced you that you wanted to join the faculty?
The Creative Writing Program and the department of English at Florida State are the top in the nation. I am a poet, and I am also a writer of prose. I was an undergrad here in 1999. Because I lived in Florida, I wanted to stay in-state for tuition. I did not appreciate the education at the time. 
I went to the University of North Carolina at Greensboro, and I went to the University of Cincinnati for my Ph.D. Everything was wonderful, but I kept thinking how I wanted to come back to FSU. Before my job at FSU, I was at Clemson University for 12 years. I enjoyed my time in South Carolina, but I outgrew the department at Clemson. I earned tenure at Clemson which gave me a little bit of freedom. Even at Florida State, I do not have to be nervous while I am here. Sometimes trying to achieve tenure is a complex process. Now, I do not have that weighing on me, and I am appreciative of the department who hired me. I am thrilled to be here, and it is based on the Creative Writing Program, and my colleagues who are doing imperative work regarding queer theory and gender and race studies.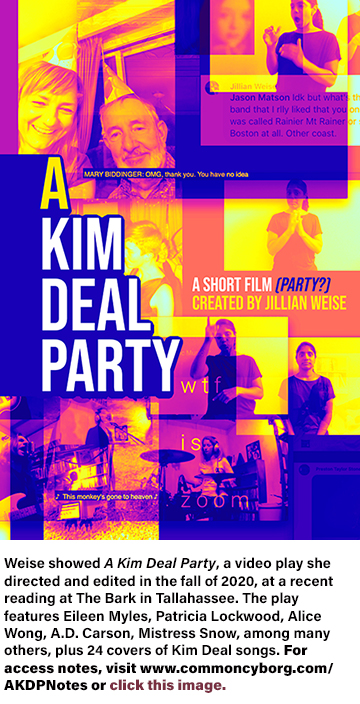 What are your current teaching assignments and how are these different from others you may have had in the past?
My teaching assignments are so different. For the first time ever, I am teaching a senior seminar course called "Cyborg Theory and Practice." I am writing a book, Common Cyborg, which makes the case that cyborgs are disabled people. No one has ever argued this before, and it is out there. I asked the department if I could teach this class because it is in-line with my research, and I want to know from my students if this is relevant and if they see connections with these ideas about cyborgs. The second class is a poetry workshop course. Although I have taught many poetry courses, it has never been with this caliber of students. They are all M.F.A . and Ph.D. students who have such good writing. I was so thrilled reading their work, and they have set the bar so high. I am just here to encourage my graduate students and point them in various directions. Overall, I am excited to teach both these classes, but they are very different from what I have taught in the past.
What is your teaching philosophy?
Ever since the pandemic, my teaching philosophy has changed. For example, I used to focus on the rules such as attendance and midterms. When COVID happened, I asked myself, "What am I doing?" I questioned if a timed midterm was the best way to learn considering the circumstances. In the end, I just want my students to thrive and stay alive. It is that simple. I also leaned into my disability rights activism and wondered why I was not giving myself accommodations in my own classroom. These accommodations for comfort and fairness are new to me, so education can happen in a safe environment. I want myself and my students to feel like we all choose this environment.
What do you want students to learn in your class? What have you learned about yourself from teaching and from your students?
I really go into each class not knowing what my students or myself will learn. There are required university goals on the syllabus, yet the real goals in my classroom are intellectual curiosity, daringness, audacity of ideas, freedom to think, speak, write, and have pride. Pride is something that I want my students to learn for any marginalized identity they may have. It is difficult to recognize disability pride because disability is seen as a lack and as something's missing. Sometimes disabled people cannot have disability pride because they became disabled from an accident, so it is complicated. For me, I am still learning what pride means for people in that situation. I learn all the time from my students. The most remarkable aspect for me is when students remember something that I may not consider important. I would always emphasize the present, and I guess that stuck out to my students. It made me realize that I am very much in the now and in the present moment. In my class, we might read something from the past, but I want us to recognize how it affects us today. Also, students have different learning styles which is obvious. Yet, it takes a while to discover these different styles. Some students are shy while others are comfortable talking in class. Both sides are okay, and students should not be penalized, one way or the other. It should be equal and fair. We are all different, and we do not have to conform to one style or to what the university says we should be. I am a better teacher because of my students' writing. I get excited when my students are excited.
I know that you are open with your disabilities both in person and online. You write about your personal life quite a bit on your blogs, from what I understand. How would you summarize your perspectives and the way you embrace life?
My feelings about my own disability are not static. I am constantly changing my mind and looking for my next move as a disability rights activist. I was born disabled, so you would think I know it all. However, I do not, and I am learning from marginalized individuals and other activists. We are the most recent people to receive civil rights. I am going through this phase as an activist. I have been doing this since 2013, yet before that, I was so snobby, and I felt that my activism was through my writing. I did not think I had to show up for events. Now, I think this idea was convenient of me, so I could hide behind my writing. I say this for myself because there are other disabled individuals for whom physical activism, in person, is inaccessible. I completely validate their activism. Today, I am writing and showing up for disabled people.
Sofia Cabrera is an English major, on the literature, media, and culture track, with a minor in education.
Follow the English department on Instagram @fsuenglish; on Facebook facebook.com/fsuenglishdepartment/; and Twitter, @fsu_englishdept