Lauren Gordon shares her experiences, advice on how to be an organized, 'well-rounded' student
---
Lauren Gordon shares her experiences, advice on how to be an organized, 'well-rounded' student
By Sara Sanfilippo
College students are often advised to become more involved on their campus and form connections with peers and professionals in addition to taking their academic courses.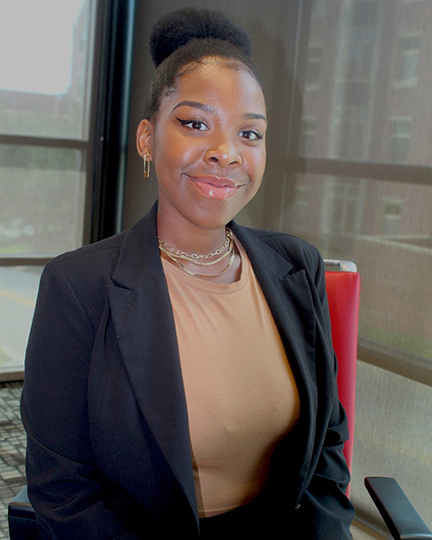 Lauren Gordon, a senior at Florida State University, took this advice and ran with it.
She is a double major in Marketing and Management Information Studies, with minors in both English and Communications. In addition, Gordon has a multitude of leadership roles and other organizational involvement on FSU's campus, including her positions as president of the Society for Collegiate Journalists, a student organization that started in the English department and continues to have student, alumni, and staff connections. Gordon also is head news editor for Her Campus, and a master coordinator for the Black Student Union.
"Outside of my FSU involvement, I collaborate with BFF Publishing House on the first edition of a book titled My Young Life Matters: The Next Generation Speaks," Gordon adds. She also currently holds a marketing internship for the Florida Network of Children's Advocacy Centers in its Tallahassee Office.
Following Gordon's graduation in April of 2021, she plans to take a year away from school to gain experience and personal growth.
"I've kept myself busy for the past four years, and school has been the center of my focus for what feels like my entire life, so it is only fitting for me to take a year off before attending graduate school," says Gordon, who plans to pursue a master's degree in either integrated marketing communications or data journalism. "During this time, I'll be able to save up to afford graduate school and take the time to work on my mental and physical health."
English doctoral student Cody Smith, who recently completed his Ph.D., taught Gordon in his Introduction to English Studies course. Smith recalls her being a class leader and comfortably taking the reins of class discussions, willing to engage both the texts and her classmates.
"What I remember most about Lauren was how I could always count on her to make our class better," says Smith. "Lauren was one of the most intellectually curious and driven students that I've had the opportunity to teach in my four years at FSU.
"Now, a few years removed from being her teacher, I'm not at all surprised to have this opportunity to praise her accomplishments and all the success that awaits her in the future."
As a soon-to-be college graduate, Gordon reflects on her time at FSU and shares her advice on managing a busy schedule, both academically and in terms of extra-curricular activities.
What inspired you to choose your two majors and your two minors?
I've always been interested in how the human mind works and what exactly compels us to want certain products or be attracted to particular aesthetics. Thus, I started exploring marketing in high school through the DECA program and viewed it as "the psychology behind business." I knew that I had a passion for marketing and an interest in storytelling, which led me to pursue English at FSU for a time.
What do you enjoy about studying English at FSU?
I originally double-majored with a concentration in Editing, Writing, and Media with my primary major of Marketing; however, it would've added a couple more semesters after my anticipated graduation date. Thus, I decided to take enough classes to cover the minor and pursue English through my extracurricular endeavors such as Her Campus, Society for Collegiate Journalists, and being a copyediting intern. I will always cherish the lessons learned while pursuing EWM and the professors that inspired me to take on this combined path.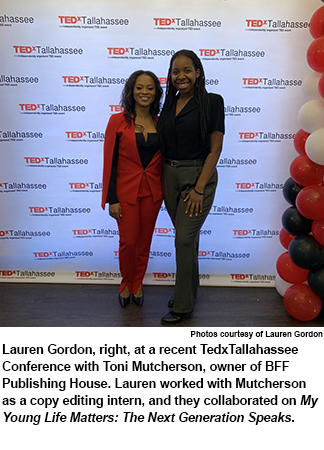 What is the book My Young Life Matters about and how is the publishing process going?
I have worked with BFF Publishing House for about two years now as an intern, so when my boss, Miss Toni Mutcherson, asked me to participate in the creation of her book, I was thrilled. In the wake of all the police brutality and violence against Black people in our country, we wanted to have the next generation speak on their experiences and how our broken society makes them feel as members of the Black community. For so long, younger generations have been overlooked. Their voices are never amplified, so we wanted to change that narrative and give kids aged 6 to 17 the opportunity to truly be heard.
How has your work as head news editor for Her Campus and master coordinator for the Black Student Union made an impact on you?
Her Campus has allowed me to have an extensive network of women interested in journalism, editing, and publishing. The Black Student Union has helped me foster connections with folks I identify with.
Could you discuss HerVoice, the magazine by women, for women, and your motivation behind creating the publication?
Whenever I think about HerVoice and my time as the editor in chief, I immediately have a smile on my face. The HerVoice magazine was one of my first experiences editing and leading a group of writers and artists. I was motivated by the women I've met during my time at Florida State and wanted to celebrate these women in an honest, artistic, and expressive way. There are so many intelligent, kind, and determined women who attend our school that come in various colors, shapes, and sizes. I wanted our stories to be heard and for our experiences to be memorialized creatively.
With all of your involvement in your extracurricular activities, how do you manage to stay organized and focused on your studies?
It is quite a struggle, but I always keep a Passion Planner or calendar with me. I have a dry erase calendar by my desk, a printed calendar by my door, and my Apple and Google calendars on my phone and laptop. My most significant thing is being aware of what's happening during my week or even month to prepare and develop reminders to stay on task. I will say, though, that I am a master procrastinator, and I still have a lot of room for improvement!
What are your plans following your graduation from FSU?
My future career plans entail working for a magazine or media company such as Essence, Refinery21, or Vice News. I aim to blend my experiences in storytelling and exploring trends/analyzing data. Also, I plan to move upward in the company to become the head of marketing or editor in chief, which would pave the way for so many other Black and Brown women. However, I also have ideas of starting my own media company from the ground up.
Do you have any advice for incoming first-year and current college students about tackling college and taking on multiple majors and minors?
Even if you don't have an idea of what you want to do in the future when you enter undergrad or even a passion that stands out to you, college is the time to discover yourself and what you truly love. There are so many forms of support at Florida State, whether it be the resources offered or the organizations you may join. It is crucial to keep in mind that this is the time to make mistakes and try new things and be exploratory. You may come in feeling like a piece of wet clay or a blank slate. Still, I assure you that your time here can mold you into the student, leader, mentor, advocate, or compassionate person that already lives within. You will have a plethora of memories and experiences etched in your mind forever.
Sara Sanfilippo is an English major, on the editing, writing, and media track, with a minor in retail operations.
Follow the English department on Instagram @fsuenglish; on Facebook facebook.com/fsuenglishdepartment/; and Twitter, @fsu_englishdept