Karen Laughlin: friend, colleague, leader, mentor
---
Karen Laughlin: friend, colleague, leader, mentor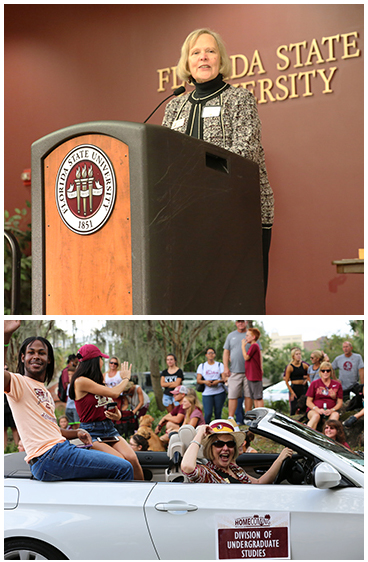 By Browning Brooks, on fsu.edu
Florida State University is mourning the loss of Dean of Undergraduate Studies Karen Laughlin — an influential, tireless and dedicated educator who, for almost four decades, helped define the very nature of an undergraduate education earned by countless FSU students.
"I was so sorry to hear of Dr. Laughlin's passing," said FSU President John Thrasher. "Karen was committed to ensuring that the university continued to give a high priority to undergraduate education and to helping provide FSU's undergraduate students with the richest possible educational experience. She will be missed terribly."
Laughlin, who also held a position as associate professor of English, spent her entire professional career at FSU. For the past 17 years, she led the Division of Undergraduate Studies, which works to help students develop a sound academic foundation during their first two years at FSU before they enter their major field of study.
Read the rest of Browning's article  here.
the Department of English community shares memories of Karen Laughlin
Karen Laughlin came to Florida State in 1982 and held a joint appointment in English and Interdisciplinary Humanities for several years before moving full-time to the Department of English. She served as Dean of Undergraduate Studies since 2003.
Please continue to check this page for an ongoing memorial.
Karen Laughlin was a large presence during my earliest years at FSU. She had arrived in Tallahassee three years before me, coming from the University of Toronto in 1982 where she had encountered some of the new and heady ideas that were transforming literary study at the time. My own understanding of literature had become inseparable from these ideas, and I'd worried that in FSU's English Department I might not find like-minded colleagues. Perhaps for that reason Karen's conversation during my on-campus interview in 1985 struck me as particularly significant. I still remember sitting at a bare table in the pre-renovation Williams Building talking with her about Paul Ricoeur's hermeneutic philosophy. Although I met many accomplished and welcoming faculty on my visit to FSU, I think Karen's conversation that day more than anything else decided me to accept FSU's offer when it came.
Many who knew Karen will recall her personal warmth, reasonableness, good cheer, and concern for students. Over the more than three decades that I worked with her – first in the English Department and then later when she was undergraduate dean – I came to recognize these qualities as well. But when I think of her now, what I most remember is her sophistication. Karen took a genuine delight in critical reflection and loved to engage in the intellectual give-and-take that makes humanistic inquiry so exhilarating. She had a mischievous side, one that would show when she sensed her audience was receptive. And she liked to laugh. She had studied Samuel Beckett's work at a time when Beckett was still dangerous, and the potential of his writing to unsettle readers had been part of what attracted her. Along with other FSU faculty hired during the eighties, Karen inhabited a movement of life and mind that promised to transform social institutions, and I still have vivid memories of our sitting at Bahn Thai Restaurant on South Monroe Street discussing ways to open the department, profession, and university to these transformative currents.
During the decades that followed, much happened that as Assistant Professors we couldn't have foreseen, and the careers of many in our cohort took divergent, often surprising turns, but through it all Karen's combination of levelheadedness, good humor, and intelligence remained a constant. Like others, I witnessed her oversee numerous innovations at FSU that, if not quite the revolution we had once envisioned, improved our students' lives in tangible and far more immediate ways, and I acquired a new appreciation for how formidable a leader she could prove, especially when academic norms were at issue. Anyone who mistook Karen's graciousness for pliability was due for a quick shock. But whenever Karen and I met during our last years at FSU, even if acting in some official capacity, it was always our memory of being young faculty when the wide horizon of possibility beckoned which connected us. Merely dropping a word like "play," "difference," or "center" into a conversation could elicit our smiles, and we would often trade remarks sotto voce, as though sharing some joke or secret that, were others to overhear, they might misunderstand. I can hardly accept now that, with so much life ahead and possessing so much valuable experience, she is gone, but I am grateful for the model she offered of humane leadership and for all she taught me and others about how humanistic training looks in practice. I might not have had an FSU career without her. She remains an English colleague of whom everyone in our department can be very proud.
—Ralph Berry, Professor Emeritus of English
Several faculty members have written wonderful accounts of Karen's early years in the English department. I knew her during those years, but I came to know her much better in the 1990s when Karen was graduate director and associate chair of the English department, and I was chair. During that time I relied on Karen for her sound judgment and problem-solving abilities.
A story from those times, which was not our best moment, still caused us to laugh at ourselves over the years. Karen and I were at an annual Modern Language Association meeting where we were spending most of our time interviewing job candidates. After a long morning we took off our name tags, hurried out for a quick lunch, and then returned to the interview room for the afternoon interviews. We grabbed our name tags, and I answered the door for the next candidate. When I introduced myself, he looked at me, and without missing a beat, responded, "Your name tag says Karen Laughlin." After that absurd start, the interview went well (although he was not in our final list for the position).
Later Karen became Dean of Undergraduate Studies, and after serving as Associate Dean of Arts and Sciences, I became Dean of the Faculties. We served together on many university committees, and Karen helped me time and again with her sage advice. We also shared hours on the stage together at university commencements and were part of a group that "decompressed" after that by having lunch at Mosaic.
I retired in 2011, and Karen kept on excelling as she strengthened established programs like the Center for Academic Retention and Enhancement and developed more and more opportunities for undergraduate students. We still got together frequently for lunch where she told me about her latest experiences. We also talked a lot about travel, especially her teaching in London. The conversations also turned to children and grandchildren—an important part of our lives. We were also in the same Wednesday night book club (equal part books and wine).
Karen was at first my colleague, then a fellow administrator, and most importantly, a dear friend. I miss her so very much.
—Anne Rowe, Professor of English and Dean of the Faculties, Emerita
Karen's large University family grieves. Her quick mind and personable disposition produced a thoughtful scholar/teacher who placed "people" issues ahead of bureaucratic ones, a sensible student request producing affirmation/resolution.
An anecdote touching Karen, perhaps known now only to David Kirby among current faculty, dates to Spring 1982 and to Karen's campus visit during the job recruitment enterprise—specifically, "candidate's dinner with department Executive Committee"—important on all fronts and involving questions from persons to the right, to the left, across the table; your answer involving all present…. You get the picture.
What did Karen order? Alaskan crab legs! Sounds good, but dinner comes with a bib and tools—for cracking legs open, for digging out meat, for…well certainly not for non-stop questions/answers flowing to and from all. Bottom line: Karen was wonderful. Never an awkward silence; never a question missed or misunderstood; never a loss of focus. Her extraordinary ability to concentrate, discuss, and interact was amazing (and was the source of recruiting lore in English each year for quite some time. Karen, herself, used to tell the story to visiting candidates). She had "presence" even in her earliest days.
I saw her last over lunch late last summer. She reported contemporary successes, progresses, some few regresses at Undergraduate Studies, but, personally, she, as ever, the "centered" person, the drive and vision intact. She will be missed by her colleagues and staff, and, indeed, by her University.
—John Fenstermaker, Professor Emeritus of English
Like others who wrote here, I am totally shocked and saddened by this loss. Karen was one of my oldest friends in Tallahassee, and over the years, she remained someone I could always turn to for advice, support, or just for the pleasure of hanging out together. She was the graduate director before me in the 1990s, and she patiently taught me how to do that job, and when I went to work in the Honors Program in the Undergraduate Division, she continued to be an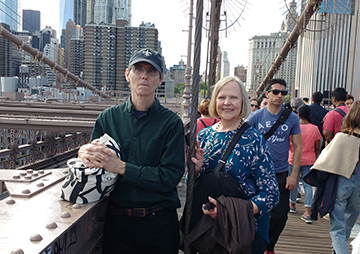 invaluable mentor. Her door was always open, and (dean's duties notwithstanding) she was always ready to listen and discuss any problem no matter how small. I also developed an increasing admiration for her administrative and leadership skills. The devotion she inspired in all her staff at Undergraduate Studies was something to see.
But the Karen I will most miss is the one whose company I enjoyed during countless dinners, lunches, "nights out with the ladies," and trips to see plays. One recent such happy occasion was a weekend trip to New York in May of last year when Karen, Jim, and I went to see Glenda Jackson play Lear and some other new productions. I remember Karen's delight in getting to walk from one end of the Brooklyn bridge to another on that sunny Saturday, and then her pleasure at having a "real" Brooklyn pizza at the famous Grimaldi's. She was a dear person and someone I will never forget.
—Helen Burke, Professor Emerita of English
I met Karen fall 1988 shortly after my arrival at Florida State, and we soon found ourselves part of a close-knit circle with a number of women faculty in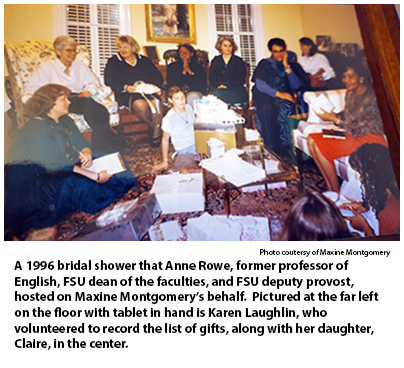 English, including Helen Burke, Bonnie Braendlin, Sheila Ortiz Taylor, Linda Saladin-Adams, and Laura Rosenthal. Over the years, our relationship deepened and evolved, not only in a professional or collegiate sense, but also on a more personal level relating the many milestones marking both of our lives.
The wisdom the she offered during the first few years of my appointment has proven invaluable in my professional growth and development, and her presence at my bridal shower, wedding, and baby shower, along with countless other informal gatherings, attest to her warmth, congeniality, and accessibility – qualities that would later become hallmarks in her stellar seventeen-year career as Dean of Undergraduate Studies.
I watched Karen closely as she followed a trajectory that allowed her to expand her administrative reach within the department and the larger university community. With each new appointment, she displayed the open-mindedness, wisdom, foresight, compassion, and capacity for sound, independent judgement that catapulted her forward into the administrative ranks in ways that have impacted the lives of countless undergraduates, past and present. I was thrilled when she succeeded the ever-popular Sandra ("Sandy") Rackley in becoming our Dean of Undergraduate Studies, a role that seemed tailor-made for Karen, and it was a position that allowed her to continue engaging her passion for student-centered administration, but within a broader space involving the university as a whole. The CARE Program, one of the many programs under her auspices, has thrived immeasurably and enhanced its national prominence as a result of Karen's visionary leadership.
It is my sincere hope that the English Department and the campus community will find a way to honor her memory by continuing the rich legacy she leaves behind.
—Maxine Montgomery, Professor of English
I didn't know Karen well since she was already "dean-ing" by the time I arrived, but she and I talked many times--about whether or not students should be exempted from composition on the basis of SAT scores, about how the Reading Writing Center in the re-designed Johnston Building could serve students and interface with ACE, about parents who complained to the Florida Department of Education about FSU's requiring their student-children to take 2135 rather than exempting it through AP, about her significant involvement in and leadership of Tallahassee's Tai Chi community, and about how good it was to get back to Tallahassee after a night-time flight on a cramped plane out of Atlanta. She was always welcoming, gracious, collaborative, and smart, quick with a kind word, ready with a genuine laugh. She valued her continuing connection to English; she loved FSU; and she was the best champion for FSU's undergraduate students.
I had no idea that when I saw her at FSU's online graduation (which I am just geeky enough to watch), it would be the last time I'd see her. It's heartbreaking--that's she's lost, that we could not say goodbye.
We are so much less without her, but we are so much better for having known her.
—Kathleen Blake Yancey, Professor of English
Like the rest of us, it's difficult to know what to say about another untimely loss to the English Department community here at Florida State. Even as she has not taught with us since her appointment as Dean of Undergraduate Studies in 2003, Karen kept a hand in and an eye on our departmental activities, particularly in her fields of modern and contemporary drama and gender studies.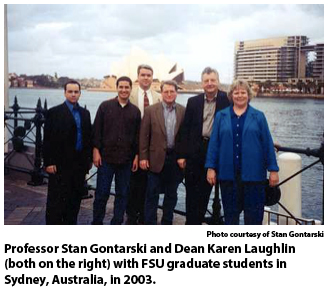 When I arrived at Florida State in the summer of 1989, Karen had just been promoted to Associate Professor, and it turned out she had a strong interest in and published work on Samuel Beckett. In 1995, she published her co-edited anthology, Theatre and Feminist Aesthetics, Ed. Karen Laughlin and Catherine Schuler, Fairleigh Dickinson University Press. In 2003, as she was appointed Dean of Undergraduate Studies, she and I led a party of four graduate students to the Samuel Beckett conference in Sydney, Australia, to celebrate the 50th anniversary of the premiere of En attendant Godot in Paris. We all presented our research at that conference, and all four graduate students completed their Ph.D.s at FSU with dissertations focused on the work of Samuel Beckett. Karen was on most of those committees.
We last spoke as she was again keeping her hand in the local theatre scene. We had extensive discussions both before and after the opening night of the Tallahassee Irish Repertory Theater production of Endgame in February of this year. It was clear that she had been keeping up with the currents of Beckett criticism even as she was a full time Dean.
All this is to say that Karen and I had a strong professional connection and friendship. Although of late I tended to see her only at University functions (now perhaps a thing of the past), she was always her warm, friendly self and ready to talk not about the travails of Deanship but of the consolations of literature. Requiescat in pace, Karen.
—Stan Gontarski, Professor of English
Karen Laughlin was a wonderful colleague and mentor who was so kind and generous to us in the English department. She was inspiring in her dedication to undergraduate education and she did so much for our students. Even after she went on to become a dean, she still kept up with us in the English department and wished us well. I have good memories of her mentoring our cohort, with her hosting lunches or Duke basketball game watches, and of her enthusiasm for English and for everything she did for FSU.
—Leigh Edwards, Professor of English
In my brief time at FSU, I have had the privilege of serving on three committees with Karen Laughlin, all fairly extensive terms of service, all surrounding undergraduate education at FSU. In all these interactions, Karen impressed me as being tremendously fair, consistent in her observations and her judgments, a great judge of character, and the consummate diplomat. She was generous, invitational, and yet uncompromising in the things that mattered to her. When Karen spoke, people listened—not because she consumed all of the oxygen in the room, but because she gave the conversation its most fulsome direction through her well-reasoned, well-seasoned, compassionate responses, through her quick wit, and through her pragmatic questions. There was a zen quality to her participation: where some might feel the need to say the most the loudest, Karen never did. Her economy of expression and her gentle demeanor spoke volumes upon volumes. It doesn't take sharing a committee assignment with Dean Laughlin in order to appreciate the pillar she has been on this campus and within FSU's community. Karen Laughlin was a visible presence, and a calming one. She is already missed.
—Tarez Samra Graban, Associate Professor of English
I arrived at FSU two years after Karen, and she welcomed this rookie as warmly as anyone; we survived the slings and arrows of the tenure-track together. Her first great gift was relieving me of the then-bundled job of Associate Chair and Grad Studies director in 1993, on her way to heights of administration. The performance of that office suddenly got SO much better. But the memory I most cherish is at the old Chez Pierre, where the Federal courthouse now sits on Adams Street. Karen with a beaming smile came through the door to join a department lunch crew with a baby carrier on her arm holding brand-new Claire. She was the person who trailblazed such an event for me to witness, and that was her greatest gift to me and Julia.
—Eric Walker, Professor of English
I'm shocked and saddened to learn of Karen Laughlin's sudden passing. Karen was one of the kindest and gentlest souls I met while at FSU. Her generosity of spirit—and in every other way—was unequaled. She was an accomplished a scholar of theater and drama, and a longtime Dean of Undergraduate Studies, a position in which she excelled.
I think very often of Karen opening up her home to my wife, Carol, and me when we first arrived in Tallahassee in August 1995. We'd just driven through the aftermath of Hurricane Erin and were exhausted. The apartment we had rented was not ready as promised, so I deliriously called Karen, who had kindly shared her number in case we needed anything. I asked if she could put us up for a day, broke as we were at the time and unable to afford a long stay in a hotel. Karen returned my call and offered to let us stay with her family until our apartment was ready. We gratefully accepted. She made two bewildered newcomers to the South feel welcome. This would not be the last time Karen extended a kind hand to us. Not even close. She guided several of us around her native Toronto during a Modern Language Association convention, patiently showing us historical sights and great dining.
I will miss her. I know her colleagues and countless students will as well. Rest in Peace, Karen.
—Darryl Dickson-Carr, Professor and Chair of English, Southern Methodist University
Like so many of her friends and colleagues, I was shocked to hear the news of Karen Laughlin's sudden death. I was a doctoral student in English at Florida State from 1994 to 1998, where I had the pleasure of getting to know Karen in multiple capacities. I took two drama classes with her and can attest that she was a brilliant teacher. In grad school you're never just a student—you're also a trainee, a fan, and a thief. If teaching is a vocation, then you hear that calling in the voice of your best professors, long before you develop a voice of your own. When I was hired as an Assistant Professor of English at Xavier University in 1998, it was as a Modern Drama specialist. I still regularly teach several of the plays Karen first taught me, and I still try to emulate her enthusiasm, engagement, humor, sensitivity, and curiosity.
Karen was also an important mentor for me as a researcher. As a budding Beckett scholar, I had the privilege of learning my trade from two masters of Beckett Studies at Florida State, Stan Gontarski and Karen Laughlin. Later it was such a thrill to run into Karen at Beckett conferences, from Berlin to Tallahassee, and catch up on where life had taken us in the interim.
Finally, I got to work closely with Karen as her graduate assistant when she was director of undergraduate studies in the English department. Much like my editorial work for Stan on the Journal of Beckett Studies, this kind of work gave me a behind-the-scenes understanding of the inner workings of academia. Karen put me in charge of the English newsletter, which brought me in much closer contact with faculty, staff, and students throughout the department. She could have treated my assistantship as mere grunt work, but instead she treated me with kindness and respect, providing me with an apprenticeship in professionalization.
I owe Karen Laughlin a lot, and I am sad that I won't get another chance to thank her in person.
—Graley Herren, Professor of English at Xavier University (Ph.D., FSU, English, 1998)
">