Juli Delgado Lopera is guest author for LMC Program and Diversity Committee reading, Q&A
---
Juli Delgado Lopera is guest author for LMC Program and Diversity Committee reading, Q&A
By Cristi McKee
Florida State University English department's Literature, Media, and Culture Program and Diversity Committee is hosting a reading and Q&A with award-winning author Juli Delgado Lopera on Friday, March 12 at 3 p.m.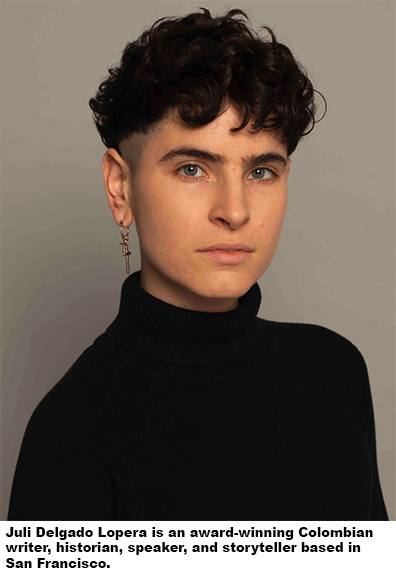 The event has support from Diversity & Inclusion, Division of Student Affairs, Faculty Development & Advancement, University Libraries, and the LatinX Faculty Staff Network and serves not only as a way to highlight Lopera's work but also as a way for the FSU community to continue to diversify and to be a welcoming environment.
Jeannine Ortega, a fourth-year Literature, Media, and Culture doctoral student, arranged for Lopera to lead the event. Ortega's credits Lopera's writing as a "cornerstone" in her dissertation.
"I'm investigating Latinx representation in literature and media with a focus on Latinx femininity, performance, and popular culture," Ortega explains. "Their book will serve as a case study for one of my chapters on Latinx writing and queer coming-of-age narratives."
Lopera, a Colombian writer, historian, speaker and storyteller. lives in San Francisco. They are the author of The New York Times-acclaimed novel Fiebre Tropical, a finalist of both the 2020 Kirkus Prize in Fiction and the 2021 Aspen Literary Prize. They are also the author of Quiéreme and ¡Cuéntamelo!, which won a 2018 Lambda Literary Award and a 2018 Independent Publisher Book Award.
English Professor Virgil Suárez, chair of the department's Diversity Committee, describes Delgado's Fiebre Tropical as "a tour de force in language and style." He says their work is not only important but timely as well.
"We are delighted they will be with us to celebrate diversity and great writing," Suárez adds.
Attendees can expect a reading from Fiebre Tropical, followed by the Q&A session.
"This online event is a great opportunity to engage in a personalized setting with an innovative and generous author," Ortega says.
Ortega says that Fiebre Tropical is "a text that playfully reinvents traditional expectations of 'English literature.'"
"As a student of literature, there's always the pressure of knowing the classics, but this idea is always challenged and reimagined by new writers," Ortega says.
For example, throughout the book Lopera uses "Spanglish," a mix of English and Spanish, to tell a story, and while readers may not fully understand the language, "the humor, heart, and longing are real," according to Ortega.
"I'm a big fan of their recent YA novel Fiebre Tropical and I'm thrilled we are able to host this event," Ortega says.
You can register to attend the event here.
Cristi McKee is an English major, on the editing, writing, and media track, with a minor in business.
Follow the English department on Instagram @fsuenglish; on Facebook facebook.com/fsuenglishdepartment/; and Twitter, @fsu_englishdept