Jessica Reidy discovered her family, cultural roots at a young age, and she now works with others to help them do the same
---
Jessica Reidy discovered her family, cultural roots at a young age, and she now works with others to help them do the same
By Erinn Lyden
At a young age, Jessica Reidy found writing to be a cathartic outlet to process her difficult childhood. After discovering her talent in elementary school, Reidy's Romani family encouraged her to read and write.
"Writing was really the only thing I was excelling at and the only way I could process my emotions about things I couldn't talk about," Reidy says.
Reidy is mixed Sinteza, meaning that part of her family, her maternal grandmother's side, is Sinti, a subgroup of Roma. The Roma are a diasporic ethnic group originally from India circa the 10th century, who were historical nomadic because of persecution. Now, most Roma are settled, and live all over the world, though the majority of Roma live in Europe today.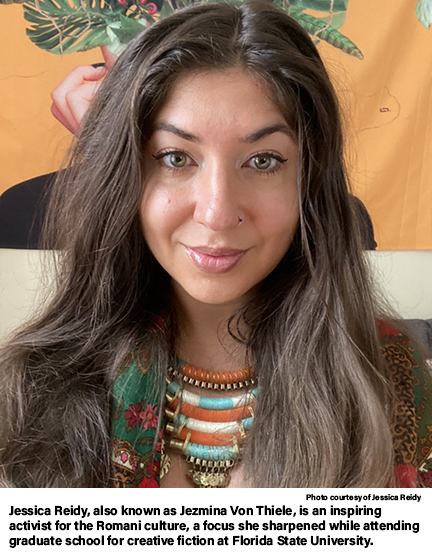 Growing up in New Hampshire, storytelling was an enormous part of her childhood life.
"Especially on my mom's side of the family, my Romani side, storytelling was a way of preserving our culture that otherwise we were pretty alienated from because my grandmother left her community and left Germany by herself in the 1950s," she says. "Stories were really our only connection to tradition because we did not grow up within a Romani community, and that is a pretty big deal to some Roma, to be outside of the community."
Reidy, or Jezmina Von Thiele, is now an inspiring activist for the Romani culture. In fact, while attending graduate school for creative fiction at Florida State University, she found a lack of published Romani writers, which ignited her love for publishing stories about her culture.
"It is only within about the last century that Romani writing has been committed to paper," she explains. "It has been passed down mostly in oral tradition, and because of discrimination against Roma in education, historically there were not a lot of opportunities for Roma to publish, and there is still a huge lack of Romani representation in publishing.
"So, I thought if I become a part of publishing and writing, then I can be a voice, and spotlight other voices."
Reidy is currently working on a nonfiction book on Romani spiritual practices.
"I'm one of those people who has several plates spinning at the same time. So I have a book of poetry that I've been working on, and I also have a book of short stories, which has helped me deal with my trauma through writing," Reidy says. "Then there is a novel looking into three generations of a Romani family with trauma from fleeing after the Romani and Sinti genocide of World War II in Germany, and how that has affected that side of my family living in the United States."
Reidy recalls how meaningful the experience was when she won the 2016 Penelope Niven Prize in Creative Nonfiction for her "Madness is Remembering." She initially had no intention of publishing or submitting the essay.
However, after a push of encouragement from friend and English alumna Misha Rai, who earned her doctorate in Literature and Creative Writing in 2017, Reidy submitted the essay about her escape from her abusive marriage.
"In that essay I got to take a look at first, what it would be like for me to write nonfiction and actually claim some ownership over things that are very contentious, like child abuse, childhood sexual abuse, domestic violence, and just being okay with owning that this is my life, it's not something that I obfuscate through poetry," says Reidy, who also earned a nomination for a 2014 Pushcart Prize for her short story "We Rise Up."
Rai, who is currently a Visiting Assistant Professor of Literature and Creative Writing at Hamilton College in New York, says Reidy is "one of those rare human beings who bring to one's life joy and kindness."
"Her work has that uncanny quality that I also find in Mary Gaitskill's work—beautiful, uncomfortable, brutally honest," Rai says. "Jess adds one more thing to her work: a studied sense of compassion. It is also how I would describe her, although there is nothing studied about her compassion. She just is."
Reidy left FSU before she finished her master's degree requirements for self-care reasons. Now, she is a tireless advocate for mental health, and says she is constantly working through therapy, moving at her own pace to publish heavier-topic pieces.
"To be able to take [a] raw experience and then turn it into narrative takes some work to process it," she says.
Her childhood journals were the only place for her to truly express and process what was happening, and Reidy acknowledges that she hid her trauma for years. She made references to the situations in poetry, which allowed her to express her emotions toward her trauma without directly specifying the acts.
After divorcing her abusive husband, which was around the time she left FSU's graduate program, she became more open write the stories about her previous experiences for the world to see. During this time in her life, she became more active and open about being Romani.
"I realized that I'm not just doing this writing, talking about these things, for my own sake, but that it is actually helpful to those around me," she adds.
Once she left FSU, Reidy taught Global Literature and an Introduction to Writing course at Long Island University-Brooklyn, where she talked with students about her own cultural perspective, growing up with a mixed heritage. Simultaneously, she taught many workshops that leaned into her work in spiritual healing, such as yoga and creative writing.
Reidy describes those workshops as more generative because of the nurturing and creative experience, allowing her students to respond to prompts freely or connect with their bodies in a creative space.
After her position as an adjunct professor at LIU, Reidy became a middle-school art and humanities teacher. Reidy says she is thankful for her freelance teaching work because she can be more expressive.
Reidy tells the story of how her grandmother shared her Romani culture with her.
"When I was 4 my grandma told me, 'OK, so, we're gypsies, but don't tell anyone,'" Reidy recalls. "She used that word because that was the word she was most familiar with, and this is actually the case for a lot of older Romani folk. They are more accustomed to using the slur, 'Gypsy.'"
Many language reference books deem the word "gypsy" as offensive.
Her grandmother could not experience a fully immersed Romani upbringing because she needed to hide her ethnic and cultural identity from the Nazis in her region. Still, she passed along to Reidy skills that the women in her family had been carrying out for centuries.
Reidy began learning dream interpretation, palmistry, cartomancy, and tea leaf reading from a young age.
The more I learned about my ancestors and the history of my ancestors, the more I wanted to share and talk about it. Being honest about my own experiences was being an activist.

— Jessica Reidy
"I started off reading playing cards but now I read tarot professionally because I find that for a non-Romani audience playing cards are a little too direct, but tarot is more accessible for most people," she says, adding she wants to empower people to make the best choices for their lives through interpreting the tarot cards.
Rai says that Reidy's open-mindedness makes her a strong addition to any situation she encounters.
"Her interest in other people is genuine. She is quick to engage with everyone around her, even people who are diametrically different from her, and she is always looking to for ground on which dialogue can be built," Rai says. "Her work is redolent of these qualities, but she is also not afraid to take on the world if the world needs to be taken to task. I feel honoured to count her as one of my friends."
Reidy points out that her activism for Romani culture on various social media platforms feels woven into her lived experience. She was taught from a young to hide her culture, and she never questioned the secrecy until she began writing about those circumstances.
Throughout both her loved experience and her writing journey, she has experienced incidents of discrimination and racism, which she says have not been as harsh in America as they would be if she were in Europe, or elsewhere.
"The more I learned about my ancestors and the history of my ancestors, the more I wanted to share and talk about it," Reidy shares. "Being honest about my own experiences was being an activist."
Reidy is currently a co-host on a podcast called Romanistan, where she and her co-host Paulina Verminski talk about Romani issues and uplift Romani creators, touching on Romani rights. Verminski, owner of Romani Holistic, is Romani on both sides of her family and grew up in a very traditional, close-knit Romani community in California.
"The podcast is more of a celebration of Romani culture," she says, "and seems to be my favorite way to do my activism."
As an educator, Reidy strives to be patient when she encounters cultural insensitivity toward Romani culture. As an activist, she aims to teach but liberally uses the block and delete features on social media to fight against the hate she receives for being so openly politically correct.
Instead, she uses her social media as a platform to express what she wants to say, promote others who are offering important opinions and insights, and to learn about other cultures. Just as she was encouraged at a young age to explore what it meant to be part of the Romani culture, Reidy hopes to help others discover their roots.
Follow her Instagram for more content on the work she does: @jezmina.vonthiele and @romanistanpodcast
Erinn Lyden is a junior who is majoring in English-Editing, Writing, and Media, with a minor in Communication and a certificate in Multicultural Marketing Communication.
Follow the English department on Instagram @fsuenglish; on Facebook facebook.com/fsuenglishdepartment/; and Twitter, @fsu_englishdept