Jessi Thomsen wins 2020-21 P.E.O. Scholar Award
---
Jessi Thomsen wins 2020-21 P.E.O. Scholar Award
Front page photograph shows Jessi Thomsen with Mardi, her Golden Retriever.
By Savannah Tindall
Florida State University doctoral candidate Jessi Thomsen recalls two moments of encouragement that eventually led to her winning a P.E.O. Scholar Award.
One was a simple conversation she had with a Publix cashier. After Thomsen mentioned she was working on her degree in FSU's Rhetoric and Composition Program,

the cashier said, "You should apply for the P.E.O. Scholar Award." Thomsen didn't realize it at the time, but the cashier was a member of a local chapter of the P.E.O. Sisterhood, a community of women who support the educational goals of other women.
Not long after that, a friend of Thomsen's in her volleyball group mentioned that she had won that award, and she encouraged Thomsen to apply as well.
With that encouragement, Thomsen researched the award, which the Philanthropic Educational Organization grants to support women scholars who are pursuing their Ph.D. and are in the final year of their dissertation work.
The International Chapter of the P.E.O. Sisterhood announced in early April that Thomsen won the award, including $15,000 to support her studies and research. She says she is grateful for the support both the P.E.O. Sisterhood and FSU's Department of English gave her during the application process. Thomsen adds that she is excited and determined as she faces the challenges of completing the research for her dissertation.
Q&A with Jessi Thomsen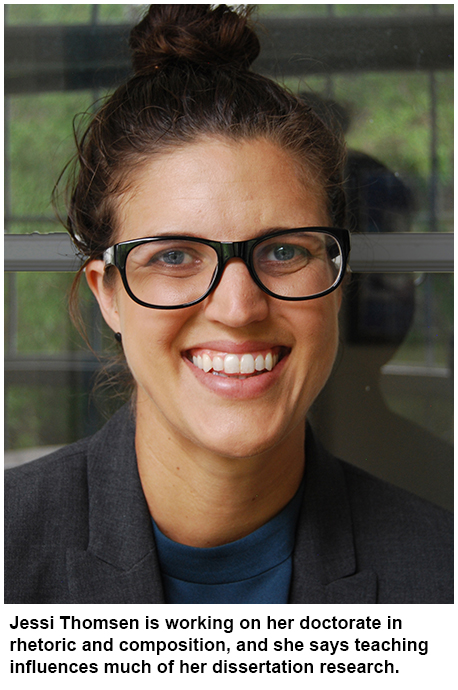 Tell me a little bit about yourself and your higher education experience.
I actually come from a secondary teaching background. I earned my Master of Education in Secondary Teaching from Creighton University, and I taught in a middle school and high school for several years in Omaha before shifting to graduate work in English. I earned my Master of Arts in English from the University of Nebraska at Omaha, where I focused on Rhetoric and Composition with the mentorship of Dr. Tammie Kennedy. My work with her is foundational to who I am as a scholar and teacher.
Since then, I've been at FSU, Both Dr. Kristie Fleckenstein, my advisor, and Dr. Kathleen Blake Yancey have encouraged and challenged me in my research. But an important thread through all of this is actually my teaching. I have always been energized by working with students, and being in the classroom with Editing, Writing, and Media undergraduates has been particularly generative for my research and my continued development as a teacher. Teaching (and learning!) with these students in these courses—especially Rhetoric and What Is a Text?—has dovetailed in crucial ways with my scholarship and has forwarded my research agenda. I cannot emphasize enough how much that reciprocity in the classroom has influenced my work.
What are your academic interests and what fuels your enthusiasm?
My current project takes a careful look at reflection as it is theorized and practiced in writing, both in the classroom and in the world. I suggest that our notions of reflection have not been fully explored in terms of materiality and difference, so my research investigates decolonial and new materialist frameworks for reflection with the goal of constructing a synthesized understanding of reflection for writing. In addition, I suggest that this exploration of reflection is especially crucial at a moment when our relationship to the world around us is coming up against perilous issues in terms of sustainability.
I consider that our relationship to our writing practices, particularly through reflection, has implications for our relationship to the world we inhabit, and rearticulating our understanding of reflection has potential to reorient us to both our writing and worldly practices. That work is important to me, but it's the way that it intersects with so many things that really keeps me excited about my research. I see the connections between this work with reflection and interests that I have in mentoring, student engagement, feminist rhetorics, activist rhetorics, and assemblage theory. Although these interests might seem to go a lot of different directions, I see opportunities to explore them in relation to each other and to put them into practice.
After you discovered the award, discuss the application process.
The application for the P.E.O. Scholar Award was extensive, but the qualifications are pretty straightforward: be a citizen or resident of the United States or Canada and attend a college or university there; have earned a bachelor's degree; be within two years of graduation from a doctoral program; and have a year of academic work left. From there, I started paying closer attention to information forwarded by FSU about the award.
As I mentioned, the application process is pretty intense: It begins with submitting materials to FSU that they then forward to a local chapter of the organization. The local chapter(s) review the materials and then contact applicants who they would like to sponsor for the award at the international level.
When I was contacted, I then had a meeting scheduled with two women from the local chapter. I sat down at Panera with them and talked through my project, my educational background, and my goals. They asked me all sorts of questions to ensure that they had information to present my project to the rest of the chapter. I then received an email from one of the women that the chapter had nominated my project to advance.
At that point, I began completing the full application, including a proposal outlining my dissertation project, and contacted my mentors for letters of recommendation. Within the local chapter, they also worked to write a letter of support for my application. All of these materials are sent on for the selection process through the International Chapter of the P.E.O. Sisterhood. In a way, I received the award, but it is also a point of recognition for the local chapter.
Can you talk about the significance of awards like this and how it helps women achieve their academic and career goals?
In addition to recognition and financial assistance, early-career scholars benefit from community support and mentorship. I've been particularly interested in this award because of its focus on building a community of women who work together to support women who are pursuing doctoral work.
Oftentimes, when working on a research project, it can feel as though you are working in a vacuum. An award like this serves as a tether to a larger community that is invested in the work that women can do in their respective fields. I think this community is apparent in my description of how I heard about the award and the support I received during the application process. I met women—at the grocery store, playing volleyball, in our own department—who were genuinely interested in my graduate work and who were willing to take some time to help me secure additional support within that community of women.
What does it mean to you personally to win it?
To be honest, I'm a bit stunned to have been selected, and I haven't quite wrapped my head around it, yet. Ultimately, this award means a lot of things, but I'll focus on one that seems particularly important.
Graduate school and starting into my dissertation project have felt like going down a "rabbit hole" with my particular disciplinary interests. It's easy to question the relevance of this research outside of the immediacy of the project. The selection process for the P.E.O. Scholar Award is conducted by women from the organization who may be highly educated but are not necessarily scholars in English or rhetoric and composition.
I think it means something for people outside of my discipline to recognize the potential value of the project on a broader scale. It encourages me to think that going down that rabbit hole of research isn't just a game—it has potential to do work in the world.
How did being a part of the FSU English department affect your application?
I don't think I would have felt confident in applying for this award if I hadn't experienced both support and encouragement from FSU's Rhetoric and Composition Program. The program, as a whole, functions as a community that has been supportive. I am indebted to a number of faculty members and fellow graduate students—especially my writing group!—to my development as teacher and scholar.
When I decided to apply for the P.E.O. Scholar Award, I approached both Dr. Fleckenstein and Dr. Yancey for letters of recommendation. Those letters are the material manifestations of the much more important work they have done—serving as mentors, having conversations with me, laughing at stories about my pups, challenging my assumptions, and engaging me in rigorous scholarship.
"I don't think I would have felt confident in applying for this award if I hadn't experienced both support and encouragement from FSU's Rhetoric and Composition Program. The program, as a whole, functions as a community that has been supportive." — Jessi Thomsen
I also contacted a graduate student in the department who had received this award last year. She shared insights with me and encouraged me to apply. In addition, I didn't realize it at the time of my application, but it was actually one of our FSU English department faculty members who took the lead on writing a letter of support from the local chapter. We have several faculty members who are involved in P.E.O., and even though I have not had much interaction with this particular faculty member, she was willing to put her support behind my project.
How does winning this award help you achieve your academic goals?
An award like this comes with (at least) two major benefits: the recognition and the financial support. In terms of recognition, the award definitely provides a confidence boost.
Working on a dissertation is exhausting, partially because it's a rollercoaster between excitement for the project and the grueling work that comes in between bouts of excitement. As Dr. Fleckenstein told me, "Hang onto that excitement because you'll need it to get you through this process." Being recognized with this award provides another point of excitement and external reinforcement that the work being done is, in fact, good work.
Although I won't be starting on the job market until the fall, I can imagine that receiving an award like this could be helpful during that process. It provides a good talking point about my research and has potential to set me apart from other candidates. All signs point to the challenge of finding a good faculty position in a tough market, so I appreciate all the help I can get.
In terms of financial support, graduate school is a strange time to try to balance intense intellectual work with the day-to-day stress of practical, financial concerns. I know that for some grad students, this includes supporting families or covering medical costs. We all work to maintain healthy and productive living and working environments. As someone who is just a little bit older and coming back to school for a Ph.D., my financial concerns feel somewhat compounded by an accumulation of responsibilities and the ever-present concern of being prepared for emergencies. In short, the financial support from this award alleviates some of the day-to-day stress and allows me to better focus on my research and pursuit of a faculty position.
Once you receive your doctorate, what do you plan to do?
I hope to continue on the path of teaching and researching. For me, the two are woven together, so finding a job that supports me to do both is definitely my ideal. My partner is also in the Rhetoric and Composition Program, so I'm looking forward to the challenge of finding faculty positions for both of us so we can continue our work. I'm also hoping to end up somewhere that is a good environment for us and for our golden retrievers. I'm always struggling with striking a balance between personal and academic/professional, so I think part of our exciting challenge will involve finding a place that is conducive to such a balance and is pup-approved.
Savannah Tindall is a junior double majoring in English, with a concentration in editing, writing, and media, and public relations.
Follow the English department on Instagram @fsuenglish; on Facebook facebook.com/fsuenglishdepartment/; and Twitter, @fsu_englishdept