Jerome Stern Reading Series entertains during spring semester with virtual Jerome at Home
---
Jerome Stern Reading Series entertains during spring semester with virtual Jerome at Home
By Cristi McKee
The Florida State University's Department of English's Jerome Stern Virtual Reading Series kicks off the semester on Jan. 12 with the first installment of its virtual reading series, Jerome at Home.
The series highlights English graduate students' and professors' literary work and exists in partnership with local independent bookstore,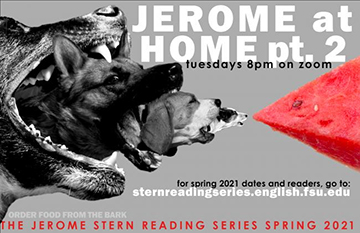 Midtown Reader. Pre-pandemic the series took place at The Bark, but the virtual-only series is being held on Zoom for its second semester.
The series has some exciting events in store this semester.
"This semester, along with the usual set of graduate student readings, our line-up includes readings by creative writing faculty, recent alumni, and two open mics, one of which is in partnership with the creative writing department at FAMU, and that we hope will further strengthen FSU's relationship between our respective university communities," says Erin Slaughter, co-host and co-organizer of Jerome at Home.
The series kicks off with a celebration of "When the Light of the World Was Subdued, Our Songs Came Through: A Norton Anthology of Native Nations Poetry."
The event is slated to be a "really special one," Slaughter says.
"[The Jan. 12] is a really special one, featuring readings by four Native Nations poets and moderated by FSU's Tacey M. Atsitty, who is a poet in the PhD program," Slaughter explains. "Tacey organized this reading to celebrate a group of poets whose work, alongside her own, was featured in the recently released Norton Anthology of Native Nations Poetry, edited by U.S. Poet Laureate Joy Harjo. We are so excited to have this group of writers as our first of the semester, and grateful to Tacey for bringing the idea to us."
Chip Livingston, Jennifer Foerster, and Marianne Broyles will lead the readings, which will be moderated by Atsitty.
The English department organizers encourage everyone to, "Feel free to invite family, friends, pets, strangers, whoever you wish — and don't forget to support our friends at The Bark by ordering food to-go!" For Slaughter, the reading series offers a way for the writing community to gather.
"I'm excited just to have the reading series rolling again, and to bring a sense of shared community to our writing program in these isolated times," she says.
If you are interested in attending, you can register online, here.
Cristi McKee is an English major, on the editing, writing, and media track, with a minor in business.
Follow the English department on Instagram @fsuenglish; on Facebook facebook.com/fsuenglishdepartment/; and Twitter, @fsu_englishdept