Jerome Stern Distinguished Writers Series is "quality guaranteed"
---
Jerome Stern Distinguished Writers Series is "quality guaranteed"
By Amber Deschene
Parking spots are going to be tough to find outside The Bark on Tuesday nights through the end of April.
Cars lined the street outside of the artsy restaurant and filled parking lots in the surrounding area on January 15, as professors, students, and community members enjoyed food and beverages while listening to Sandra Simonds read selections of her poetry.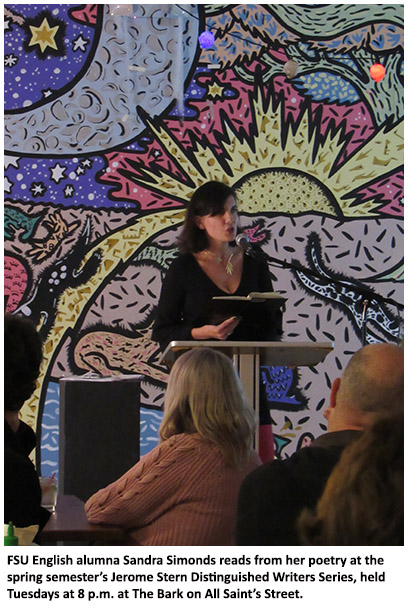 Simonds, a Florida State University alumna who earned her Ph.D. in Literature with an emphasis in creative writing, was the first author to read for the spring semester's Jerome Stern Distinguished Writers Series. The series features different student and local writers and poets, with readings every Tuesday at 8 p.m.
English Professor Skip Horack read from his collection of fiction on January 22. (See full schedule of readers below.) The Bark is located about one mile from the FSU campus, on All Saints Street, just off Railroad Avenue.
Simonds lives in Tallahassee and is an established poet as well as associate professor of English and humanities at Thomas University in Thomasville, Georgia. She has published seven books of poetry, has been featured in Best American Poetry, and has won several awards, including the Reader's Choice award for her sonnet "Red Wand."
"Reading in front of people isn't hard, because I think of it like an act," says Simonds, who read from Atopia, her most recent collection of poems, in addition to other selections. "The more reading I do, it's become more and more performative, so it feels more like a performance than it did when I first started."
English Professor David Kirby attends the readings as a true enthusiast.
I've been to readings all over the country, and in terms of both quantity and quality, this is one of the best series going," says Kirby, who is the English department's Creative Writing Program director. "By quantity I mean there's a free reading every week, and the quality is guaranteed because 90 percent of our readers are local. Tomorrow you're going to walk past the people you read to tonight, so you're going to bring your best game, right? Damn straight you are.
"And we're compact, too—we get our audiences out in an hour or less, guaranteed."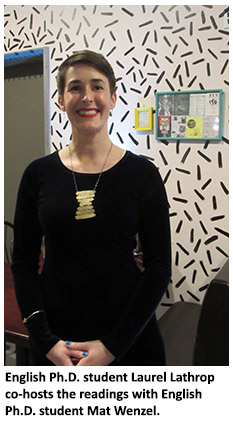 Several of the readers throughout the semester will be associated with FSU or are local authors. Creative writing Ph.D. students Laurel Lathrop and Mat Wenzel are co-hosts of the Jerome Stern Distinguished Writers series and assist in choosing the weekly readers. Lathrop and Wenzel fill in the gaps of the "outside" readers with graduate students. Students are encouraged to volunteer, and they are chosen by seniority.
"It's one of the only weekly reading series in town for creative writing," Lathrop says. "It's nice because it's in a bar/restaurant, so you can get food and drinks. It's pretty informal, but we get really wonderful writers. Plus, it's free."
Next time you're looking for something to do on a Tuesday, be sure to drop by The Bark and check out the new reader of the week and try a delicious snack or drink. Some might say there's nothing better than good food, good company, and good literature.
Spring semester lineup
1/15 – Sandra Simonds
1/22 – Skip Horack
1/29 – Diamond Forde, Collin Callahan
2/5 – William Fargason, Clancy McGilligan
2/12 – Rachel Kadish
2/19 – Rebecca Orchard, Nicholas Bon
2/26 – Alex Jaros, Kelsey Ward
3/5 – Michael Taylor, Keri Miller
3/12 – Yolanda Franklin
3/19 and 3/26– No reading
4/2 – Ravi Howard
4/9 – Daniel LoPilato, Theo Yurevitch
4/16 – Whitney Gilchrist, Tiffany Isaacs
4/23 – Spotlight Award Readings