Jensen Kervern develops her ideas of community as FSView & Florida Flambeau editor in chief
---
Jensen Kervern develops her ideas of community as FSView & Florida Flambeau editor in chief
By Amelia Shoriak
Florida State University English major Jensen Kervern has always been an avid writer and interested in current events. To further those pursuits, Kervern reached out during her first year as a student to the FSView & Florida Flambeau, an independent student-run campus newspaper.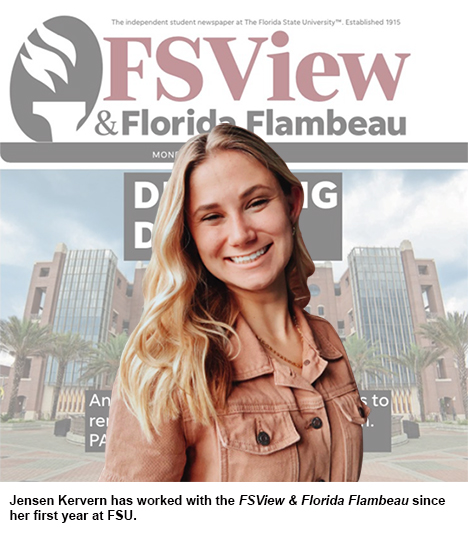 "I grew up with the arts, and I always loved to read," Kervern says. "My English classes and history classes were always my favorite, so I definitely enjoyed English prior to coming to FSU, but it wasn't until I got here that I really looked at English as a serious way to develop career skills and take that to the next level."
Kervern is now a senior double majoring in English-Editing, Writing, and Media and Media Communication Studies, and she is the current editor in chief of the FSView. Those three paths have provided Kervern the opportunity to gain knowledge that can be applied to the workforce once she graduates.
Kervern started working for newspaper in spring of 2018 as a staff writer for the news section before becoming editor in chief. Kervern's duties while working for the FSView have included attending events and writing articles about things happening on campus and within the Tallahassee community.
"Sharing my love for information and educating people, my passion for truth, and bringing justice to topics that people care about is the best part about my job as editor-in-chief," she says.
Some of the daily roles Kervern carries out as editor include looking into and researching people in the campus and local community, conducting workshops, and working closely with the Tallahassee Democrat. The Gannett Company owns both the Democrat and the FSView.
"I think my favorite articles to write are one's where students or members of the community start discussing an issue online," she says. "As a journalist, it's my responsibility to give people a platform to share their ideas and allow for that constructive discourse to happen. I go looking online, in places like Twitter or Reddit, to see where budding conversations are starting and then pursue a story from there. I've been able to interact with a lot of diverse and interesting perspectives that way."
Her favorite role as editor-in-chief, though, has been hiring people and educating them about the newspaper publishing process, as well as sharing her passion for journalism and her commitment to printing the truth.
"Jensen is an outstanding person to work with," says English major Faith Matson, who has worked as a news staff writer for the FSView since July 2020. "She's an excellent leader, she always makes herself accessible, and even though she's incredibly busy, she always has time to talk. I've loved having her as my editor in chief at the FSView, and I can't wait to see what she does in the future."
For her future, Kervern says her English major studies have been special because they revealed so many unexpected career opportunities.
"That is something I never thought about with having a liberal arts degree," she says. "The department is very diverse and holistic in its approach to giving students the opportunity to study such a wide variety of topics."
Kervern specifically names Women in Literature, Issues in Publishing, and Film Theory as courses that helped her become a balanced student. In one EWM course, What is a Text, Kervern constructed a comic that explored the connections between texts, memories, perspectives, and events.
Jessi Thomsen, a doctoral candidate in Rhetoric and Composition, taught the class.
"For the remainder of the course, Jensen pushed the boundaries of her inquiry, raising questions about the power and agency of materials, the histories of those materials and the spaces they occupy, and the ways those materials affect interactions between humans and texts," Thomsen says.
One option for Kervern after she graduates with her bachelor's degree in April 2021 is to pursue a law degree. Her experience working for the newspaper and the knowledge she gained during an internship with a public defender is a spark behind her goal.
During her internship, Kervern visited inmates in jail and interviewed them for the public defender's office. This first-hand experience opened additional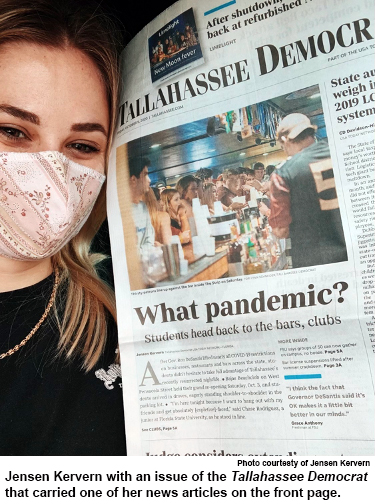 possibilities for recognizing the power of people's stories and for addressing social justice issues, Thomsen points out.
"Both the newspaper and the internship served as platforms for engaging in work toward social justice using language, narrative, and writing—practices that all resonated with Jensen's approach to her coursework in rhetoric and textual studies," Thomsen says. "Jensen described these platforms in terms of listening, patience, and humility—facets that will serve her well in law school and will also allow her to serve different communities that often go overlooked."
Combining those skills with what she learned from other courses such as Rhetoric and Textual Studies—the power of language, narrative style, and persuasive writing, for example—will assist her efforts.
All of her FSU education will serve Kervern well in whatever career path she chooses, she says. A second possibility for her is to pursue a broadcast journalism job. As a broadcast journalist, Kervern says she could provide a platform for people whose voices need to be amplified and heard throughout the community.
Whichever route she takes, Kervern has a strong passion about information and truth, which she knows is useful in either a legal or journalism-related career.
Her college experiences shape the advice Kervern has for first-year students.
"Don't say no to an opportunity," she says. "Even when it is outside of your norm, of what I call your "regularly scheduled programming.' Why not try? Some of the best articles that I've written have come from events or topics that I haven't been familiar writing about, or things that I wasn't 100 percent sure that I wanted to take on."
Kervern points out that people, especially at FSU and in the English department, are willing to help students.
"They are rallying around you, so just say 'yes,'" Kervern adds. "Why not say yes—college is truly a unique and special opportunity to try everything and to ask for help."
Amelia Shoriak is an English major on the editing, writing, and media track with a minor in general business.
Follow the English department on Instagram @fsuenglish; on Facebook facebook.com/fsuenglishdepartment/; and Twitter, @fsu_englishdept