Jaclyn Fiscus-Cannaday reflects on her research
---
Jaclyn Fiscus-Cannaday reflects on her research
By Savannah Tindall
Turn to the person next to you and ask, "How do you define reflection?" Chances are, the definition the person gives will be different from yours.
While everyone may have a distinct opinion on the definition of reflection, English Assistant Professor Jaclyn Fiscus-Cannaday makes it a point to not define the word.
"What I learned through my research for my dissertation, and subsequently, has shown me that teachers and students define reflection differently," Fiscus-Cannaday says.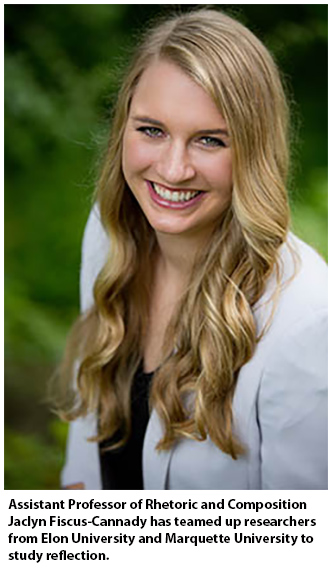 Fiscus-Cannaday, who is a faculty member in the Rhetoric and Composition Program, is a part of a cross-institutional study funded by a grant from the Council of Writing Program Administrators (CWPA) that focuses on how reflection is addressed in first-year writing (FYW) classes.
After researching the nature of reflection for her dissertation, Fiscus-Cannaday has been working toward an answer since she arrived to FSU almost two years ago. She was inspired by the work of FSU English Professor Kathleen Blake Yancey and Laura Aull, Associate Professor of English at the University of Michigan. Both scholars have extensively studied and written about reflection.
"I got interested in reflection because I am interested in the ways that reflection can help students negotiate [the] deep-rooted ideologies that they have about writing or literacy, in general," Fiscus-Cannaday says. "I am also interested in the ways that can help mitigate negative or positive past experiences and emotions associated with writing and literacy."
Fiscus-Cannaday aims to answer questions such as how do the different university contexts and the ideologies at play within those contexts influence what kind of reflection is identified, named, and practiced in FYW classes, and to what extent do students actually mirror back those contextual and ideological factors (or not).
"By answering these questions," she says, "universities will be able to better account for these contextual or ideological factors regarding reflection in a variety of classes."
She adds that reason for her interest in reflection is because study is interdisciplinary.
"I think this research could be really helpful for other disciplines either here at FSU—or at other schools—but also just generally, in a variety of different contexts," she says.
With that in mind, Fiscus-Cannaday. Each university has its own ideologies and values, so by collecting samples of reflections from FYW students, Fiscus-Cannaday and her team can see how much academic context influences the idea of reflection in those students.
"I think this research could be really helpful for other disciplines either here at FSU—or at other schools—but also just generally, in a variety of different contexts."

 

— Jaclyn Fiscus-Cannady
Rather than the researchers defining reflection, they allow the instructors of the classes that are participating in the study to define reflection in their own terms. This allows Fiscus-Cannaday and her team to not only analyze how the teachers' definitions of reflection may influence the students but also the ways in which educators may conduct reflection in their classroom.
For example, one FYW teacher may consider an analysis of a specific text to be a reflection (since the student is reflecting on the concepts in the text) while another FYW teacher may only consider reflection to be an assignment that asks students look back and evaluate how they did on a past project.
"Sometimes those definitions clash and that's part of the reason for the study design…" says Fiscus-Cannaday. "So, there isn't a definition to reflection, but that was done purposefully."
A secondary goal of Fiscus-Cannaday's and her team is to get enough samples of reflections to create a database so they can conduct corpus analysis of reflective writing, which will give insight into reflection's rhetorical and grammatical nature.
"This research project grew out of a grant from the Council of Writing Programs, and the grant funding has been so helpful to our collaboration because we have to fly to meet each other," Fiscus-Cannaday says. "Right now, we are trying to answer the first part but since we are gathering so many samples we think we can start to answer the second soon. To do corpus analysis we need a lot of samples, so it just depends on when we gather enough writing samples."
Fiscus-Cannaday reports that they are close to reaching that number, but she is still searching for FYW teachers to participate this semester. Instructors who are interested can contact her at jfiscus@fsu.edu for more information. This study is Institutional Review Board exempt and does not require extra work of the teachers or the students.
Savannah Tindall is a junior double majoring in English, with a concentration in editing, writing, and media, and public relations.