Honors in the Major Program—Zoe D'Alessandro
---
Honors in the Major Program—Zoe D'Alessandro
Zoe D'Alessandro graduated with a degree in English from Florida State University in May 2020. The HITM Program allows any FSU student who has completed 60 hours of coursework and has a 3.2 GPA or higher to participate. The student must complete a research thesis or a creative project in their area of study under the supervision of a committee composed of at least three faculty members.
Major
English, Editing, Writing, and Media, with a double major in Italian
Hometown
Melbourne Beach, Florida
TITLE OF HONORS IN THE MAJOR PROJECT
Wiki-Donna: A Contribution to a More Gender-balanced History of Italian Literature Online. See Zoe's project here.
FACULTY ADVISORS
Associate Professor of Italian Studies Silvia Valisa, Assistant Professor of Italian Beth Coggeshall, and English Professor Celia Caputi,
What was the inspiration behind your decision to pursue Honors in the Major?
I had been considering it for a while; the opportunity to pursue a long-term project really appealed to me. My project also began without my really noticing, and when my professor (and eventual thesis advisor) recommended I do HITM, it was the natural progression of something I was already interested in.
Could you explain/summarize the requirements for this program?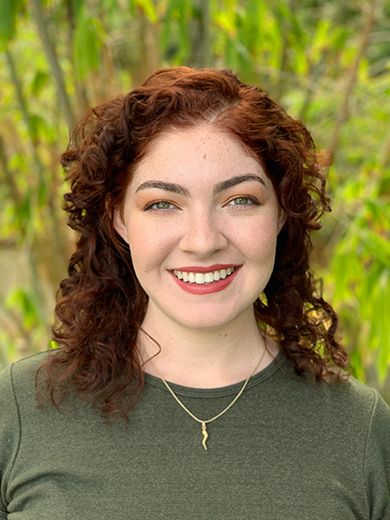 The requirements are pretty straightforward: you have to select a topic, write a prospectus, and complete and defend your project/research, all under the guidance of your committee. My thesis advisor, Associate Professor of Italian Studies Silvia Valisa, not only encouraged me to pursue HITM, but she also was very interested in and knowledgeable about my topic. I was also very lucky to have Assistant Professor of Italian Beth Coggeshall and English Professor Celia Caputi, both of whom I had worked with before. I chose my committee because they were professors who always pushed me to think deeper, and through my time in their classes I knew they wouldn't let me slack off! I'm grateful to have had their guidance and support, especially given the events of the spring 2020 semester.
What topic did you select you select for your research thesis?
I originally set out to translate Wikipedia articles about women writers from Italian to English, accompanied by a smaller theoretical justification. As the semester progressed, that supplemental piece grew into a project in and of itself! I ended up presenting on both my translation work and a separate-but-related essay on gender bias on Wikipedia, both the content and the platform itself. My project ended up being a strange hybrid of the two options, which is one of the reasons HITM is such a unique program.
What did you enjoy most about working on the HITM project? Did you have any downsides or struggles you would like to discuss?
The most difficult aspect for me was maintaining the discipline to work on the project for the months that it required. I think most students are accustomed to jamming on an essay or studying for an exam for a couple weeks before being done with it and moving onto the next thing. My favorite part, aside from finally presenting it to my committee, was the opportunity to design and execute a project entirely on my own. While it can be scary to feel responsible for so much, being in control of every aspect of a project can be an empowering feeling.
What advice would you give to any English students who want to pursue HITM?
I would be very thoughtful in how you select your committee; make sure it consists of people you feel comfortable asking for help from. Also, trust they will push you to think deeper and improve your project. Most importantly, make sure you're tending to your mental and physical health throughout. I think it's very easy to romanticize overworking yourself in the pursuit of a passion project, but HITM is a marathon, and the late-night coffee-fueled bursts of creativity aren't worth sacrificing your wellbeing for.
What plans do you have post-graduation?
While I'm currently enjoying my time relaxing at home, I will be returning to Florida State in the fall of 2020 to pursue a master's degree in Italian studies.