Honor society Sigma Tau Delta and its members spread their appreciation for the written word
---
Honor society Sigma Tau Delta and its members spread their appreciation for the written word
By Olivia Cameron
Florida State University's English Department has an honor society that many students have already qualified for without even knowing it. Sigma Tau Delta is an academic honors organization that focuses on the success of its members by promoting community involvement and their love of literacy.
The organization is internationally recognized and was designed for students aiming to excel in their academic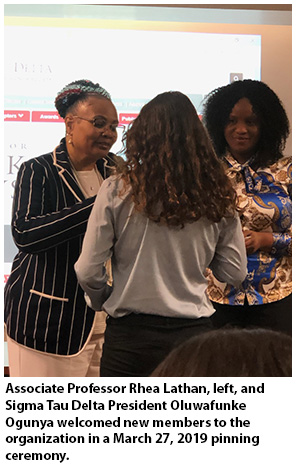 careers and planning to take their education to the next level, including students looking into graduate and doctoral programs, as well as becoming future professors.
Sigma Tau Delta was founded in 1924 at Dakota Wesleyan University. Rho Epsilon, the chapter located on FSU's campus, was established to carry out the organization's values in Tallahassee, including creating cultural stimulation and encouraging exemplary character. Lambda Iota Tau (LIT) was the department's previous honor society, but specific to literature majors, before Sigma Tau Delta took its place to represent the English department as a whole. Members of LIT were able to transfer their membership over to Sigma Tau Delta.
"Once you apply and qualify, your lifetime membership with Sigma Tau Delta begins," says Oluwafunke Ogunya, FSU's president of Rho Epsilon.
Ogunya is an FSU doctoral student focusing on African-American literature and cultural studies. She received her master's in Nigeria before becoming a Fulbright Scholar at Yale University, eventually landing at FSU for graduate school. As Sigma Tau Delta president, Ogunya supervises the chapter and works with her vice president, Cocoa Williams, and other executive members, to ensure the success of the chapter
"The membership extends not only to those in the English major. To qualify to be a member, you must have taken one or two classes in English," Ogunya says.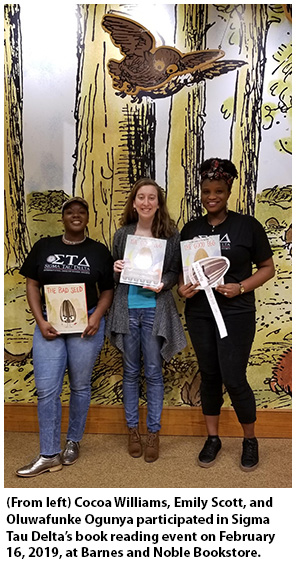 As well as having taken six credit hours of English courses beyond College Composition, students must also maintain both a 3.0 overall GPA and a 3.0 GPA in the English courses. There is an application form to fill out for Rho Epsilon along with a $45 fee, and that and a copy of an unofficial transcript can be sent to the organization's faculty advisor, Associate Professor Rhea Lathan, at her office, 405F in Williams.
Doctoral student Cocoa Williams, who is the organization's vice president and membership liaison, says "if students join as undergraduates, they can get involved with the chapter at the master's level, Ph.D. level, and the professor level. We even admit professors as Sigma Tau alumni."
Williams, who also assists Dr. Lathan in her role as chair of the English department's undergraduate studies, studied English and philosophy at Valdosta State University, gained her master's in English at Clemson University, and is now a Ph.D. candidate of African-American Literature and cultural studies.
She partners with Ogunya to help take Rho Epsilon to the next level of student success, but Williams explains that they don't hold the chapter up by themselves.
"Our sponsor, Dr. Lathan, has been incredible," Williams says. "She just transitioned into the advisory position of Sigma Tau Delta, and she's been a beacon to us in terms of kickstarting the year. The department's academic advisor Inma Silverio also helps us get the word out to the undergrad population."
The organization also allows members to stay connected with other members or alumni of FSU to create important business connections and network within online communities.
Ogunya believes the organization's involvement in the community contributes to how Tallahassee sees the university. The chapter has organized different activities outside of campus throughout the years; including high school book drives, a Barnes and Nobel book reading, a poetry slam, and a National English Honor Society essay competition. Sigma Tau Delta sponsor's NEHS, a program that serves students and faculty in secondary schools throughout the country. The Rho Epsilon chapter of Sigma Tau Delta has inducted a dozen new members this semester alone.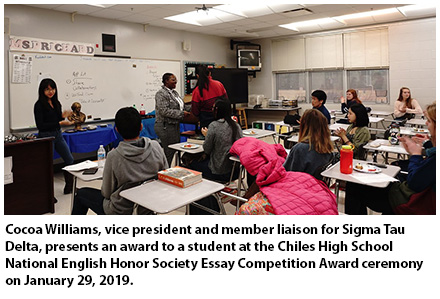 "It's the different ways we promote literacy and reach out to the community, even beyond FSU," Ogunya says. "Anytime we go out to volunteer outside of campus, we believe we are trying to promote not only the image of the English department but of FSU as a whole. We promote literacy and excellence."
Rho Epsilon encourages students to focus on their futures in a variety of different English related fields. When students become members, they have access to benefits including different grants and internships with publishing companies such as the Penguin Publishing Group. Once students become members, they receive information on these business opportunities. There is roughly $25,000 worth of scholarships that Sigma Tau Delta gives out to members on different levels.
If you're interested in joining, or curious about more information, visit http://www.english.org/ or check out the Rho Epsilon page on Facebook.
Olivia Cameron is a senior who is majoring in English, with a concentration in editing, writing, and media.