Her Campus' impact on Lauren Martin and her impact as editor in chief on FSU's chapter
---
Her Campus' impact on Lauren Martin and her impact as editor in chief on FSU's chapter
By Elizabeth Chailosky
The issue of underrepresentation of women's voices in virtually every industry is no longer up for debate. Media markets have always been some of the most visible areas where a lack of recognition is questioned.
Florida State University senior Lauren Martin took on the challenge to bring about progress in eliminating the gender gap in her chosen field of journalism. As editor-in-chief of Her Campus at FSU, she speaks enthusiastically about the community of women she has become a part of, the experience it has gifted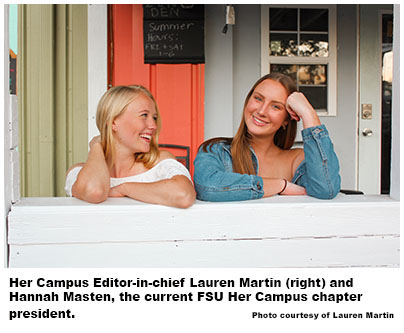 her, and the connections it has provided her.
Along the way, Martin has found a love and passion for Her Campus.
"I don't know what I would have done these past four years without this community of girls," she says, referring to her colleagues at the online magazine written by college women for college women.
Three women out of Harvard University created Her Campus 12 years ago as a way to address this particular media deficiency. Now, with a network of 360-plus chapters worldwide, Her Campus is the #1 media site for college women and has created a community that spreads across eleven countries, seen all over the internet and on different social media platforms.
Martin points out that when Her Campus was created, women around the world were vastly underrepresented in college. While the number of women attending college has increased, recent statistics from Globalcitizen.org prove that it is still harder for women to gain access to the education, internships, and resources they need.
Martin considers Her Campus an important path to help women break through the glass ceiling and to overcome these obstacles.
"By having a women-focused platform that prides itself for being a learning publication, Her Campus gives women the experience and foundational steps needed in order to break into the workforce," Martin says.
After deciding in high school that a more technique-focused English education was the best way to gain experience as a corporate writer, Martin chose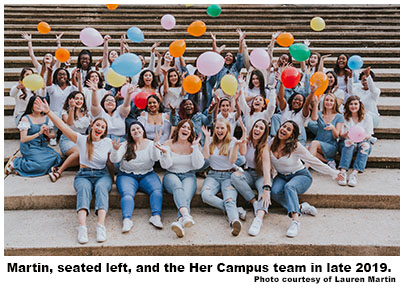 Editing, Writing, and Media as her major concentration. As a first-year student at FSU, Martin joined Her Campus because she appreciated its ties to her career aspirations.
For students deciding which campus clubs and opportunities to join, Martin recommends focusing on what is most personally interesting and says to "get involved in something fun and just focus on making friends."
The Her Campus chapter at FSU comprises about 150 members, all of whom are women. Because Her Campus is committed to, written by, and devoted to college women's empowerment, "writers are given free range to write about what is important to them and to their readers," Martin explains.
In addition, topics are split up between news, personal, and profiles in order to diversify the writing styles of the writers and their writing portfolios.
In between taking classes and her job as the head of communications for a startup media company, Martin is in charge of finalizing and publishing articles onto the Her Campus website, managing the editors and editing team, and coordinating the meeting slides, logistics, and behind the scenes work.
Lauren in one of the most organized people I know. She communicates timely and effectively which keeps her team on track to reaching their goals.

— Hannah Masten
Hannah Masten, the president of the Her Campus chapter at FSU, appreciates Martin for her ability to lead others as editor in chief.
"Lauren in one of the most organized people I know," Masten says. "She communicates timely and effectively which keeps her team on track to reaching their goals. On top of that, she has outstanding writing and editing skills, and she is extremely driven."
In addition, Martin works hand in hand with Masten.
"Everything she does gets run by me and everything I do with the publication gets run by her," Martin explains.
This partnership between Martin and the president helps them arrange Her Campus meetings and events that correspond with the national organization.
Because Her Campus has chapters that expand across the world, Martin and the FSU chapter president are considered campus correspondents. As a campus correspondent, Martin receives instructions from the national office daily, and she must report back to them with the chapter's analytics and other important information.
A system is set in place in order to ensure the chapter stays on track.
"Her Campus gives us points for certain things that we do, and you get ranked on the number of points you get," Martin says.
Martin is proud to say that the Her Campus chapter at FSU is ranked as an "elite level" chapter.
Despite having to balance school, work, and the responsibilities that come with managing FSU's Her Campus, Martin has excelled in all three.
Jack Clifford, FSU's English department media specialist, was a co-instructor for Martin's study abroad experience in the EWM Program in Valencia, Spain.
"Lauren was a standout student during the summer 2018 study abroad session," he says. "She is smart, engaging, and stood out as a leader even though she had just finished her first year at FSU. I'm not surprised at all that Lauren took on the editor-in-chief role for Her Campus and has been so successful."
While Martin credits the online magazine for welcoming her into a community of like-minded individuals, she aspires to work for a big corporate company where she will be able to focus more on customer relation management.
Martin's devotion to giving women of all ages a platform has led to the FSU chapter's ongoing success and impact on campus. Even though Martin is graduating in the spring of 2021, thanks to her hard work, the Her Campus chapter at FSU will continue to give a voice to students in a powerful and meaningful way.
Elizabeth Chailosky is a double major in English, on the editing, writing, and media track, and Women's Studies.
Follow the English department on Instagram @fsuenglish; on Facebook facebook.com/fsuenglishdepartment/; and Twitter, @fsu_englishdept