Hannah Messinger builds on academic success, important lessons learned as English student
---
Hannah Messinger builds on academic success, important lessons learned as English student
By Tabitha Labrato
Hannah Messinger graduated in 2018 from Florida State University with her bachelor's degree in English-Literature and a minor in Art History.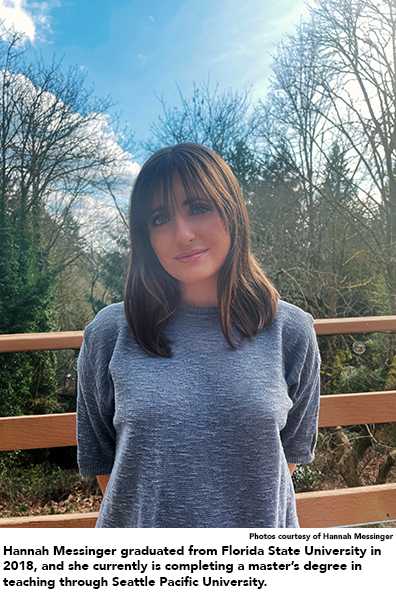 What she ultimately took with her, though, was more memorable than a diploma.
Throughout her time at FSU, Messinger gained experience in writing and editing through her positions as a poetry editor for Kudzu Review, English department's undergraduate literary journal, as an intern with The Southeast Review, the department's national literary magazine, and a managing editor for Her Campus.
Messinger also remembers so many lessons learned while she was a student, she says that she could never fit them all in.
"I remember beautiful classes and soul-searching office hours with Professor Barry Faulk, as well as finding my passion for reading reignited by Professor Andrew Epstein and his reading list that I still recommend to everyone," she says. "I remember the many professors that affected my perspective on life, and inevitably, who I became.
"They taught me all kinds of lessons, but the most important one was that English, in its many facets, is a worthy and wonderful career to pursue."
Faulk says he recalls Messinger as being "one of those uncommon students who knew from the very start what she wanted to accomplish as a writer and scholar." Messinger, he adds, worked diligently to achieve the goals she had set out for herself.
"It's gratifying to learn that the Understanding Theory class left an impression on Hannah; she certainly made an impression on me," Faulks says. "Hannah seemed curious about everything and approached her studies with great creative flair and imagination. I never had a conversation with her that didn't turn to some thoughtful point that she had been working out for herself, based on whatever new books she was reading."
Epstein echoes Faulk's comments when speaking about Messinger.
"She did terrific work in my class on American literature of the 1950s and 1960, and I was very impressed with her critical writing and her insightful responses to literature and culture," Epstein says. "She is also a talented poet and experienced editor."
After graduation, she obtained an internship with Copper Canyon Press in Port Townsend, Washington, where she worked with editing and writing poetry.
This was a dream internship for Messinger, and she believes the editing and writing opportunities she had at FSU helped her secure that job. She even found other freelance editing positions for a few Washington-based presses after leaving Copper Canyon in March of 2019.
"Besides helping me attain career related goals, my editing experience through FSU has helped me become a more discerning writer, a kinder critic, and a gentle advocate," Messinger explains. "I am more aware of whose voices are elevated and whose are silenced. I am more aware of how my words affect others, especially when they are chosen to be elevated, as well."
Messinger is currently completing a master's degree in teaching through Seattle Pacific University, and she is interning as a student teacher at Roosevelt High School. By summer of 2021, she will be certified to teach high school English.
Despite her advanced studies in the field, Messinger admits she is not entirely sure what she wants to do in her immediate future.
"All I know is I want to write and read, and I want to have good company doing it," she explains. "I want to write a book of poetry one day, and I want to have fun. I'll go wherever those desires take me."
Even though she is a few years post-graduation, Messinger's English skills, specifically her extensive knowledge in editing, continue to prove important in her everyday life.
Messinger says editing and writing skills are important ones to have in the teaching field, and they have led her to having a clearer understanding of what emotional and mental labor goes into writing an essay, article, or creative piece. Because of her awareness, Messinger has compassion for her students as they learn how to craft their own writings.
She has learned how to focus on the positives in her students' writings and how to draw out the best version of their assignments because of her years of experience working with other authors.
"Because editing helped me understand whose voices are heard and whose are not, in teaching, this has brought me clarity in what authors I choose to teach, which is an act of elevation similar to publishing someone's work in the first place," she says. "I focus heavily on BIPOC authors and LGBTQ+ authors, because of my editing experience and also because of my life experience."
Messinger is committed to her craft, Epstein says, and her enthusiasm will carry over into the classroom.
"It was clear to me back then that Hannah was determined to devote herself to a life focused on literature, writing, editing, and teaching and was wonderfully well-suited to do so," he says. "I know she will be an amazing and inspiring teacher."
Faulk says that Messinger's students are benefiting from her ability to connect with people.
"She was poised and assured during our class discussion, but also gracious: you could tell she cares about what other people have to say," Faulk says. "Hannah pays attention to the people around her; she has a gift for that, and I'm happy to see that she's still sharing that gift with others."
Even for English students who choose a career path other than teaching, however, editing can be an important life skill for places outside of the classroom, Messinger says. She believes that editing is the art of knowing what is important, knowing what is trying to be said, and knowing how to make someone's message work.
Once you know how to edit, you also begin to edit yourself: a person's own words become clearer and those messages become more rounded and fuller.
"Our world is all about communication, and the skills editing teaches you are invaluable to good communicators," she says. "Editing skills do not just teach you grammar and conventions, they teach you to see things in fine detail. This brings the world into greater detail, and it makes you a more discerning, and maybe even a more wise, individual."
Because of Messinger's keen appreciation for writing that blossomed throughout her time with FSU's English department, she is able to inspire the minds of young writers. Messinger is creating an environment in which her students can create their own fond memories of learning the qualities of an English education, just as she did.
Tabitha Labrato is an English major, on the editing, writing, and media track, with a minor in communications.
Follow the English department on Instagram @fsuenglish; on Facebook facebook.com/fsuenglishdepartment/; and Twitter, @fsu_englishdept