Hannah Justus: Determining the Value of Virtual Reality Technology in Autism Intervention
---
Hannah Justus: Determining the Value of Virtual Reality Technology in Autism Intervention
By Demetrius Winn
English undergraduate student Hannah Justus is a first-generation sophomore who has always been an active reader with a passion for literature.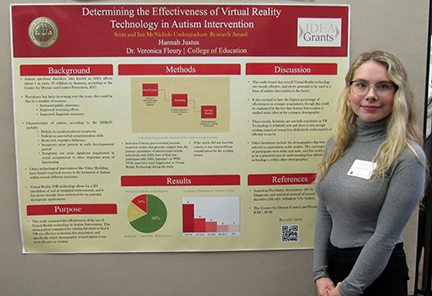 Justus, who is in the Literature, Media and Culture Program and a Presidential Scholar, has already made an academic impact at Florida State University. On October 1, 2019, she had the opportunity to present her research project, "Determining the Value of Virtual Reality Technology in Autism Intervention," at the President's Showcase of Undergraduate Research Excellence. The event's goal is to share students' summer research experiences through poster and oral presentations.
Justus' research, under the supervision of Assistant Professor Dr. Veronica Fleury in the College of Education, is a literature review focusing on autism intervention through virtual reality. This study allows Justus to do research that engages her interest in both psychology and literature.
"When I was looking for a UROP project, I found one that was specifically a literature review of autism literature and young adults," Justus explains, referring to the Undergraduate Research Opportunity Program. "Being a literature major, that piqued my interest."
Through her research, Justus found that video modeling is the most effective form of autism intervention.
"I learned a lot about the current autism research and what methods are being practiced," she says.
Justus wanted to take video modeling a step further and see how effective virtual reality is with autism intervention; she concluded that it generally is more successful.
Justus's knowledge of research methods was not salient to her before becoming an FSU student. Justus grew up in the small rural town of Grundy, Virginia.
"We didn't get high-speed internet until I was 11 or 12," Justus says. "But we had a lot of books in the house so I would just read."
Justus pinpoints her upbringing as the foundation for her interest in literature. When she started high school, she became involved in the Literature Club, which allowed her to delve deep into different genres and time periods of literature.
Although Justus is in her sophomore year, she has made notable strides to get the most out of her education both in and out of the classroom. She credits courses such as Medieval Literature with English Professor Jamie Fumo and Women's Literature from the Twentieth Century with doctoral candidate Ashley Christensen for maintaining her passion in literature.
"She has a good instinct for connecting the concerns of literary texts from remote historical periods to issues that are culturally momentous today," Fumo says. Fumo adds that an essay Justus wrote for her class on the representation of gender and agency in Chaucer's Miller's Tale was exactly what she looks for in a student's paper: clear writing, forceful arguments, and the points supported with textual evidence.
When it comes to her first-year experiences in college, Justus has faced her fair share of challenges.
"Being a first-generation student is difficult to navigate—you don't really get that familial understanding of the work that you are doing," Justus explains. "It can feel really isolating at times."
Justus also leads FSU's Mock Trial team as a captain and is the organization's fundraising coordinator.
With her remaining time at FSU, Justus hopes to get involved with the Guardian Ad Litem program in Tallahassee. Volunteers of the program work with professional staff to advocate for the best interests of abused and neglected children.
"I think the program would be a great first step for me when it comes to my goals and just getting my feet wet," Justus says.
Justus also looks forward to doing research in English literature in the future.
After her undergraduate career, Justus hopes to continue her education by attending law school and eventually becoming a lawyer specialized in public interest and human rights.
"Growing up in a really impoverished area where people had been abandoned by the government and had to fend for themselves inspired me to want to go to law school to help people," she says.
Justus's evident strong passion for helping others through advocation and research leaves little doubt that she will continue to positively impact others in the future.
Demetrius Winn is a senior majoring in English, with a concentration in editing, writing, and media, and media communication studies.