Grad student Laurel Lathrop appears on Jeopardy
---
Grad student Laurel Lathrop appears on Jeopardy
By Tatia Ghviniashvili
Story updated Tuesday, October 1: Laurel's three-day prize total is $65,002. Congratulations to Laurel!
Original story posted Thursday, Sept. 26
The Florida State University Department of English is full of talented writers, accomplished scholars, and innovative minds. Students and faculty alike come from a vast variety of backgrounds and experiences that contribute to the strength of the department.
Graduate student Laurel Lathrop is one of those standout individuals, and her upcoming appearance on the popular quiz show Jeopardy has the entire department talking. Lathrop is a creative writing student at FSU, and being a writer, Lathrop's mind is always full of ideas and bits of knowledge.
"I like to think that makes me a fun person to have a conversation with, but it's not exactly a skill that helps you get ahead in life—with the exception of trivia competitions," Lathrop says.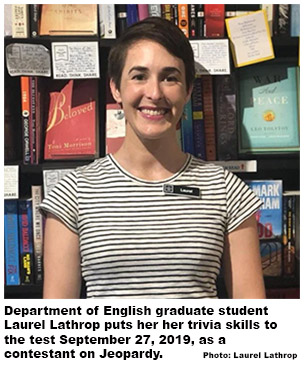 Little did Lathrop know that these little bits of information would one day secure her a spot on national television, standing in front of none other than Alex Trebek and pressing that buzzer. Her half-hour episode airs Friday, September 27 on WCTV.
Being chosen to appear on Jeopardy is no easy task.
"It's a complicated process and only a small percentage of people who try out actually make it," Lathrop says.
The process is lengthy and starts with an online test that is held only twice a year. If the individual taking the test does well enough, as Lathrop did, they are chosen for an in-person audition, which is another way the show's producers rule out potential contestants.
Lathrop's in-person audition took place in Savannah, Georgia, and that step consisted of another test and a sample round of playing the game, when Lathrop was again successful. Unsure of how she did overall, though, Lathrop did not get her hopes up and viewed her audition as a great experience regardless of the result.
Months later, Lathrop got the call: she was in.
"I was surprised and happy when I got a call saying they'd chosen me to be on the show," she says, reliving her excitement.
Originally from Northern California, Lathrop has traveled and lived in many places around the world, until eventually her path led her to Tallahassee. When considering graduate programs, she set her eyes on fully funded programs that gave her the "privilege of having that 'day job' of teaching, taking classes, and writing."
FSU was the perfect choice, Lathrop says, because the English department allows her to stay focused on her academics and professional goal.
Ultimately, I want to write fiction and teach creative writing at the university level," she says, adding that FSU feeds her creative development as a writer.   
Lathrop speaks fondly of her experience on Jeopardy, and has only kind words to say about host Alex Trebek, who recently returned to the show after undergoing chemotherapy for pancreatic cancer.
"He's a very warm, friendly person and a consummate pro," Lathrop says of Trebek, who has hosted Jeopardy since 1984. "He talked to the audience throughout each commercial break, answering any questions they had, whether about his personal life or the show."
Quite a story that one of the English department's graduate students has been in the same room as one TV's most-recognizable faces.
As for her experience or her final winnings, Lathrop cannot reveal too much because the episode has yet to air. She did share, however, that the trick of the game is to be the fastest contestant to mash the buzzer.
"For almost all the questions, all three of the contestants know the answer, so it's literally just who presses the button a split second before the other two," she says.
A hard feat, Lathrop explains, considering how blank one's mind goes when put on the spot for an answer. Lathrop admits that she "made some truly bizarre guesses that I instantly knew were wrong…but also some that ended up being right."
As the episode prepares to air Friday, September 27, the English department community admires and appreciates Lathrop, supporting her through this once-in-a-lifetime achievement.
Tatia Ghviniashvili is a senior who is majoring in English, with a concentration in editing, writing, and media, with a minor in Russian language.