Get to know English graduates Kevin Albaum and Aurélie Mathieu, named 2019 Notable Noles
---
Get to know English graduates Kevin Albaum and Aurélie Mathieu, named 2019 Notable Noles
By Melissa Kindma
Florida State University's Alumni Association's Notable Noles Program honored English department alumni and attorneys Aurélie Mathieu and Kevin Albaum for their outstanding achievements during a banquet held on September 20.
Mathieu and Albaum joined 20 other FSU alumni from across the country who returned to FSU's campus to be recognized as 'Notable Noles' at the Young Alumni Awards Dinner.
"It was so awesome to be back and see all that's changed," says Mathieu, who graduated in 2012 with a Bachelor of Arts degree in English, with a concentration in editing, writing and media.
The Notable Noles program, formerly called "30 under 30," was established seven years ago in an effort to recognize FSU alumni 35 years old or younger whose accomplishments have had a positive impact on society, their community, or the university.
"Recipients of the award must exemplify outstanding professional and personal development either through traditional channels or innovative approaches," according to the FSU Alumni Association website.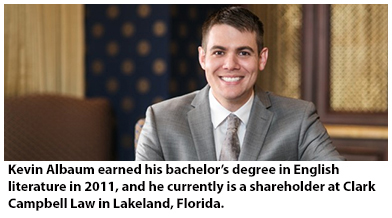 After graduating from FSU in 2011 with a Bachelor of Arts degree in English and British literature, Albaum pursued a law degree. He says he studied literature at FSU because the education would prepare him for a career in law, a path he always knew he would take.
"You can go to law school with any degree," Albaum says, "[but] I found the best possible preparation for law school was the English literature program at Florida State because of the high-volume reading. [It] took my reading comprehension to a whole new level…. If you're not a great reader and writer, it's hard to be a good lawyer."
Albaum graduated from Stetson University College of Law with an Elder Law Certificate of Concentration in 2014. Right after he finished, Albaum was given the opportunity to take over a neglected elder law practice, which focused on offering legal guidance and counseling to vulnerable individuals in the community. The practice was previously administered by an attorney who had retired.
"I took over the practice and pretty much got thrown right into the fire," Albaum says. "I was able to build back the elder law practice at my law firm and teach myself how to practice elder law on the fly."
In December 2018, Clark, Campbell, Lancaster & Munson P.A., a business law firm in Lakeland, Florida, welcomed Albaum as a shareholder. Now, he continues to lead the elder law department and practices in the areas of estate planning, special needs planning, guardianship, probate administration, trust administration, and Medicaid planning. As of September of 2019, Albaum has worked on all types of cases including some heavily contested high net worth cases.
"New challenges keep coming up, and I've been ready for them every step of the way," he says.
During his time at FSU, Albaum competed on FSU's first undergraduate American Mock Trial Association team, which was a rewarding experience, he says, and better than most offered at law schools. Currently, Albaum serves as secretary for EMERGE Lakeland, a networking organization for young professionals. He is also a board member for the Lakeland Bar Association.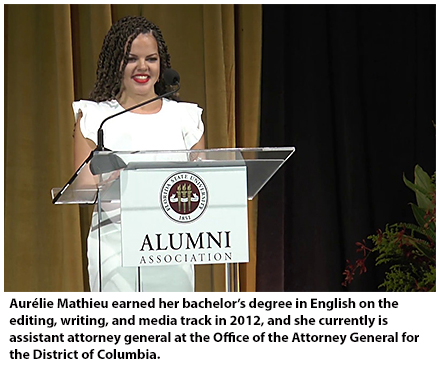 Fellow graduate of the College of Arts and Sciences and recipient of the FSU Alumni Association's Notable Nole award Aurélie Mathieu followed the editing, writing and media track for her English degree. She currently serves as an assistant attorney general at the Office of the Attorney General for the District of Columbia, where she has been since 2016. She was one of four 2019 Notable Noles to be presented with the Reubin O'D. Askew Young Alumni Award, the highest FSU Alumni Association honor bestowed upon young alumni.
"It brings me great pride to be a Florida State alumna," Mathieu said during her acceptance speech in September. "It really means a lot to give back to a University that gave so much to me and make them proud in return…. It is with the support of the central programs that Florida State offered, like CARE and LeaderShape, that I learned to hone in on my skills and prove them to better serve my community.
"Most importantly, I learned the importance of continuously aspiring to create positive, sustainable change."
As introduced in the ceremony, "Mathieu helps the underserved Haitian community in the Washington, D.C. area by hosting pro bono immigration clinics with prominent Haitian attorneys and local immigration lawyers for Haitians currently under temporary protected status." In addition to that work, Mathieu is the Washington, D.C. founding ambassador for SheBuilds Global Initiative, an organization dedicated to inspiring and equipping women of color to take bold steps toward building a more prosperous Haiti.
She began her studies at FSU just four years after moving from Haiti, but she says FSU's English courses helped her remain connected to her cultural roots as a Haitian college student in America.
English was not my first language, so being exposed to all these new concepts, all these new writers," Mathieu, a native French speaker, says, "allowed me to connect more to my new culture as a Haitian American."
Driven by a passion to improve Haitian communities, especially after the catastrophic 2010 earthquake that devastated the country during her second semester at FSU, Mathieu eventually graduated from American University Washington College of Law in 2016.
"I knew then that my vision for Haiti would be to help build the beautiful country back to its highest potential," she said at the alumni banquet. "I went to law school because I wanted to invest in Haiti, protecting its strong, artistic culture. Art has been and continues to be an economic lifeline and pillar for the Haitian people. It is my hope to build Haiti's intellectual property system to help the country become more economically sustainable.... I want to continue putting social, impact-driven leadership first in every endeavor I take on.
"Without the leadership skills I gained at FSU, I would not be the fearless person, conquering the world that I am today. And for that, I am thankful for this university."
Albaum's and Mathieu's experiences at FSU contributed to their ability to positively impact the world as attorneys and conscientious members of society. In turn, through these awards, FSU honors the achievement of their personal and professional goals in their service of vulnerable communities.
Melissa Kindma graduated from FSU in December 2019 with a bachelor's degree in English and a concentration in editing, writing, and media.