Get a bite of the English department's literary life at The Bark
---
Get a bite of the English department's literary life at The Bark
By Jana Padula
Students, faculty members, and Tallahassee locals can find different, creative ways to spend a Tuesday evening in the capital city.
If a night of literary readings, a pleasant crowd, and delicious food sounds appealing, then The Bark at 8 p.m. is a good place and time to settle in.
The Bark is the new spot for The Jerome Stern Distinguished Writers Series, which until the summer of 2018 was held at a cultural landmark, The Warehouse on Gaines Street. Previously called Bread N Roses Kitchen and located on Railroad Avenue, The Bark opened its around-the-corner doors August 2017 on All Saints Street, offering live music, vegan/vegetarian food, and a full bar.
English Professor David Kirby, along with Writers Series' hosts and English graduate students Laurel Lathrop and Mat Wenzel, compiled the list of authors and graduate students who will read for the Fall 2018 series. (See full list at the end of this article.)
"The students have a chance to try out new work on an eager audience, and they'll find that preparing for one of these readings will bring out the best in them and their writing," says Kirby, who also is the Creative Writing Program director.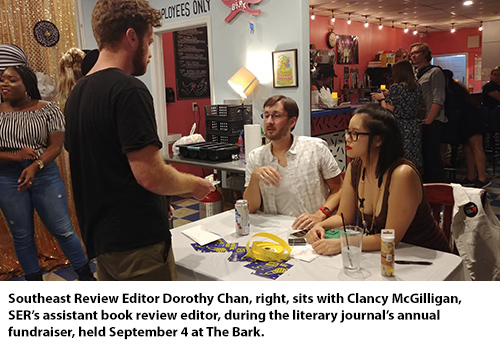 The Writers Series kicked off September 4 with a fundraiser for The Southeast Review, the English department's literary magazine, titled Confessions: Open Mic Night. The event featured professors, graduate students, and community members reading diary entries, singing songs, reading a poem, or performing a dramatic monologue.
"We were excited to kick off the new school year with our confessions-themed open mic fundraiser and Issue 36.2 launch, hosted by the one and only David Kirby," says Dorothy Chan, editor in chief of SER.
In addition to the open mic, the event offered a photobooth, created by SER Art Editor and Ph.D student Kelly Butler, with pictures taken by Kenny Johnson, and a typewriter "instant poem" station, with Kelly Butler and English Ph.D. student Cocoa Williams delivering the poems. A silent auction table with donations from English Senior Lecturer Barbara Hamby (baskets of her famous jams), English Professor Diane Roberts (a jar of her famous Tupelo Honey), and SER Nonfiction Editor Laurel Lathrop (short story consultation) was also set up for the event. Gift cards and merchandise from local businesses were auctioned off. 
Chan is thrilled to start the school year with both a fundraiser and an issue launch.
"Issue 36.2 is stunning, and I couldn't be more proud of how The Southeast Review continues to grow," she says. "This past summer, a major milestone was the launch of our online companion, SER TWO ("This Week Online"), a project initiated and executed by our wonderful Assistant Editor, Zach Linge.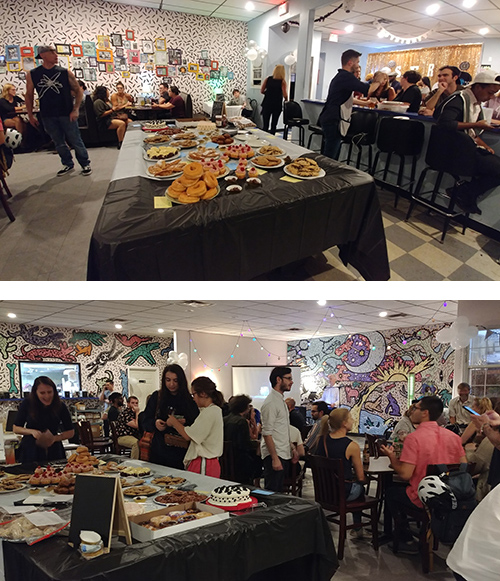 As for the year ahead, she says, "I'm happy to be publishing more writers, and there are so many upcoming pieces I'm excited about. I'm also really looking forward to showcasing SER at AWP 2019 in Portland in March."
The Sept. 4 event began the fall semester series but not the readings at The Bark. After The Warehouse closed, the English department held its readings at The Bark with five events. Ruth Baumann and Dustin Pearson kicked off readings on June 26, with about 40 people in attendance.
Baumann is a Ph.D. candidate in creative writing at FSU and her poetry collection, Parse, is due to be published in November 2018. She read at The Warehouse when it was home for the Writers Series, and she says the two locations might be different in style but not in personality.
"At The Bark, the reading area was brightly lit, with a gorgeous brightly colored backdrop, and the audience was very visible and very close," she says.
Similar to The Warehouse readings, close friends introduced Baumann and Pearson to the crowd on hand. Throughout the poetry readings, there were moments of laughter, silence, and applause.
For Baumann, the warm and friendly environment fit well with her reading.
"I tend to write from personal experience, so I just naturally gravitated toward poetry rather than fiction, although when I was younger I tried everything." Baumann says.
"I've begun writing more creative nonfiction in the last few years, but poetry is usually the vehicle where I can best express a feeling and/or a personal truth."
In addition to Baumann and Pearson, these other English department graduate students read at The Bark: Ramsey Matthews and Zack Strait (July 3); Alex Quinlan and Dorothy Chan (July 10); Desire Ameigh and Zachary Gerberick (July 17); and Amy Denham and Laura Minor (July 24).
So, come to The Bark every Tuesday night during the fall 2018 semester. All the cool kids will be doing it.
"Reading your work aloud is just a good thing to do, and it honors our age-old craft by helping to sustain this long-lived and vibrant reading series," Kirby says.
The Jerome Stern Distinguished Writers Series lineup
September 4: SER Fundraiser
September 11: Erin Slaughter, Nate Duke
September 18: Alexa Doran, Dorsey Olbrich
September 25: Robert Powers, Aram Mrjoian
October 2: Rita Mookerjee, Zach Linge
October 9: Yolanda Franklin
October 23: Kelly Jacobson, Daniel Moysaenko
October 30: Elizabeth Stuckey-French
November 6: Airea D. Matthews
November 13: Erin Hoover
November 27: Tanya Grae, Cocoa Williams