Gary Taylor's article memorializing English major published in 2019 edition of Best American Essays
---
Gary Taylor's article memorializing English major published in 2019 edition of Best American Essays
When Florida State University student Maura Binkley was killed in a November 2018 mass shooting, her family and friends were joined in their devastation and state of shock by the Tallahassee and university communities. Binkley was double-majoring in English and Modern Languages, and due to graduate in the spring of 2019. Students and faculty in both departments were especially traumatized and heart-broken.
English Professor Gary Taylor, then in his second year as department chair, did what academics in his chosen profession do: He tried to think through his feelings by writing them down.
"Nobody asked me to do it. I didn't know who, if anyone, would ever publish it," Taylor says. "I was just grieving on paper. I was using things I had read as tools for coping. I tried to put into sentences what I was going through, what I saw and heard others going through."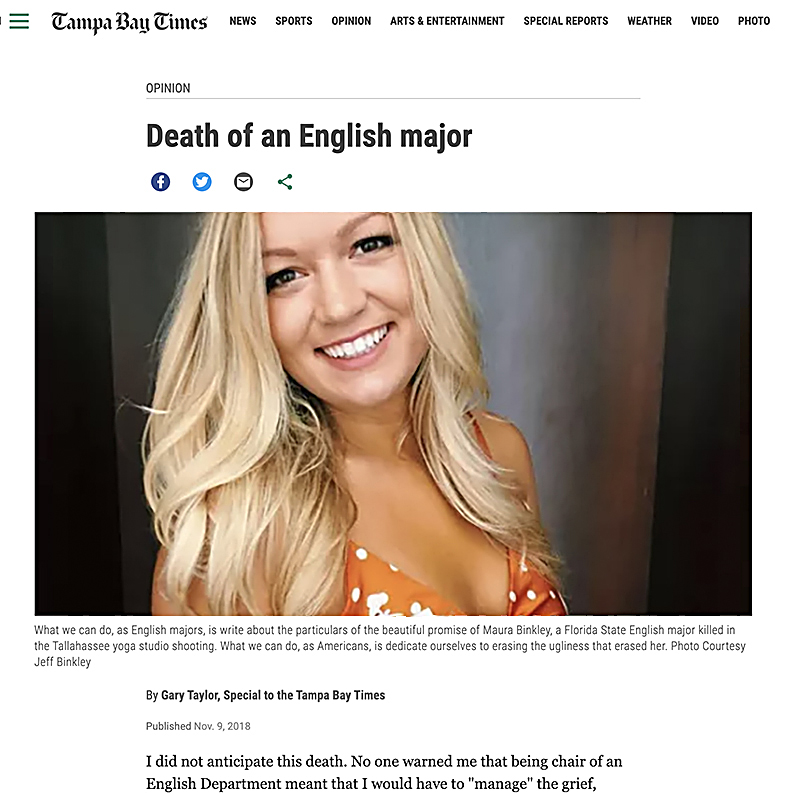 Taylor admits that he never thought his essay would reach a wide audience. He thought this even after the Tampa Bay Times, which has the highest circulation numbers in Florida, published his essay on November 9, exactly one week after Maura and FSU faculty member Dr. Nancy Van Vessem died while they were practicing yoga at a local studio.
Fast forward to April of 2019, and Taylor was astonished when he opened an email asking for permission to include his piece in the 2019 edition of The Best American Essays. Along with nineteen other authors and their essays, Taylor's "Death of an English Major" is part of the collection that was published in early October.
"I know the searing grief of Maura's parents and her family will never go away. A parent never really recovers from the death of a child," Taylor says. "Unfortunately, the rest of the world forgets and moves on. I'm grateful that this essay can preserve a memory of Maura, and at least a tiny trace of the impact her life and loss had on other people.
"That's why we all think it's worthwhile devoting ourselves to literature. We believe that literature can preserve something of the human past, of human experience. It allows us to listen to the dead."
The process of the essay moving from Taylor's computer to the Times to Best American Essays would not have looked the same way in 1986, when the first edition of the yearly anthology was published.
Once published in the Times, Taylor's essay circulated widely online. He received emails from all over the world, many of them from academics, who had read his words on other academics' pages. The essay had a big presence on Facebook, which Taylor believes is where Rebecca Solnit, guest editor for the 2019 edition of Best American Essays, saw and read "Death of an English Major."
As guest editor, Solnit received from the series editor Robert Atwan 100 essays; she could select 20 for publication. But she could also suggest additions to the list, which Taylor says is how his piece was put in the mix. This is the first time that something published in the Tampa Bay Times has been chosen.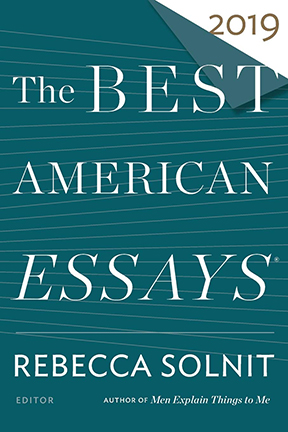 In her introduction, Solnit asserts that "Essay writing is reflective; it doesn't just want to recount things that happened, but contemplate what they mean, and often what they mean is really about how they fit into the pattern, which is how the particular connects to the general."
She continues by foregrounding Taylor's essay, the first of the 20 that she discusses: "That quest for meaning takes many forms. . . .I was moved and impressed by his essay's deep humanism as he grapples with the crime."
As Taylor thinks back to the fall of 2018 and the mourning that settled over FSU's campus and the city of Tallahassee, he places that specific tragedy in a larger context. He points out that, statistically, the present is the least violent time in history. What's changed is our awareness of the violence going on around us.
"We were all affected by this, but what is different, and is the reason for the larger interest in the essay, is that we can now see it in such a different way and see it as part of a larger pattern," he says. "That makes it more troubling, not because anything has changed about human behavior but because previous generations were less connected. A century ago, people in Oregon or Australia would not have known or cared about a shooting in a yoga studio in Tallahassee."
Literature, he says, has often grappled with violence. That's why he included quotations from Hamlet and King Lear in "Death of an English Major."
"Other Shakespeare scholars might be able to stand in front of a room full of traumatized students and quote Horatio's response to the death of a young student named Hamlet: 'Good night, sweet prince, And flights of angels sing thee to thy rest,'" Taylor wrote in his essay. "But although Shakespeare probably believed in angels, I do not. The Shakespeare quotation that first came to me, when I learned of Maura's death, was something much more brutal: 'Why should a dog, a horse, a rat have life / And thou no breath at all? Thou'lt come no more, / Never, never, never, never, never.' King Lear speaks these words to his young murdered daughter, half-pretending to himself that she can still hear him. These are not words that any parent wants to speak, or to hear at a moment like this."
Other essays in this year's collection of Best American Essays address gun violence, or other kinds of politicized violence, which does not surprise Taylor: "What these essays show is that politics have consumed our public discourse." We are separated more extremely today, he says, by our personal beliefs, but also in general by our different interests and priorities.
That's what made the campus candlelight vigil on Langford Green for the two FSU community members so important to hold, Taylor says.
"Literature as an art form brings people together, but it usually does so in the individual private spaces where they read," he says. "But theatres and classrooms have always brought people together to experience collectively something which is emotional as much as it is intellectual."
There usually must be an exceptional stimulus to bring a large group of people together, he explains, "some kind of disruption, positive or negative, of those separated routines of our individual and increasingly isolated lives."
The gathering in early November 2018 on FSU's Langford Green was organized in order to remember and to honor Maura's and Dr. Nancy Van Vessem's lives. In fact, that was Taylor's first and only visit to that specific place on campus.
"The way that the English department, the university, the community of Tallahassee came together," he says, "was part of recognizing the fleeting fragility of human life itself, which always has been a primary subject of literature, and of culture and all of the arts more broadly."
Taylor concludes his Best American Essay contribution by addressing Maura's life and the senseless way she died.
"We grieve, now, the loss of all the 'brave, bold and kind' particularities of Maura Binkley: the sound of her voice, explaining the relationship between Old English and modern German; her cute cat backpack; her idealistic ambition to get accepted into the Teach For America program; her protesting gun violence earlier this year at the Florida capital. 'There was a daily beauty in her life,' we can say, quoting Shakespeare but changing the pronouns, 'that made his ugly.'"