Garnet & Gold Scholar Society members reflect back on undergraduate English studies
---
Garnet & Gold Scholar Society members reflect back on undergraduate English studies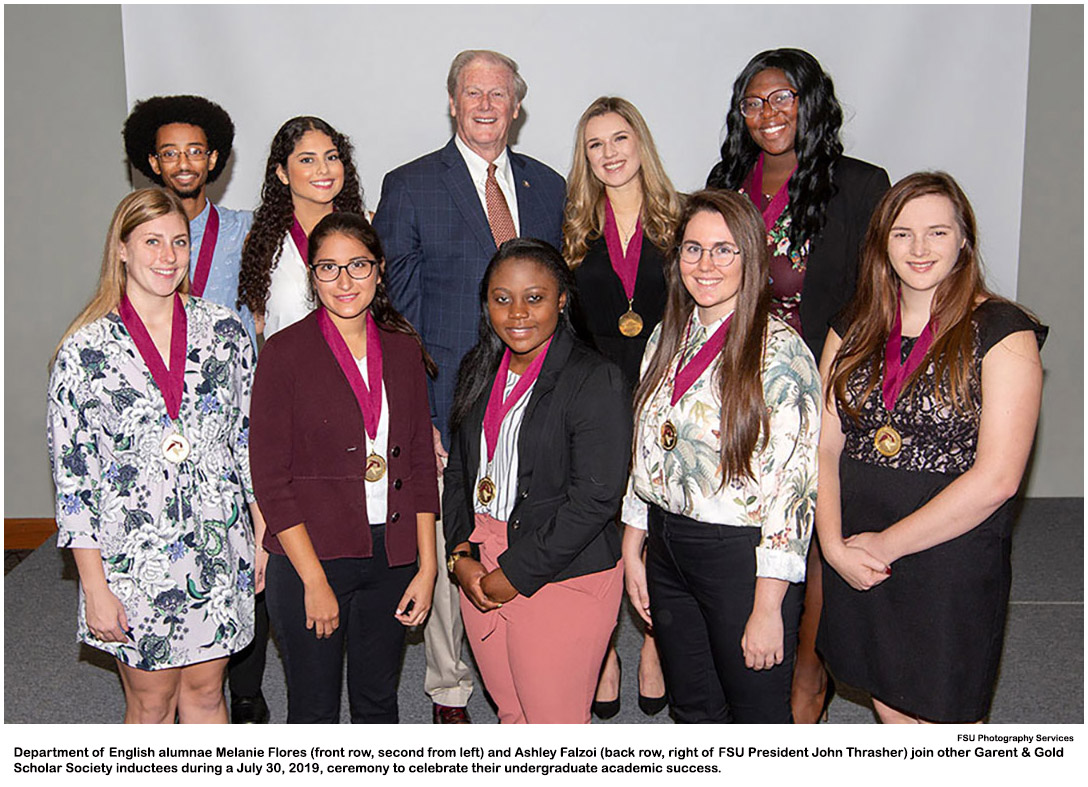 By Demetrius Winn
Recent Department of English graduates Melanie Flores and Ashley Falzoi were two of many students inducted into Florida State University's Garnet & Gold Scholar Society during a July 30, 2019 ceremony. Flores' and Falzoi's inductions are not only telling of their academic success but also of their dedication to succeed outside the classroom and contribute to the FSU community.
Students who take part in the Garnet & Gold Scholar Society are recognized at the end of the semester they complete the program and student receive a medallion recognizing their accomplishments.
"The Garnet & Gold Scholar Society facilitates student involvement and recognizes undergraduate students who excel within and beyond the classroom in at least three of five areas: international experience, internship, leadership, research and service," according to the organization's website.
Flores grew up in Miami, and when she was in high school, she served as president of the National Honor Society chapter at her school. She was also an avid cellist, having played for nine years. During high school, Flores volunteered with organizations that provided aid to people with disabilities and people experiencing homelessness.
Falzoi grew up in Merritt Island, Florida. Living within 10 miles of Cocoa Beach aided Falzoi's interest in surfing and spending her free time near the water. In high school, Falzoi took a television production course, which developed her passion for digital media and her decision to attend FSU. Falzoi also loved to dance while growing up and says dancing was an essential part of who she was leading up to college and contributed to her interest in creativity and English classes.
Flores enjoyed FSU's welcoming environment
For Melanie Flores, diversity was a key factor when choosing a university that would fit best with her values.
"I love the fact that Florida State has a diverse student and professor population—that was really important to me," Flores explains. "I felt extremely comfortable and welcomed."
During her undergraduate years, Flores studied both literature and international affairs. She appreciates that FSU provides numerous resources for their students and she enjoyed using them.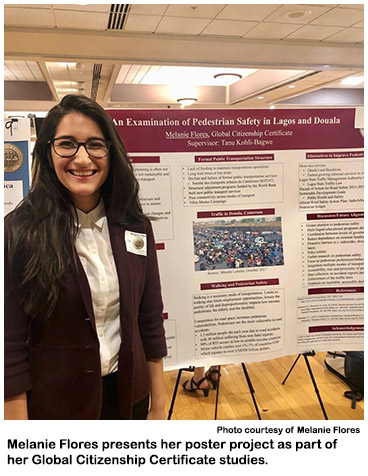 "Both majors offered me a lot of different perspectives about the world," Flores says.
Flores speaks fondly of her literature courses, saying they strengthened her reading, writing, and critical thinking skills, which, in turn, was important when it came to planning and policy making for her international affairs studies. Through her international affairs courses, Flores developed a deeper understanding of how governments work— and don't work— together.
"Both of these are what led to me becoming a planner," she says.
Flores recalls her literature professors being knowledgeable about not only American literature but literature from all over the world as well.
Her work in her English classes always demonstrated her enthusiasm for and interest in the social and cultural dimensions of literature, reflecting her work in community service and her interest in international affairs," Associate Professor of English Robert Stilling says. "She always looked for ways to understand things better and improve on her previous work."
FSU offered so many opportunities for growth, Flores says, that when she first arrived at campus the environment was a bit overwhelming. She remembers hearing about the Garnet & Gold Scholar Society through the Involvement Fair at the beginning of her freshman year.
"I knew that this society would enable me to succeed in different ways due to the five different engagement areas," Flores says. "I thought it was a great way for me to show other schools I was involved outside academia."
Flores even took on the role as a mentor for PeaceJam Southeast, a social change education program. She admits having a narrow idea of what leadership meant before coming to FSU.
"Through programs such as PeaceJam I learned so much about leadership that will be with me for the rest of my life," she says.
In addition to that commitment, Flores participated in the International, Internship, and Leadership engagement areas to satisfy her Garnet & Gold Society requirements. She earned the Global Citizenship Certificate. She currently is a graduate student at FSU studying urban and regional planning.
After growing up in Miami, Flores became fascinated in transportation planning and how it worked in other places in the world. Flores stresses to undergraduate students the importance of networking with peers, professors, and mentors because of how important those connections are for future endeavors,
Falzoi found her focus and excelled in her studies
Falzoi owes her decision to attend FSU to the Golden Girls, the school's official dance team.
"When I started watching the Golden Girls YouTube videos, I felt really motivated to go to Florida State University," says Falzoi, who danced throughout her years of growing up in Merritt Island.
She made the team during her first year at FSU, and she combined that activity with other interests she had in high school. In addition to the time commitment of being a Golden Girl, Falzoi applied for the documentary filmmaking track within the College of Communication and Information.
Unfortunately, she was not accepted into the program, but that led Falzoi to discover another passion after the 2016 presidential election: political science. This new interest led her to study international affairs.
Falzoi quickly found out, however, that she couldn't commit to everything.
"I wasn't as determined as I was in high school," Falzoi recalls, referring to her academics. "I was on the dance team, so I sometimes was dancing more than I was studying."
Although Falzoi enjoyed her international affairs coursework, she still missed the creativity associated with the arts. She decided to earn a second bachelor's degree in English on the editing, writing, and media track.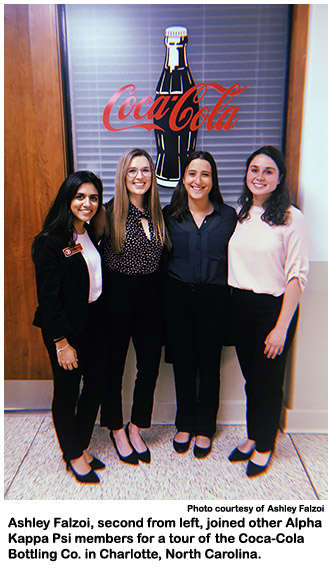 "I really got into English because I believe it was a skillset I could really use to stand out to employers," she says, adding that both majors―although different in scope―taught her many valuable lessons.
Associate Professor of English Michael Neal attests to Falzoi's dedication to her English studies.
"Ashley has been one of my most outstanding students in the last several years at FSU," Neal says. "She has strengths in both the technical and creative sides of her work."
Neal recalls a video documentary Falzoi produced on the Center for Intensive English Studies.
"This project shows a range of Ashley's technical and interpersonal skills," Neal says. "I never got a sense that she settled for anything but her very best work."
Falzoi heard about the Garnet & Gold Scholar Society when she was in the Global Citizenship Certificate program, which "brings together students who already have an interest in global issues and those who have not been exposed to cultures, languages, and issues outside of their own," according to the certificate website. Falzoi eventually took part in the research, international, and internship engagement areas for her Scholar Society requirements, and she refers to her time with the organization as the cap to her extracurricular accomplishments during her undergraduate career.
"It was the cherry on top of recognition for all the other things I did," she says. "FSU has so many opportunities and as a curious undergrad I decided to take part in them."
Through FSU's Center for Intensive English Studies, Falzoi received her Teaching English as a Foreign Language certificate. Completing the coursework for that certificate led her to an opportunity through the organization Teaching Assistant Program in France to travel to Saint-Julien-en-Genevois, France, to teach English until April 2020.
In the future, Falzoi wants to go to graduate school in New York City or Washington, D.C., focusing on international affairs and diplomacy. Falzoi hopes to work for the Department of State, which would allow her to travel the world and become fluent in French.
Flores and Falzoi are both bright minded and creative FSU graduates full of ambition and excitement for their futures. No matter where Flores and Falzoi end up, they likely will look back at the Garnet & Gold Scholar Society as the boost they needed to accomplish their goals.
Demetrius Winn is a senior majoring in English, with a concentration in editing, writing, and media, and Media Communication Studies.