FSU's Society for Collegiate Journalists brings together students who aim for journalism careers
---
FSU's Society for Collegiate Journalists brings together students who aim for journalism careers
By Emliy Voytecek
Teaghan Skulszki has always been drawn the idea of stories.
Skulski, a senior English major, began her Florida State University studies in the literature program, but then found a new passion—writing. Skulszki eventually switched to the editing, writing, and media (EWM) track, and a love of journalism fell into place for her.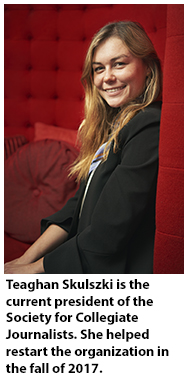 She even spent the summer of 2017 participating in FSU International Programs' EWM study abroad program in Valencia, Spain, where she and other students learned journalism skills and wrote articles for the Nomadic Noles magazine.
Following the short stint of journalism in Spain, Skulszki returned to Tallahassee in the fall of 2017 with a new passion for the field, and she didn't want to keep this enthusiasm to herself. Skulszki and Amber Lewis, a classmate of hers in Valencia, decided when they returned to FSU that they would start a club at FSU centered on journalism.
Fortunately, Skulszki and Lewis did not need to start from scratch. The Society for Collegiate Journalism (SCJ) is a well-established national organization with chapters on many college campuses, and the two only needed to restart a dormant FSU chapter.
Skulszki says SCJ was established with one particular goal in mind: increasing the availability of networking possibilities at FSU.
"I always say to people is that this club is for journalists at FSU because we don't have a major," says Skulszki, who currently is president of the organization. Lewis, the former club president, graduated from FSU in fall of 2018. "We have EWM, which I honestly prefer [instead of journalism] but I still wanted to be able to network myself, and present networking opportunities for other students. That's why this was created, what it's founded on, and what it's all about."
Since re-establishing the club as a recognized student organization, SCJ has provided events for students about once a month. In September of 2019 the club hosted its first tabling event, outside of the Williams Building. SCJ invited several campus publications, including Her Campus and Strike magazine, to sit at tables and talk to students who were interested in joining their publications.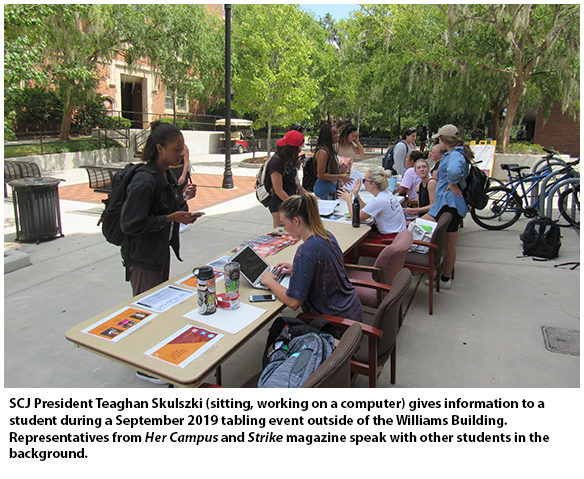 "Students would just come up and ask them how to get involved, and about everyone's experience in that club," Skulszki says. The experience allowed students to get a good feel for campus publications, she adds. She encouraged other students to begin thinking about getting involved in journalism.
Her Campus editor-in-chief Gabi Rodriguez says she and other Her Campus representatives in attendance had a positive experience at the event.
"We were able to spread awareness about our publication," Rodriguez says. "We basically told students what Her Campus is and what we write about."
One of the most popular events SCJ has offered for students was a panel composed of FSU students who had participated in internships in New York City. Interns discussed their experiences in the Big Apple, how they managed in NYC, and what other students can do to land an internship in NYC.
When FSU junior Molly Wexler attended the event last year, she found it to be a "fantastic experiences for learning first hand from students who scored coveted internships with major publications."
The discussion was open-ended, allowing students to ask panelists questions about whatever topics they are curious about. SCJ repeated the event in October 2019, and panelists included Claudia Craig (video editing and event management intern for SportsRecruits), Janna McCabe (intern for Rosemilk clothing and stylist for Lilli Millhiser), Riley Pryor (fashion intern for Paper Magazine), and Saadhiya Qureshi (digital marketing intern for Behno handbags). McCabe and Craig are English majors on the editing, writing, and media track. Skulszki plans to put together another panel in the spring of 2020.
"Usually I'll start off the panel with a couple questions: 'How did you get your experience? What's your favorite part about the job? What are your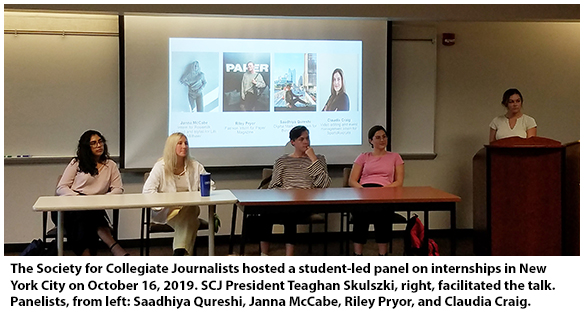 suggestions for students?'" Skulszki says. "And then as soon as students get more comfortable with the panel they go about asking them the questions."
SCJ's reach for speakers has expanded outside of the student body. Professional journalists are often invited on panels to give talks and to provide information and job advice to students. SCJ's event in November of 2019 will have three professional journalists speaking to students on those topics. The journalists are currently not selected, but Skulszki plans to invite three journalists with a wide variety of experiences. In the past, journalists with newspaper experience, such as Jennifer Portman, CD Davidson-Hiers, and Nada Hassanein from the Tallahassee Democrat, and TV broadcast journalist Venise Toussaint from WCTV have been guests at the event.
"I did benefit from these events because I received so much inside knowledge on a career field I already loved," says Wexler, adding she "appreciated the opportunity to get real insight on reporting from active journalists."
SCJ advisor Jack Clifford says the student organization has had a positive impact the journalism scene on campus.
"Teaghan and Amber did a great job of reviving SCJ and offering an important resource to FSU students," Clifford says. "And Teaghan has continued to do an excellent job as president, creating numerous opportunities for students to learn from each other and from professionals. I'm happy to see so many students interested in journalism."
When discussing events for SCJ, Skulszki emphasizes the positive impact that the events can have for students.
"I just want other students to learn how to network and be journalists. For our degree, in going through journalism field, networking is so important," she says.
Some of the panels have drawn about thirty people, but Skulszki would like to see even more students show up for the events.
"I know people have benefited from it," Skulszki says. "I know girls who have gotten internships out of coming to panels, where they've met speakers, and I want to see other people succeeding through [SCJ]."
She also hopes that having more students at each event will help them network with each other.
"It's interesting to learn from your peers. We are…on the same level, and it shows you that you can do that too," Skulszki says.
For Skulszki, as she wraps up her FSU undergraduate career, there are no intentions of leaving behind her journalism passion.
"I definitely want to go into magazine [work]," she says, adding that she is leaning toward a career in either fashion or lifestyle. "I've interned [with several]— I'm on my fifth one now."
Skulszki also is looking forward to continuing to share stories in her future. And she hopes other students want to do the same.
Students who want to become associated with the Society for Collegiate Journalists at FSU can find more information on social media. SCJ can be found on Facebook as the Society for Collegiate Journalists at FSU and on Instagram as @scj_fsu_
Emily Voytecek is a junior majoring in English on the editing, writing, and media track, with a minor in Information Technology.