FSU's RWC and DS tutors available for students
---
FSU's RWC and DS tutors available for students
Rebecca McCandless, Savannah Tindall, and Molly Wexler were the main contributors to the reporting and writing of this article
Florida State University's Reading-Writing Center and Digital Studio are& open again, ready to support all students working on written and digital projects, at any stage of those projects.
Students are encouraged to make appointments for consultations whenever they want an audience for their writing, feedback and suggestions, or support for multi-modal and other digital projects from consultants in the Digital Studio.
For opening hours, or to make an appointment, visit the specific web pages that can be accessed through this link.
English major Savannah Tindall wrote an article in mid-April, explaining the services provided and offering a personal account of the process. Read that article here.
A couple of weeks before the Covid-19 pandemic shutdown disrupted U.S. businesses, schools, and life in general, FSU's Digital Studio held its 11th annual Digital Symposium in the Williams Building.
The Digital Symposium showcases "scholarship, coursework, and pedagogy that takes seriously possibilities researching, teaching, and composing with digital media and digital technologies." Six in-person presentations took place throughout the day. Kristy Cherry-Randle, Caitlyn LaFear, Amanda May, Christian Pruitt, Tatum Swanson, and Kayla Walston presented their projects during specific time slots on February 26 from 10 a.m. to 4 p.m.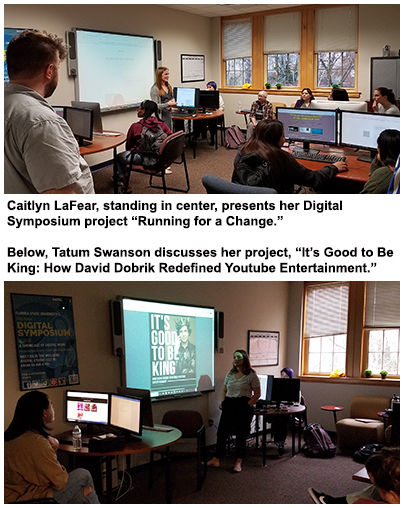 Pruitt created her project as student in FSU master's student Sidney Turner's Genre, Research, and Context class (ENC 2135), and she displayed her complete e-portfolio at the Digital Symposium.
"By making it a norm to create a place where your work is neatly stored online and easily accessible to people like future employers, this will allow students to prepare for and respond to the changes being made in terms of technology," Pruitt says.
Pruitt's e-portfolio centers on three projects focused on the "remixing" of different texts from ENC-2135. (For more about her project, see the Q&A below.)
FSU English major Kayla Walston, who graduated in the spring of 2020, presented a social media-driven project. She focused her project, created during former English doctoral student Ellen Cecil-Lemkin's Writing and Editing in Print and Online (WEPO) class, on creating a social media presence that targeted specific audiences and internships.
"I made specific rhetorical decisions to position myself as a socially savvy content creator," Walston explains.
English doctoral student Amanda May defended her dissertation on May 26 and has accepted a tenure-track position at New Mexico Highlands University as assistant professor of English and director of the writing center. Her symposium project, an assignment known as a "vector report," stemmed from a special topics seminar on assemblage rhetorics she took with Stephen McElroy, former director of the RWC-DS.
Vector reports are designed to show how conceptions and definitions of assemblage as theory, practice, and process are changing. With the freedom to create her project in any genre, May used different elements to demonstrate assemblage from stock photos to music licensed under creative commons.
"For this particular vector report, I elected to create a video using stock footage, passages from our readings, a bad computer voice, and an Erik Satie song licensed under Creative Commons," May explains.
In addition to the finished projects from featured students, an important element of the Digital Symposium is its ability to encourage students to share their work on a larger platform. The encouragement to display work also brings students out of their comfort zones to engage in public speaking and presentation. Though nerves can run high before an important presentation, the participants always rise to the occasion.
"I've always been nervous during any public speaking engagement," Walston says. "I try to put myself in these scenarios to get myself out of my comfort zone, and eventually get comfortable with public speaking."
Participation in the Digital Symposium also encourages the mastery of new skills, such as video creation. May embraced the challenges of producing her project.
"It was my first time making a video, and it took me around eight hours to locate the footage and compile all the components," May explains. "I had to learn a new composing software along the way, and I'm happy with how it turned out."
Whether you are attending or participating, the annual Digital Symposium brings new ideas and digital innovation to the forefront. Join the Digital Studio next year for a symposium brimming with even more inspiration and creativity.
If you were unable to attend this spring's symposium, you can view all of the projects, presentations, and more information here. Find individual presenters by scrolling for their name under the "Composers" tab.
Additional Q&As
Please explain your topic for the Digital Symposium. (Note: Amanda May describes in detail her project in the article.)
Kayla Walston (KW): I considered the audience that I was targeting, and what internships I was applying for at the time. I decided to focus on my experiences and the skills that are relevant to social media content creation.
Christian Pruitt (CP): For my digital symposium presentation, I displayed the e-portfolio that I created for my ENC 2135 class. It consisted of three projects which all addressed researching and remixing different texts of various genres. For my first project, I compared two different mediums of fashion entertainment with a magazine article about the latest fashion trends and an episode of "What the Fashion" on E! Network. My second project was a research essay about the anti-war movement during the Vietnam War which also served as the foundation for my third project which remixed this essay by placing the antiwar movement in the present day at Florida State through a video, Instagram page, and poster.
Why is your topic important for academia?
KW: By the time students leave FSU they should have gained an understanding of genre conventions. Having a sense of rhetorical awareness is extremely important when entering the job market, or when trying to land any type of internship.
Amanda May (AM): Assemblage is important for academia because it expands one's considerations from a composition to its surrounding context. Assemblage as a theory raises questions about ethics, relations between various parts of a composition, and the ways that those relationships came into formation or change over time. It gives scholars a new way—or a different way—to think about composing.
CP: I feel like e-portfolios are important for academia because technology plays a large role in everything we do, especially in the classrooms. Building these websites allows for students to acquire a broad set of skills in areas like web development and to be more encouraged to share the work they're completing in their courses.
Why is it important that FSU has a Digital Symposium?
KW: To showcase students' work! The symposium helps others with examples of important projects like e-portfolios./p>
AM: It provides opportunities for students, both undergraduate and graduate, to showcase their digital work. As a participant as well as an audience member, it's interesting to see the kinds of things that people are creating and composing with technology. It really does highlight the kinds of things that people in our program can do beyond print-based writing.
CP: It is important for FSU to have a Digital Symposium because it allows people to connect and share things in ways they usually wouldn't be able to.  The symposium gives students a chance to be inspired by their peers' creative works as we are not usually given a platform to share the work we are creating in our classes.
What were your thoughts and feelings during your presentation?
AM: Honestly, I'm really proud of what I did. The project is very much in the spirit of assemblage, which is also the subject matter of the presentation and the video.
CP: I was super nervous to present my work at the symposium at first because I didn't know what the environment would be like. I then realized while I was presenting that the audience was just as invested in my work as I was while creating the projects. Because of these positive interactions, I felt proud of my e-portfolio and the work I had put into it.
Please note that some of these responses have been edited for clarity.
Follow the English department on Instagram @fsuenglish; on Facebook facebook.com/fsuenglishdepartment/; and Twitter, @fsu_englishdept