FSU's Digital Studio hosts its annual symposium
---
FSU's Digital Studio hosts its annual symposium
By Savannah Tindall
The 11th annual Digital Symposium will be held from 10 a.m. to 4 p.m. on Wednesday, February 26, at Florida State University's Digital Studio in the Williams Building.
As any FSU English major could confirm, more than just academic essays are being created at the Williams Building—students also are creating content in the digital world. The Digital Symposium reflects that sentiment, as a multitude of text technologies will be on display.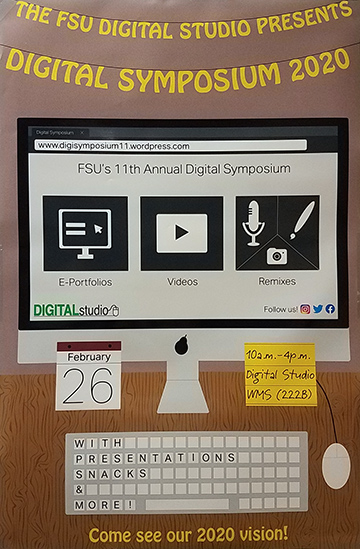 "Historically, it's been a showcasing of outstanding undergraduate graduate and faculty work here in the English department with an emphasis on that digital composition," Digital Symposium Coordinator Noah Patterson says.
All forms of texts are submitted to the Digital Symposium, such as podcasts, essays, personal pieces, videos, e-portfolios, among others.
"This allows us to see all of the ways in which we're doing similar things with the digital work but in different and unique ways," says Patterson, a second-year master's student in Rhetoric and Composition, who also works as the English department's computer-writing classroom coordinator. "So, this symposium allows us to collect, select and reflect on that work, while also thinking about the ways in which they do and don't talk to each other."
Professors and teaching assistants have nominated students for their outstanding work, and presenters will have the opportunity to give an in-depth analysis of their pieces.
"We have a [student] presentation at the top of every hour, and then they get to use the smartboard so they can show off their project," Patterson says. "They walk the audience through their process, and because [the Digital Studio] is a smaller space, it's also more of a dialogue."
If you are unable to attend the event, you can still view the works showcased. Each year, the Digital Studio houses works on its website. To see past Digital Symposium work, click here.
"They stand as these kinds of archival testaments to the work that people have been doing," Patterson says. "All of them are still alive and accessible, so they remain this sort of repository for this outstanding work or they can reference each other each year that goes by so we can see that growth and development."
To gain a better understanding of the work FSU students are creating and to get a better understanding of where the English department is heading in the digital future, stop by the Digital Studio for this year's symposium.
"It's that opportunity for future iterations of our English department to see where we've been, to get a sense of where we're going," Patterson says, "and then also on the day of the event hear from the people who are actually doing these compositions, and why they find them valuable or what they found enriching in the process.
Savannah Tindall is a junior double majoring in English, with a concentration in editing, writing, and media, and public relations.