FSU swimmer Des Lewis embraces her role as a student-athlete, 'exploring all the facets of our humanity' through an English major
---
FSU swimmer Des Lewis embraces her role as a student-athlete, 'exploring all the facets of our humanity' through an English major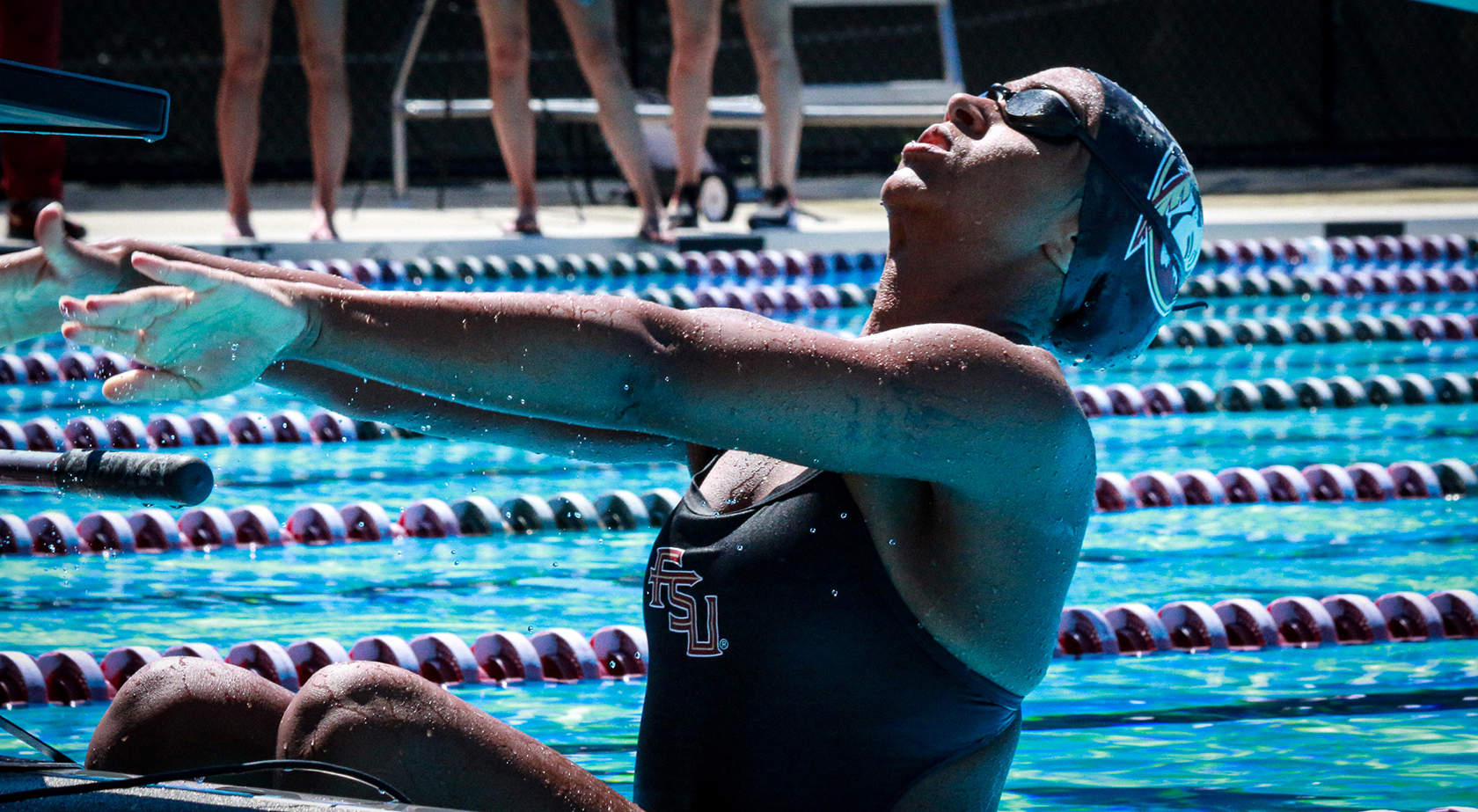 In the fall of 2020, Destany Lewis committed to FSU, moving 2,000 miles from Grand Terrace, California. Photos by Christa Salerno/FSU Media Relations
---
By Abby Bruner
When Florida State University swimmer Destany Lewis is standing on the blocks, ready to enter the pool for her next race, she can easily recall her 12-year-old self, racing for no other reason besides her love for the sport.
Calling on that memory often when she swims, student-athlete Lewis wants to create a life that goes beyond her race times and achievements while at FSU.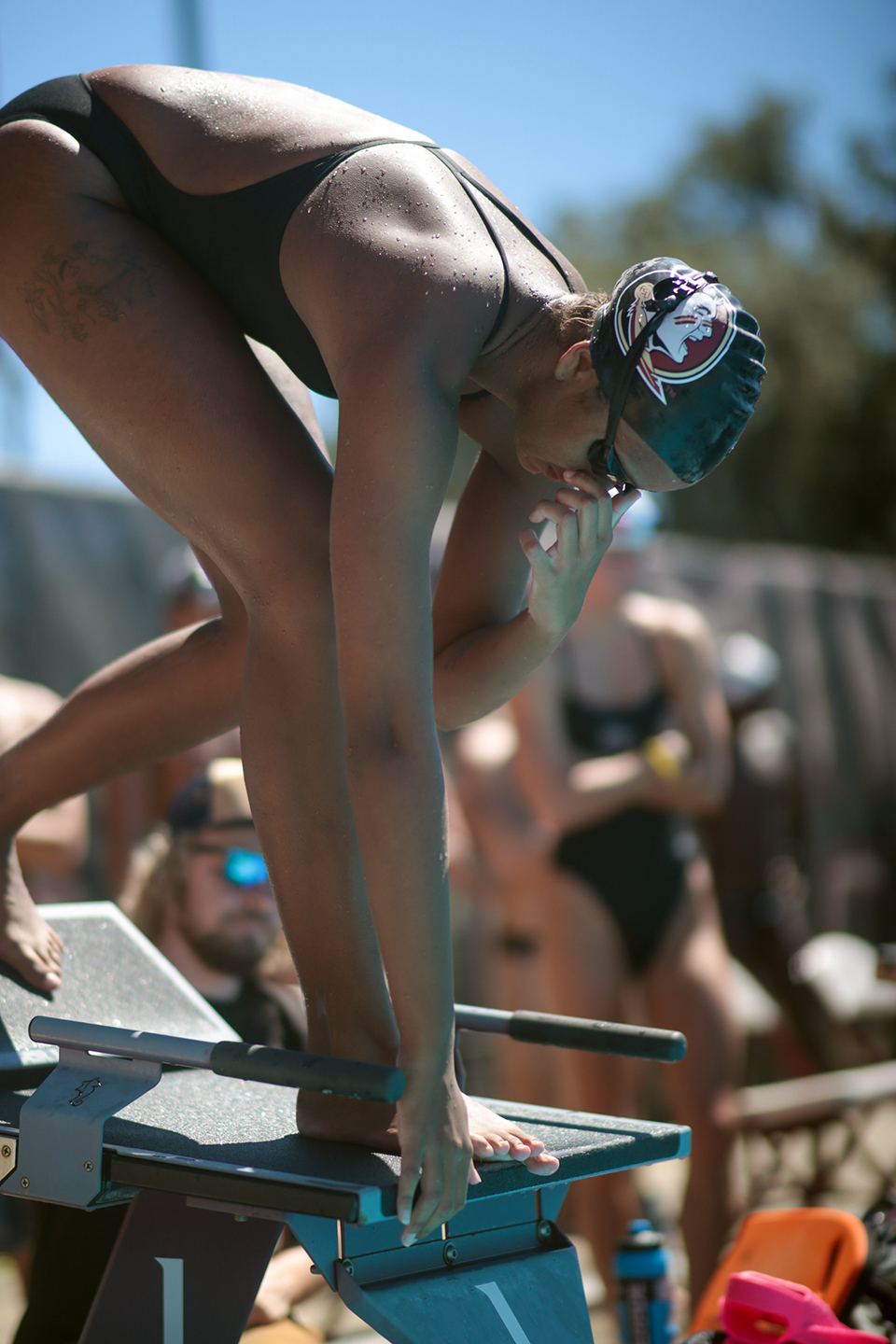 "I want to be able to leave college saying that I got the most out of my athletic career having fun and being passionate about it and hope that my teammates would do the same," Lewis says. "I'm here because I want to be, and I love it."
Lewis, who prefers to be called "Des," is in her second year at FSU, majoring in English-Editing, Writing, and Media with an additional focus in art. In the fall of 2020, she made the courageous choice to move 2,200 miles from Grand Terrace, California.
"In case you didn't NOLE, I committed!!" Lewis posted on social media. "I am absolutely stoked to announce my verbal commitment to continue my academic and athletic career at Florida State University! I would like to thank my friends, family, coaches, and teammates for their endless support, and God for leading me to the school of my dreams! I am so extremely blessed to be a part of the Seminole family! #canigetagonoles #unconquered"
In her first year as a Seminole, Lewis swam the freestyle and backstroke, finishing with top times of 23.6 seconds in the 50 free and 52.7 seconds in the 100 free.
Lewis has also prioritized finding a balance in her life beyond swimming. The field of journalism has always been at the front of her mind, which led her to choose the Editing, Writing, and Media track for her major.
"I've always just loved the importance of storytelling, of communication," she says, "and I think it's a really cool opportunity to connect with people and show different perspectives you might not have known of before."
Lewis exudes emotion when she speaks of both swimming and journalism, making it clear that she is thankful to pursue both passions simultaneously.
"In my short time knowing Des, I've witnessed her contagious energy, and more importantly, her selflessness," says Aaron Tillman, an advisor for FSU's student-athlete academic services. "She is inquisitive, and I'm sure her peers would agree that her growth mindset and ability to lead positively impacts her environment."
The caliber of athletes Lewis is swimming beside hasn't fully sunk in for her, although she has established that she belongs on the team. The wonder she had swimming competitively as a teenager is the same wonder she brings to practice each day, expressing that she feels "very honored" to train with high-achieving swimmers.
Lewis seems to be grounded in who she is, and she speaks often about the life she has established outside of athletics. She makes it a priority to have hobbies outside of the pool. She has goals that transcend the sports world. Lewis takes time to "explore all the facets of our humanity," and reflect on them, she says.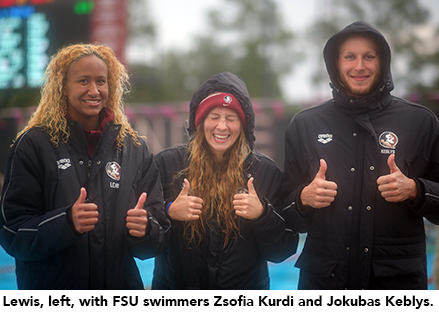 Many student-athletes are in science-centered majors, and Lewis is transparent about the fact that she is usually the only athlete in her liberal arts classes. She wants to see this change.
"Something I think is really important is the judgment you can face as a student-athlete where it's like 'Yes, I'm an English major and a student-athlete, and I like doing things like art or reading or writing," Lewis says.
Her next two years will come with a whirlwind of swim meets and English classes, but Lewis is firm in her long-term goal of being a freelance journalist. She knows she is entering a field that can be surface level at times, relying on clicks and page views. Instead, she hopes to bring honesty and compassion through her writing.
"I would love to try and create a space of truth and what we need to hear as a community of people," Lewis says. "I want to work toward sharing those things that matter and reintroducing a sense of empathy in our society."
By the end of her college career, Lewis wants to say that she was more than an athlete. She wants to inspire her teammates to do the same, and there is no doubt that Lewis' liveliness can leave a legacy at Florida State.
Abby Bruner is an English major, on the editing, writing, and media track with a second major in media communication studies.
Follow the English department on Instagram @fsuenglish; on Facebook facebook.com/fsuenglishdepartment/; and Twitter, @fsu_englishdept