FSU IDEA Grant recipients share research, experiences
---
FSU IDEA Grant recipients share research, experiences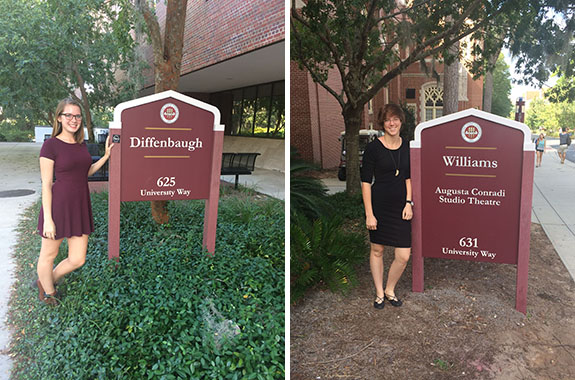 Articles and photos by Marisa Anderson
Catherine Deborah Davidson-Hiers fascinated
with people's connection to food, culture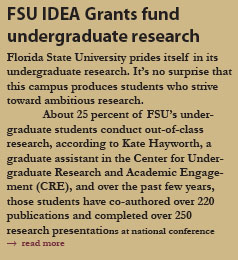 Catherine Deborah Davidson-Hiers is a small-town girl with big ambitions.
Born and raised on a 40-acre farm in Molino, Florida, located about 25 miles north of Pensacola and a town that recently received its first red light, she has taken FSU and all its opportunities by storm.
The 21-year-old senior, who is double majoring in French and English with a concentration in creative writing, used her IDEA grant to fund research on how people are connected to their food and, in turn, how that creates culture.
Her interest in this topic has its roots in her personal experience with food.
The overarching question Davidson-Hiers asked to her subjects, "What is your relationship with food?" was one that resonated within her, because her life changed for the better when she assumed a vegan diet.     → read more
Audrey Wheeler eager to tell the story
of Caroline Crane Marsh
Audrey Wheeler is determined to uncover the untold life of Caroline Crane Marsh a 19th-century American poet, author, and women's rights activist.
Wheeler, a sophomore at FSU and IDEA Grant recipient, spent the summer of 2016 at the University of Vermont and Florence, Italy exploring the letters, diaries, and other writings Marsh left behind for her project Caroline Crane Marsh: An American's Account from 1860's Italy.
Wheeler first heard about Marsh from her Undergraduate Research Opportunity Program (UROP) professor, Irene Zanini-Cordi, who knew about Marsh through a colleague in Italy.
Zanini-Cordi, an associate professor in the Department of Modern Languages and Linguistics, had no direct knowledge of Marsh because her research deals primarily with Italian salons and social networks, but she was intrigued by the prominent American figure in Italy and relayed her ideas to Wheeler.
Wheeler then did some preliminary research on Marsh and decided she was the perfect topic for her research.   → read more
Marisa Anderson is a senior majoring in English with a concentration in editing, writing, and media.