FSU English alumna Kristian Denny is guest at Honors, Scholars, and Fellows speaker series
---
FSU English alumna Kristian Denny is guest at Honors, Scholars, and Fellows speaker series
By Cristi McKee
The Friends of Honors, Scholars, and Fellows, along with the Florida State University Student Alumni Association, is hosting a special virtual alumni speaker series featuring English alumna Kristian Denny, a crisis communications professional, on Wednesday, Feb. 17.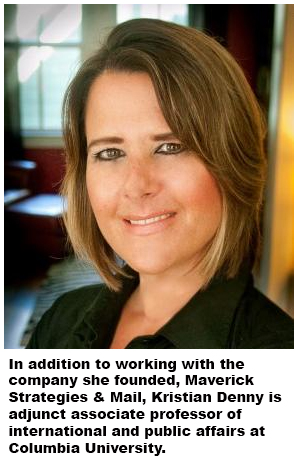 Denny graduated in 1992 from FSU where she was an Honors student, with her bachelor's degree in English. Intended for undergraduate students, FSU junior Samantha Taylor will moderate the casual Zoom event.
"It will be a great opportunity to hear from someone at the top of her field, who has a degree in English," says Amy Haggard, associate director of FSU Alumni and Student Engagement. "I believe it is always powerful to see where your major can take you, even if it is not where you intended for your career to go."
Denny founded Maverick Strategies & Mail in 2007 and has worked in the field for nearly 30 years, focusing primarily on politics at the national and state levels where she consults with progressive groups and causes. She currently teaches organizational and crisis communications at Columbia University.
Because of Denny's expansive knowledge in several fields, "this will be a great virtual opportunity for all students" — not just English students, Haggard says.
Denny was selected as a speaker for this series not only because of her background, but also because of her desire to engage with students from her alma mater.
"We seek alumni of our programs who have an interest in engaging with students in this capacity," Haggard explains. "Our development officer, Susan Contente, invited her and we are grateful for her passion and enthusiasm to engage in this way."
You can register to attend the event here. If you would like to submit a question to Denny, you can fill out the question form here.
"I can guarantee that her stories and knowledge will be worth everyone's time," Haggard adds.
Cristi McKee is an English major, on the editing, writing, and media track, with a minor in business.
Follow the English department on Instagram @fsuenglish; on Facebook facebook.com/fsuenglishdepartment/; and Twitter, @fsu_englishdept