Frances Tran cultivates diversity, creates dialogue for English department students, faculty members
---
Frances Tran cultivates diversity, creates dialogue for English department students, faculty members
By Miranda Sullivan
During her short time spent in Florida State University's English department, Assistant Professor Frances Tran has enacted change in many ways, and she enjoys helping her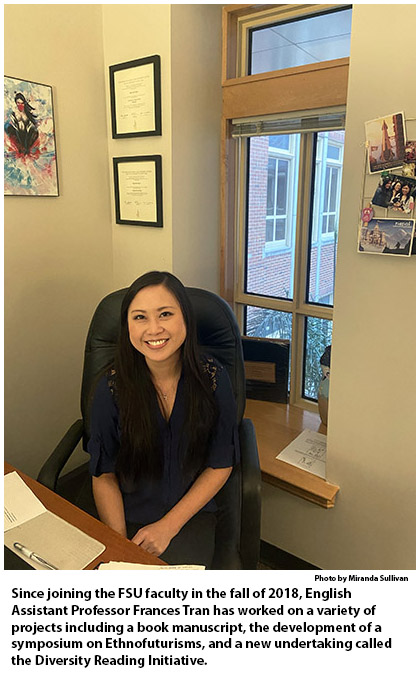 students develop their academic skills. Tran attributes her own accomplishments to the supportive environment that she has found on campus.
"Frances is, hands down, the best professor I've worked with during my time at Florida State University," says Pearson Bolt, a doctoral student in the Literature, Media, and Culture Program. "Not only does Frances possess an encyclopedic knowledge of science-fiction, ecocriticism, critical race theory, and decolonization, but she also happens to be a compassionate, gentle human being who genuinely cares for her students."
In the two years that Tran has been an FSU faculty member, she has worked on a variety of projects including a book manuscript, the development of a symposium on Ethnofuturisms (scheduled for March 12-13, 2020), and a new undertaking called the Diversity Reading Initiative. This initiative is aimed at diversifying the material, conversation, and scholarship covered by the English department.
Developed alongside her colleague, English Assistant Professor Lindsey Eckert, the Diversity Reading Initiative aims to expand the understanding of diversity on campus. This initiative seems to be a natural transition from Tran's doctoral work, which focused her scholarship in Asian American and multiethnic Literature and critical university studies.
With this project, she has taken those same ideas, collaborated with Eckert, and together they have developed a program that is giving the English department something to relate to on a broader level.
"We wanted to make sure that all faculty are addressing and grappling with issues of race, gender, sexuality, and difference in their classrooms," Tran states. "The idea for the Diversity Reading Initiative was largely to pick a text written by a contemporary author who identifies as part of an underrepresented community that could be taught in common, so faculty and students could have a shared text for addressing questions of minorized difference.
"It is one way we are trying to actively build diversity into our curriculum, to facilitate deeper dialogues about pedagogy and hopefully the cross-pollination of ideas across the three programs in English."
For the two colleagues, this project is about the larger conversation that they are creating within the department. They encourage students and faculty to think about the overarching themes in the material in order to cultivate thoughtful discussion about the material. For the launch of the initiative, they chose a collection of short stories, How Long 'Til Black Future Month?, by N.K. Jemisin, whose work mainly lies within the genres of science and speculative fiction.
Those two genres have also been influential on Tran's work, though at first a connection between academic concentrations and the more fantastical reaches of fiction might not be obvious. Tran did not even realize how much she had been subconsciously influenced by science and speculative fiction until after she had completed her dissertation, "Animate Impossibilities: On Asian Americanist Critique, Racialization, and the Humanities."
Tran believes that she is continually pulled to these genres because of the way they challenge reality and invite contemplation of social issues.
"They put us in entirely different landscapes and environments that force us to re-think the rules and norms that govern our world," Tran muses. "It's the cognitive estrangement that speculative fiction enables that allows us that space, time, and room, for deeper reflections and thinking about [questions like,] 'what does justice mean?' and negotiate the relationship between what we understand to be human and the non- or more-than-human world."
Some of her favorite authors—Ruth Ozeki, Ken Liu, and Karen Tei Yamashita to name a few—also operate within this realm. Upon realizing how influential these genres were, she is re-shaping her dissertation from the understanding of how formative both science and speculative fiction have been to her scholarship.
In the same vein, her book manuscript, tentatively titled, "Sensory Acts: On the Spectacle of Asian Racialization and the Politics of Futurism," seeks to examine the relationship between Asian-ness and futurity, which because of its entanglements in techno-orientalist images and discourses offers a more complicated framework for attending to questions of social justice.
"Because Asian-raced subjects have been imbricated within capitalist, neoliberal, and non-liberatory futures," Tran says, "it is all the more pressing to attend to the incommensurabilities between 'Asianized' futures and those promised by Afrofuturism and other Ethnofuturisms."
Before she joined FSU's English department, Tran lived in New York her entire life. She earned her Ph.D. from the City University of New York (CUNY) Graduate Center, and she then began her career as a teacher. Tran has worked at the CUNY Graduate Center, Fordham University, Rutgers University, and Queens College in the New York Metropolitan area.
"[Assistant Professor Tran] is an absolutely fantastic professor and mentor. . .the first course I took with her actually ended with me getting my first publication," says Raquel Hollman, a second-year master's student in Literature, Media, and Culture. "As someone who does not come from a family with experience in academia, [she] is always the warm and reassuring presence who reminds me that I deserve to be in this space just as much as the next person."
While Tran has fit in quite well here at FSU, her move from New York to Tallahassee certainly came with challenges. She initially found the idea of moving from New York quite daunting for a number of reasons, especially finding healthy food options.
"I'm a vegetarian and trying to be vegan, so one of the concerns of going to a new place—especially with all of the options I had in New York—was if I would find places that I like to eat [in Tallahassee]." Tran says, "It has actually been great."
Among her favorite local "gems" are Sweet Pea Café, Peony River, and The Bark.
Tran admits she misses her old home but has found something she likes about Tallahassee for almost everything she left in New York. For example, she loves that her dogs now have a yard to run around in, and because of the extra space and lower costs, she has been able to adopt a third one.
Maybe the largest adjustment for Tran has been the transportation—both the lack of public transport in Tallahassee and the reduced commuting time. She has achieved an "extra hour" in her day by moving to Florida, and she fills that time with writing, research, and meetings with her students.
Another one of Tran's initial worries was adjusting to her new workplace in the Williams Building. However, in her time spent at FSU so far, she has found plenty of help, support, and unexpected friendships. Some of Tran's closest friends at the university include other English faculty members who were hired at the same time as her, Eckert and Assistant Professor Jaclyn Fiscus-Cannaday, as well as Assistant Professor Joel Smith from the chemistry department.
"I would feel much more out of place, but the department has been really welcoming and I've been able to meet a lot of people and have close friendships with people from our department and outside... those things are the difference between making a place just for work and making it feel more like home," Tran states.
Tran has become academically active and personally connected in a short time at FSU. Looking forward, she plans to continue to bring fresh ideas to the department and inspire her students along the way.
Miranda Sullivan is a junior double majoring in English, on the editing, writing, and media track, and international affairs.