Ethnofuturisms Symposium brings in scholars for two days of discussions, workshops, and readings
---
Ethnofuturisms Symposium brings in scholars for two days of discussions, workshops, and readings
By Miranda Sullivan
Eyes of a multi-colored face peer out from the wall, watching and demanding attention. They beckon the attention of passersby with a glimmer of a secret that, if people are lucky, they might be persuaded to share.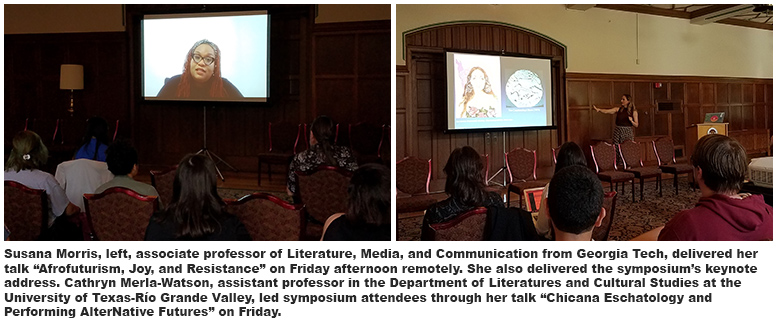 The colorful flyers advertising the Ethnofuturisms Symposium that took place Thursday, March 12, and Friday, March 13, in Florida State University's Longmire Building previewed this two-day event, which included a multitude of guest speakers, workshops, readings, and discussions that center on the idea and impact of ethnofuturisms.
The term "ethnofuturisms" refers to the ways in which marginalized groups are able to re-imagine their identities in society through various forms of literature and may speak to how they have sought to claim the future as a site of liberation and potential. Ethnofuturisms are often presented through the genres of science or speculative fiction, since those each allow the author space to use all aspects of the creative landscape to make a statement about our past and present.
"This interdisciplinary symposium signals an opportunity for us to take stock of the important scholarly and cultural work that has made it possible to think [about] something like 'ethnofuturisms' and to grapple, more broadly, with the stakes [surrounding] 'futurisms' as a genre, politics, and mode of being-in-the-world," according to the symposium's website.
The topic at hand is multifaceted to say the least, which is why English Assistant Professors Frances Tran and John Ribó—who have collaborated with English Professor Aaron Jaffe in the planning of this symposium—have worked on this event since 2018. Together, they have created an experience that they hope will be engaging, interactive, and influential to all those who attend.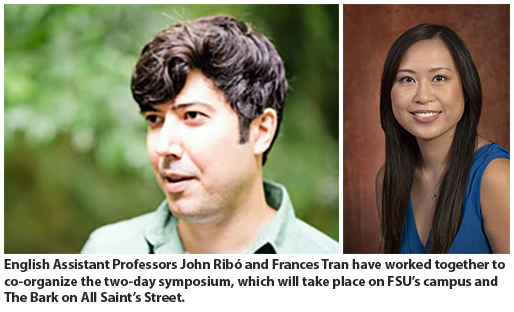 "[I]n many ways this symposium highlights specific literary and artistic modes deployed by writers and artists of color to imagine themselves and their communities back into futures from which they've often been erased or in which they are often portrayed as the monstrous or inhuman other," Ribó explains. "We wanted to organize this symposium to bring diverse scholars together to critique and to analyze these practices and to learn from one another."
The symposium featured a slew of FSU faculty members and graduate students and others from outside of the English department. This includes Assistant Professor Jeannine Murray-Román of the Department of Modern Languages, Associate Professor Kristin Dowell of the Department of Art History, along with other experts from FSU, Tallahassee Community College, and the Tallahassee area in general.
"We each picked one person [to invite to speak]," Tran says. "I picked Dr. Aimee Bahng… who I connected with through the Association for Asian American… I thought that she'd be a great person to bring in since I introduced her work in my graduate course on Visionary Fiction last spring. Professor Ribó chose Dr. Cathryn Merla-Watson, who specializes in Latinx speculative fiction."
Additionally, Susana M. Morris, associate professor of Literature, Media, and Communication from Georgia Tech, delivered Friday evening's closing keynote talk, titled "Afrofuturism, Joy, and Resistance." Morris' work in the past has focused on Afrofuturism and its influences on our world through movies, media, and literature, along with other forms of communication. She related her extensive knowledge to some of the readings discussed over the course of the symposium, following a panel discussion on Ethnofuturisms as Pedagogy. Tran and Ribó appreciated the flow to the symposium, with smooth transitions between the many overarching themes and ideas that panelists and audience members examined throughout.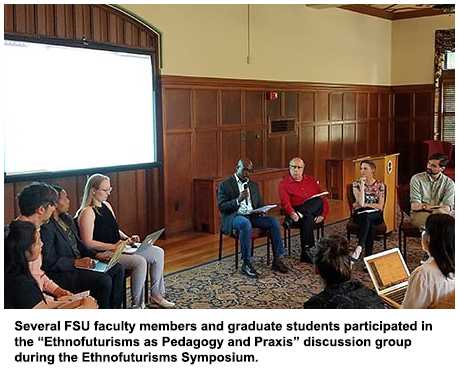 At the heart of the symposium, however, were the discussions and ideas that are raised by the material. The attendees heard people's input regarding ethnofuturisms, and the organizers encouraged people to expand their scope of knowledge on the subject.
"I really think that the energy of the event [came] through the dialogues that people have both during and in between the more formal, structural elements of the event," Tran says.
Symposium attendees had a variety of reasons to look forward to the event, ranging from the people they will meet and the topics that will be discussed to the understandings that they will hopefully walk away with.
"I am most looking forward to the variety of interdisciplinary panels and discussions," says David Potsubay, an English doctoral student in FSU's Literature, Media, and Culture Program, before the symposium took place. "The symposium is shaping up to be exciting, engaging, and overall, will include more than the typical activities found at academic conferences."
"I'm most excited to learn with and from everyone who participates in the symposium," Ribó says. "I think that human beings are smarter together and that when we think together, we can imagine and accomplish great things."
The Ethnofuturism Symposium took place March 12 and 13 in the Beth Walton Moor Lounge in the Longmire Building. For a full schedule of the event and more information on the guest speakers, visit https://ethnofuturisms.wordpress.com/
Miranda Sullivan is a junior double majoring in English, on the editing, writing, and media track, and international affairs.
Follow the English department on Instagram @fsuenglish; on Facebook facebook.com/fsuenglishdepartment/; and Twitter, @fsu_englishdept