Erin Belieu Wins Writers for Writers Award for Her Work with VIDA
---
Erin Belieu Wins Writers for Writers Award for Her Work with VIDA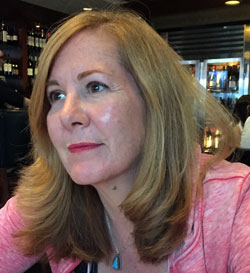 Professor Erin Belieu never expected to win awards for her work with the organization she helped create, VIDA: Women in Literary Arts. Her goal during VIDA's summer 2009 genesis, an objective that co-founders Cate Marvin and Ann Townsend shared with Belieu, was to address and challenge gender bias in publishing.
Their efforts proved to be valuable, as VIDA has developed into a strong voice on exploring and changing critical and cultural perceptions of writing by women. Now, the three women authors and their organization have been selected as a winner of the 2016 Barnes & Noble Writers for Writers Award, which honors "authors who have given generously to other writers or to the broader literary community."
"I don't believe anyone takes on this kind of work because they think they'll win prizes for simply doing what seems the right thing," Belieu says. "But it does feel nice to receive the recognition from our national writing community for helping literary culture see—statistically—that women's voices in print have not been valued and promoted as they always should have been."
Poets & Writers magazine, which hands out the annual prize, further states on its website that they honor writers who "point to and elevate the importance of community. While writing is usually a solitary pursuit, the vitality of the literary community relies upon collaboration."
Looking back to VIDA's origins, Belieu appreciates what the organization has accomplished.
"As the co-founder of VIDA, it seems kind of astonishing to me that a couple of women with no more than laptops, working between jobs, childcare, etc., could have ended up actually shifting the literary landscape for the good—other than raising my son, it's the effort I'm proudest of in my life," she says.
Belieu's reference to statistics concerns VIDA's Count, a research-oriented breakdown of the gender disparity in literary publications and book reviews. According to VIDA's website, the organization's annual Count "offers up concrete data and assures women authors (and wayward editors) that the sloped playing field is not going unnoticed… Our literary community can only benefit from a range of voices."
Belieu says she draws on her parents' influence when working with VIDA to give back to the literary community and to change publishers' practices.
"I hope little girls in the future know without a doubt that their voices absolutely matter, and that it's completely ok to have the same ambitions that their brothers have for themselves," Belieu says. "I hope little boys won't think twice picking up a book written by a woman, or with a female protagonist or speaker. That they'll simply be able to enter into the many pleasures literature affords us, spoken from so many subject positions, not just from the particular bodies into which we're born.
"I just wish I could live long enough to be there for the day that these retrograde attitudes women—and people of color, and people with difference and disability, and queer people, and trans people—still deal with daily will seem as laughable as they truly are."
This year marks the 20th anniversary of Poets & Writers giving out the Writers for Writers Award, and past winners include Margaret Atwood, Rita Dove, Stephen King, Susan Sontag, John Grisham, and Sharon Olds, among others. Poets & Writers will honor Belieu, Marvin, and Townsend on March 22, 2016, in New York City at the magazine's annual benefit dinner, In Celebration of Writers.
"It's a huge honor to receive an award that has been won by so many literary luminaries in past, so many writers whose work I adore," Belieu says. "And it's also an excellent excuse to buy a new party dress. I mean, seriously, how many galas does a scruffy poet get invited to? Not enough."