English undergraduate Demetrius Winn strives for social justice and human rights for all
---
English undergraduate Demetrius Winn strives for social justice and human rights for all
By Olivia Cameron
Demetrius Winn is the first person in his family to attend college, and he aims to excel in his college career. A recent scholarship will help further his education.
Winn won the 2019 Dr. Martin Luther King Jr. Book Stipend award, a scholarship that honors students who exhibit similar values to King's and meet the criteria for specific GPA and community involvement.
"When the scholarship application reopened, I knew it was for me," says Winn, a third-year English major at Florida State University. His English major concentration is in editing, writing, and media and he is double majoring in communication.
FSU honored Winn and other students January 22at a ceremony during Martin Luther King Week. The Office of the Vice President for Student Affairs, the FSU National Black Alumni, and the Family Connection Council support the scholarship to highlight minority students and their bright futures.
Like many first-generation college students, Winn first entered FSU as a participant in the Center for Academic Retention and Enhancement's Summer Bridge program. Winn is one of many students who are part of CARE, which aids students who are often underrepresented due to economic or educational inequalities and allows them to attend schooling under a granted scholarship.
Through the Summer Bridge program students become accustomed to the university.
"After I was accepted into the program, I didn't start in the fall, I had to start in the summer," Winn says about his first semester at FSU. "It was just to make sure we had the time to adjust before everyone else got here, but it was such a great summer and I met a large amount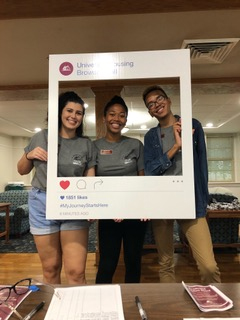 of great people. I got acquainted with the university and it made it easier to be with peers who are also new to college, so it was really cool to know we were all starting college for the first time."
Winn says that being a minority on FSU's campus has its challenges, but he recognizes that the scholarship he was awarded with has allowed him and his fellow students to be appreciated for their hard work and dedication. His family was always a fan of FSU, which aided his decision in attending the school.
Winn was born in Honolulu, Hawaii, but ended up spending most of his childhood in Tampa, Florida. He came to the university to study English and the power of the written word.
Using the power of communication, Winn also works is the executive director of the Pride Student Union (PSU), and his goal is to represent members of the group and to help them earn the recognition they deserve. His responsibilities include managing a given budget, supervising prepared drag shows, keeping an eye on the executive board,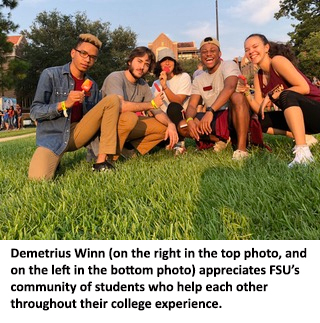 and listening to the needs of students. The PSU has grown to be the main connection for the LGBTQ+ community.
"Whenever the community is writing bills or trying to implement something new for the LGBTQ+ community, they come to us and ask us how we feel about it first," Winn says. "Whether it's about the needs of the students or about passing resolutions, such as on topics like gender-inclusive bathrooms, they work directly with us."
Whenever Winn is not working alongside the Pride Student Union, he is busy as the Assistant Director of Events at Clutch Magazine. He loves the publication's team and he is still getting his footing while planning a magazine release party.
Another important part of Winn's campus involvement comes through his work with PeaceJam Southeast. He has been a program mentor since March 2017, educating high school students on the importance of activism.
"I love any kind of social justice or human rights work," Winn says, describing his passion for political activism. One of the concerns he focuses on at FSU involves the appropriation of the Seminole as the school's symbol, and Winn shares his thoughts with other students on campus. Like most issues he faces, Winn says he is open to expressing his concerns and listening to others speak on them.
Winn is due to graduate from FSU with his English degree in spring 2020, and he wants to work in a field that incorporates the writing component to advocate for subjects he is passionate about. When looking deeper into his educational future, Winn contemplates attending graduate school at Colombia University for journalism or going to school for fashion merchandising. His dream goal is to become a documentary filmmaker or work in the fashion industry.
One of Winn's favorite classes at FSU was Film Genres with Cocoa Williams, a doctoral candidate in the English department.
"Demetrius' contributions to our class discussions always demonstrated a thoughtful engagement with the visual texts we were unpacking," Williams says. "He approached the subject matter with both the wonder of a student and the confidence of a scholar."
Winn's scholarship award does not surprise Williams, especially considering his focus on human rights work.
"His comments on the social and political implications of our explorations were of the utmost importance to his developing and acute understanding of the relationship between film, culture and social justice," Williams says.
As Winn continues to expand on his knowledge, he will be able to rely on a scholarship that came from his commitment to become the best version of himself while advocating for those who go underappreciated.
At FSU, Winn feels comfortable to be involved at a school that takes pride in caring for their students. He believes FSU is close to a dream school for him and he appreciates the strong community of students relying on each other throughout their college experience.
"You never really feel like you're on the inside when being a minority student, but FSU cultivates this culture of helping others," he says. "This school puts effort into their students."
Olivia Cameron is a senior who is majoring in English, with a concentration in editing, writing, and media.