English professors share in success and strength of university-wide digital humanities projects
---
English professors share in success and strength of university-wide digital humanities projects
When Sarah Stanley, a digital humanities librarian at Florida State University, learned in mid-January that her project exploring data repositories and prosopograhy had earned a National Endowment for the Humanities (NEH) grant, two English department faculty members were included as awardees.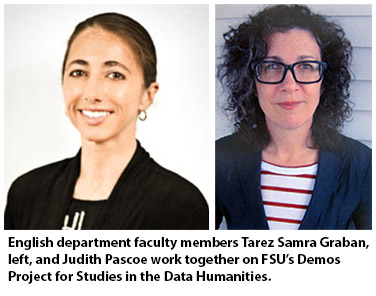 George Mills Harper Professor Judith Pascoe and Associate Professor Tarez Samra Graban are part of the five-person team, which will use the grant funds to coordinate and host a three-day workshop scheduled for Fall 2020 at the university. For the past year and a half, Pascoe and Graban have been involved with FSU's Demos Project for Studies in the Data Humanities, an effort that served as a catalyst for Stanley's Digital Humanities Advancement Grant (DHAG).
"This is an important and exciting time for data sharing in the humanities," said Stanley, in an article at news.fsu.edu. "I'm so grateful to the NEH for giving me this opportunity to explore how digital humanists can build shared platforms for research."
Will Hanley, FSU associate professor of history, and Bryan Brown, a developer within FSU Libraries, round out the group that Stanley will lead. While the DHAG is a one-time fund, the Demos Project is a university-wide initiative started in the fall of 2018 and aimed at creating a research-training space and a community hub for humanities data analysis and curation. Nearing the end of its first year, the university's Office of Research funded that project with a $35,000 seed grant.
"The pilot project involved a Faculty Fellowship program [in 2019], starting with a summer institute, and culminating in a project showcase, which will feature seven Faculty Fellows projects as a result of the program," says Graban, a Demos co-director, referring to an event that will take place April 17, 2020 in Strozier Library. "We continue to seek larger and broader sources of funding, but Stanley's DHAG is one great example of a successful initiative having come out of the Demos Project this year."
The Demos Project group comprises Graban, Pascoe, Stanley, and Dr. Allen Romano, the coordinator of FSU's Digital Humanities Graduate Program. In their mission statement, the members write that the Project "fosters and supports scholarship involving structured data around people (the demos) and their environment."
"At the Demos Project, we examine the representation of individuals and communities in data, we ask and answer questions about data in society, and we apply humanistic thinking to data-driven problems," the statement continues. In addition to the creation of a physical space for the analysis and curation, the Project's goal is "to support faculty and students in gaining necessary skills for advanced data humanities projects; to catalyze early-stage and cross-disciplinary projects that are competitive in seeking grants from large funders; and to position FSU as a data humanities leader in the state."
The digital humanists working with the Project research ideas of data representation, digital prosopography, networked humanities, technologies of transmission, and education and outreach. In addition, the Demos Project partnered with the English department's Digital Scholars to sponsor several Spring 2019 and Fall 2019 webinars, including "Data Colonialism," "Itinerant Museums," "Women in Data," "Digital Technology and Reproductive Labor," and "Data Surveillance."
The Demos Project promotes interdisciplinary collaborations within the university as well as with outside institutions. In the English department, Graban and Pascoe's partnership links professors in the Rhetoric and Composition Program and the Literature, Media, and Culture Program, respectively. Several other professors in the department are on the Digital Humanities Affiliated Faculty list, which inevitably encourages students in the department's three major tracks to team up on research and projects.
"I think the more successful initiatives enabling students from across different tracks to work together in the data and digital humanities," Graban says, "have occurred through four outlets: the graduate History of Text Technology seminars; the Digital Scholars group and other digital humanities-focused reading groups hosted by the department, including those offering digital archival work; the Digital Studios in the Williams and William-Johnston buildings, and the related Florida Postcard Archive; and the new Master of Arts in Digital Humanities program, currently operating in FSU's Program in Interdisciplinary Humanities, but offering courses which a number of English graduate students have taken to fulfill a minor or secondary area of interest."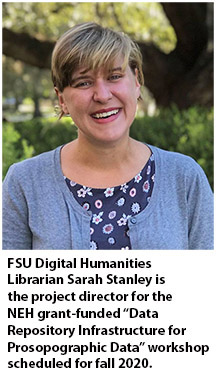 Stanley says she hopes her NEH grant leads to not just guidance on how to support humanities research but also reinforcement of the existing platforms to ensure scholarship sharing and to expand their capabilities.
Pascoe appreciates Stanley's role in meeting those goals, and says the Demos Project is an important project for those efforts.
"Specialist librarians like Sarah are able to see the big research picture, to help faculty and graduate students develop new research skills, and to enable researchers engaged in similar kinds of projects to find each other and to collaborate," she says. "The Demos Project sets out to fuel research and grant-writing and to make visible (and support) the research contributions of faculty, staff, librarians, and graduate students. We also want to increase awareness of the risks humanities scholars take at this particular moment in time when they devote significant time and energy to working with data in ways that are new to humanities disciplines.    
Graban agrees with Pascoe, and she adds it would be useful to create long-term collaborative teams across units and departments. Providing more time for the people involved and rewarding critical inquiry that occurs through data work, even in partial stages of completion, would also be beneficial.
"The reality is that we tend to value completed objects and tools moreso than the sustained inquiry that leads to their production," Graban says. "What we need most urgently are established toolkits and workflows to share around among faculty and graduate students who are completing similar projects but whose positions or roles don't allow them the time needed to retrain. We also do, in fact, need time to retrain, and an institutional focus on awarding humanities scholars more time to do this seems an uphill battle, because we are in such high demand as teachers."
The entire scope of Stanley's NEH project will occur over several phases, beginning in July and ending in December. As project participants and advisory board members on the grant, Graban and Pascoe plan to lend their time in roles such as selecting potential participants and reviewing general applications, helping determine how the workshop is structured in terms of content and topics, and assisting with the white paper and other grant outcomes.