English majors encouraged to apply for FSU's College of Law Donald J. Weidner Program
---
English majors encouraged to apply for FSU's College of Law Donald J. Weidner Program
By Elizabeth Chailosky
Each summer since 1992, Florida State University's College of Law has offered undergraduates a preview of the law profession.
Since that time, approximately 1,400 students from across the country have participated in the Donald J. Weidner Summer Program.
Students from all majors and backgrounds, especially students historically underrepresented in the legal profession, are encouraged to apply for this four-week program, which will be offered online from June 1-June 25, 2021, free of charge.
Earning a bachelor's degree in English is considered to be one of the top paths to take in preparations for law school. Sixty students will be selected to participate in this year's completely remote program. Rising sophomores, juniors, and seniors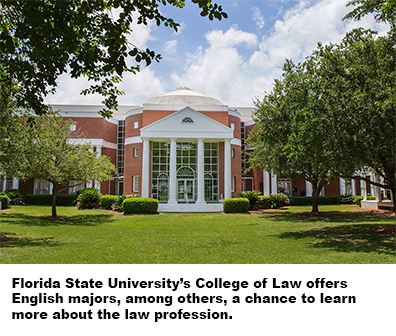 enrolled at two-and four-year institutions are eligible to apply.
Priding itself as being "the oldest and largest of its kind," this esteemed program aims to familiarize undergraduate students with the law profession and to encourage them to become law students in the future. The American Bar Association has twice honored this program with the Raymond Pace and Sadie Tanner Mossell Alexander Award for Excellence in Pipeline Diversity.
Due to the competitiveness of the program, each student must complete an application that consists of a current resume, a personal statement, and a current transcript. Once an application for admission is finished and electronically submitted, the program's admissions committee carefully reviews it prior to selection.
In addition, FSU law admissions staff and committee members lead workshops aimed at preparing students for the law admissions process. In these workshops, students will learn how to write successful personal statements, resumes, and cover letters. In addition, students will receive instructions on how to best prepare for the LSAT and are able to attend individualized career planning meetings.
Outside of the classroom lessons, students will engage in online activities that include virtual visits to the Florida Supreme Court and networking opportunities with esteemed lawyers and judges.
At the conclusion of the program, all participants will receive a $500 stipend. English students interested in the law profession are urged to take advantage of this opportunity.
The application window is currently open through April 2, 2021. Click here for more information.
Elizabeth Chailosky is a double major in English, on the editing, writing, and media track, and Women's Studies.
Follow the English department on Instagram @fsuenglish; on Facebook facebook.com/fsuenglishdepartment/; and Twitter, @fsu_englishdept