"An English major walks into a comedy club..."
---
"An English major walks into a comedy club..."
Front page photograph shows FSU English alumna Lauren Olster in New York City and English undergraduate Meagan Martinez at FSU.
By Rebecca McCandless
When people hear "English major," a stereotyped image might come to mind. They might think of a quiet, introverted person with their nose constantly stuck in the pages of a book. The thought of a comedian performing in front of a laughing audience might not enter the picture.
English degrees and comedy can go hand in hand, however, and Florida State University has many current and former students who are succeeding by using skills in both areas.
FSU alumna Lauren Olster is a perfect example. She is currently combining her English major and comedic talents in New York City, where she was able to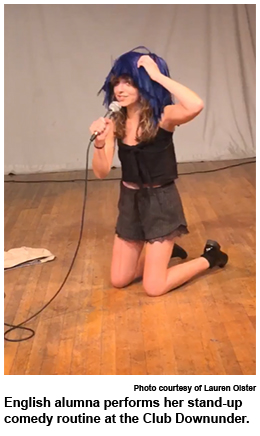 score an internship with a comedy club called Stand Up NY. Here she was assigned to help develop, manage, and promote a project called LaughPass.
Despite this, Olster continues to write material, film sketches, and perform in monthly variety shows with other friends from FSU. But, due to the coronavirus pandemic, her job and upcoming class with Upright Citizens Brigade Theatre, an improvisational training center, have been postponed.
Olster is confident that live comedy, however, has not.
Many comedians have taken to Instagram Live and other platforms to perform their shows and try out material," Olster says. "The monthly show I perform in at Brooklyn Comedy Collective is also going to be live-streamed, via an app called TVCO."
Olster attributes some of her success in comedy to the FSU English department, where she focused on the editing, writing and media track (EWM).
Being an EWM major encouraged comedy for me in surprising ways," Olster says. "Reading literature taught me about dark, subtle humor, and writing satirical articles every week taught me about timing, conciseness, and the importance of putting a purpose behind every joke."
She adds that majoring in English led her to becoming the editor of The Black Sheep, an FSU-themed satire publication, "because, aside from understanding humor, I also knew grammar. She says, "EWM also helped me to be consistently creative."
In addition to her roles as a writer and editor with The Black Sheep, Olster was also involved on and around campus in writing and performing comedy through the improv group No Bears Allowed. She also tried her hand at stand-up during local open mic nights.
"The first time I performed comedy on stage was for an open mic night at Club Downunder," she says. "I knew that the performance wasn't going as well as I'd hoped, but I also knew that every time the audience laughed, it felt really good. So, I kept doing it." (For a more in-depth article on Olster, click here.)
"The first time I performed comedy on stage was for an open mic night at Club Downunder. I knew that the performance wasn't going as well as I'd hoped, but I also knew that every time the audience laughed, it felt really good, — Lauren Olster
The Black Sheep is just one of many opportunities for FSU English students who want to become involved in comedy. Meagan Martinez, a junior who is double majoring in English (creative writing) and political science, is currently the co-editor of The Eggplant FSU. She has many responsibilities, including assigning, proofreading, and publishing articles, planning events and fundraisers, and helping manage the publication's social media accounts.
"We write stories focusing on FSU news as well as current world events," Martinez says about the content of The Eggplant, which has continued to post content on its site while the campus is shut down during the coronavirus pandemic. "We also like to write relatable student content, which can sometimes get a little on the sillier side."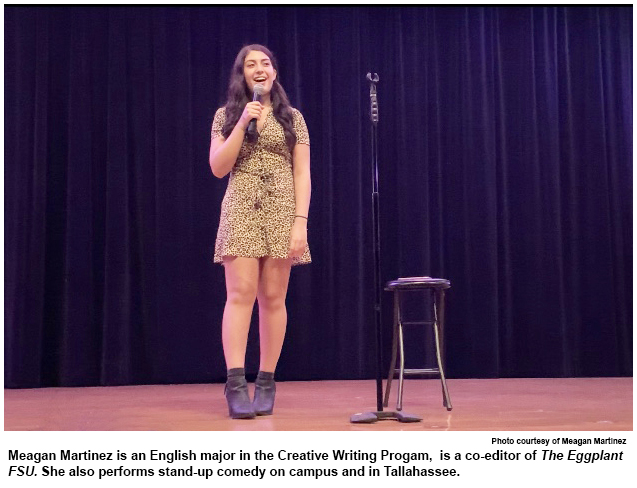 Martinez has always loved making people laugh. Once she realized it was possible to combine her interest in comedy with her passion for writing with her interest in comedy, she knew she had found a worthy career path.
Like Olster did during her time at FSU, Martinez performs stand up at open mic shows across Tallahassee, mostly through Club Downunder. However, this is a relatively new achievement for her.
"I used to be really shy," Martinez says. "I don't think I could have ever imagined getting up on stage in front of a bunch of college students and performing standup. I joined The Eggplant the spring semester of my freshman year looking for a fun outlet to build my resume, and that helped bring me out of my shell, which is what jumpstarted my comedy journey."
Martinez agrees with Olster about the positive influence her English classes have on her comedy performances.
"I find it helpful to sit and write down my set in its entirety, and I often go back and make changes leading up to my performance," she says. "My writing process is the way it is because of my English training, and I like to think that the skills I've acquired have helped me become a stronger performer."
Other English students feel the same when it comes to applying skills from their major to the comedy clubs they are involved in.
Thomas Brown, a senior in the Creative Writing Program, is the founder and president of Friday Night Live (FNL) and a performance team member in No Bears Allowed. He says that his English studies teach important skills needed to succeed in the comedy scene at FSU.
"[They] help me be a better sketch writer in FNL," Brown says. "My classes have taught me how to write concisely and clearly, which is essential for our sketches that need to get a premise and many jokes across in a short amount of time. I think majoring in English teaches you how to communicate more effectively, which is one of the cornerstones of good comedy."
His position at FNL requires that he write and edit scripts, act during performances, and direct pre-recorded digital shorts.
"FNL works all semester to put on one big sketch comedy variety show, featuring live sketches, digital sketches, a host monologue, musical guest performance, and Weekday Update," he says.
Unfortunately, amid the campus shutdown, FNL is forced to reschedule its spring semester show. Brown says they will most likely move the unused sketches to the fall semester show, or possibly use them in local shows to promote the club. Until then, the club plans to post digital sketches online sometime in May.
Theodore (Ted) Dryce, another English major in the creative writing track, is also involved in FNL and No Bears Allowed.  He has been passionate about comedy since high school, but he had to make adjustments to his style once he became involved in the comedy scene in college.
"I never really wrote comedy," Dryce says, "so the first time I wrote for FNL it was difficult because it is different than just being off-the-cuff versus actually being a little more intellectual and more regimented in a way, because there are actual techniques."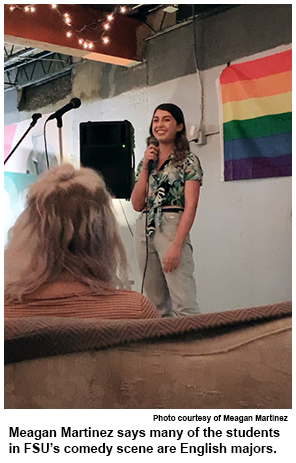 Dryce agrees that his English major has helped with the writing aspect of FNL, and he has an interesting take on the balancing effect that being involved in both comedy and English can have.
"I think English can sometimes be looked at as if it's this very serious thing, and I fall in that trap too because I write a lot of poetry which can be a very serious subject," he says. "But, I'm glad that I am a part of the comedy scene because it allows for me to stop taking myself so seriously. It's nice because sometimes they bleed over into each other so I'll write poems that are kind of comedic.
"It can be a shake-up sometimes because like I said, it can be like 'oh, who am I? am I the funny guy, or am I the serious guy?' You can be both."
Martinez agrees with that thought process, and she stands her ground when she hears the false belief that English majors can't be funny.
"I would say at least half of the people I know in the comedy scene at FSU are English majors, and I don't think that's a coincidence," she says. "The creativity that comes along with being a good writer can be expressed in a multitude of different ways, and it's no surprise that so many students have used comedy as their preferred outlet."
Rebecca McCandless is a junior majoring in English on the creative writing track, with a minor in communication.