English major Jaelynn Hart stays true to her writing and that path has led to publication of her first book
---
English major Jaelynn Hart stays true to her writing and that path has led to publication of her first book
By Elizabeth Chailosky
As a reader of her generation's most popular young adult novels, Florida State University senior Jaelynn Hart always felt disconnected from the characters.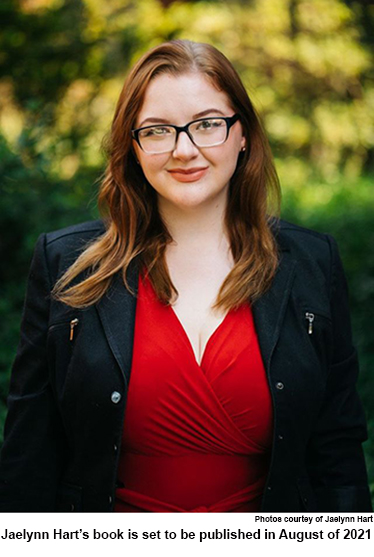 If you reread some of those books, the generic conventions of romance—boy meets girl, boy saves girl, boy and girl have a happily ever after—grace the pages more times than not.
Hart, an English major, points out that while such tropes appear harmless, a large portion of readers are inadvertently excluded. As a young girl, she recognized this lack of representation after reading books with only male heroes who saved young women from danger.
At age 14, Hart began to better understand her sexual identity and started writing LGBT+ fiction.
"As I learned more about the LGBT+ community, I started diving into writing LGBT+ fiction and found that I really loved it," Hart says. "I felt more connected to it than I ever did before, and I felt like I could finally relate to my characters."
Hart's love of reading and writing as a child sparked her decision to choose the creative writing program for her FSU major.
"I've gained priceless knowledge through my creative writing degree that's allowed me to expand my perspectives and storytelling skills to new lengths I don't think I could've reached otherwise," Hart explains.
Pursuing a degree focused on creative writing allowed Hart to hone new writing skills and techniques, sharpened in high school and both of which helped her grow into the kind of writer she is today.
"As a student Jaelynn was witty, engaged, and of course, an exceptional writer," says Jessica Merker, who was Hart's high school English teacher at Columbia H.S. in Lake City, Florida. "I remember always looking forward to reading her work and being impressed not just with her work but also with the way she supported her classmates."
I remember always looking forward to reading her work and being impressed not just with her work but also with the way she supported her classmates.

— Jessica Merker
Now in her final semester as a college undergraduate, Hart is writing Of Thrones and Thieves, a fantasy adventure book that speaks to both the LGBT+ community and young women who long to see strong female representation in literature. The book is set to be published in August 2021; click here for more information.
As a queer woman, Hart actively looked for works of fiction that related to her identity, but those were hard to find, she says.
"Growing up, I never saw a girl end up with another girl," Hart says, "and I think that, if I did, it would have saved me a lot of heartache when I came out."
After recognizing the deficit of fiction that accurately portrayed queer people and their experiences, Hart began writing stories that focused on the LGBT+ as multidimensional people.
"In my stories, my characters aren't just gay characters, because that's not the most interesting thing about them," Hart explains. "They are interesting, dynamic characters who have so much to offer."
Merker says that Hart is observant, compassionate, and articulate, the type of person who really sees people.
"She can discern when "fine" means "not okay" and just as easily shares in the joys of those around her," Merker adds. "Combined with the way she crafts her words, this skill translates to exceptional writing."
Of Thrones and Thieves follows the journey of Princess Elara of Metanoia, who is kidnapped by a group of pirates on the day of her coronation. Unwilling to surrender, Elara stops at nothing to escape, even if that means coming face to face with Kai, the pirate captain.
As hostility escalates, Elara begins to suspect the pirates are hiding secrets. Drawn to their mystery, especially that of Captain Kai, Elara finds herself torn between remaining loyal to her kingdom and pursuing the freedom she was granted as a prisoner.
Hart conveys in her book that not knowing who you are or what you are doing is OK.
"Even a queen sometimes doesn't have the right answer, but you'll get there, and you'll realize that you're stronger than you ever gave yourself credit for," Hart says.
Princess Elara and a couple of other characters in the book are gay, but Hart explains the roles are dynamic because of their actions, not their identities.
With every book, there is always readers' reception and feedback. Hart expresses her nervousness that Of Thrones and Thieves could receive homophobic backlash, but hopes the story will convey the messages that she meant in her writing.
"I know that I have a lot of people behind me who support what I'm trying to do," Hart says of the support system that has surrounded her throughout this experience.
Her high school teacher acknowledges Hart's attention to those details in her book.
"Jaelynn develops deep, relatable characters and places them in worlds that highlight representation," Merker says. "She knows how important it is for readers to connect with and see themselves in characters, and through her writing Jaelynn advocates for everyone, both on an off the page."
In between working two jobs, going to school, and writing this book, Hart's schedule has been full. While there were never moments in which hart wanted to give up throughout the writing process, she explains that there were a few times she thought she would miss important deadlines.
Nonetheless, with the support of her fiancée and best friend, Hart continued to stay motivated. Now, with the release date set for August, Hart hopes to continue shaping Of Thrones and Thieves into a polished final draft.
"Of Thrones and Thieves is, for lack of a better word, my child, and I want to send it out into the world in the best form that I can," Hart says.
Ultimately, Hart hopes that Of Thrones and Thieves brings representation to the forefront.
"Seeing yourself portrayed accurately and prominently in your favorite characters does make a difference," Hart contends. "I hope some newly out lesbian sees herself in Princess Elara."
After Of Thrones and Thieves is published, Hart plans to leave Tallahassee and she hopes to settle into a job as a staff writer for an online or newspaper publication. Hart is not done writing books, however, and she already has another book plot lined up.
"I'll continue writing, like I've always done, because if I'm not writing, then I'm not me," Hart says.
Elizabeth Chailosky is a double major in English, on the editing, writing, and media track, and Women's Studies.
Follow the English department on Instagram @fsuenglish; on Facebook facebook.com/fsuenglishdepartment/; and Twitter, @fsu_englishdept