English graduate Kendall McDonald achieved rare heights as a 2020 Outstanding Senior Scholar
---
English graduate Kendall McDonald achieved rare heights as a 2020 Outstanding Senior Scholar
By Ashley Schrader
Recent Florida State University graduate Kendall McDonald earned a noteworthy accomplishment that few can claim. McDonald, who earned her bachelor's degree in English, achieved the significant university recognition of Outstanding Senior Scholar.
Among the 5,634 bachelor's degrees FSU conferred at the end of the Spring 2020 semester, only 33 individuals received the Outstanding Senior Scholar (OSS) distinction. The OSS requirements include a completion of the University Honors program,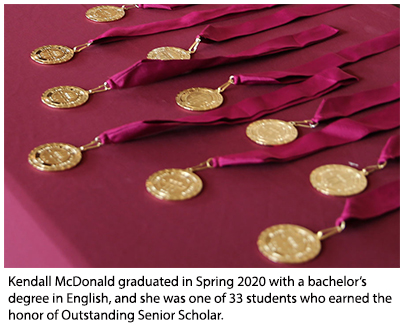 earning Honors in the Major by completing and defending an independent thesis project, and earning a GPA of 3.9 or higher.
McDonald concentrated her English studies in creative writing, and her commitment to what she calls "my genuine interest" in the subject matter led to her success.
"My completion of the honors program and my 4.0 GPA will indicate to graduate schools and employers that I put a great deal of time and effort into my classes," she says. "I always did work to the best of my ability, and I ultimately got something out of every class I took."
The completion of a thesis project, McDonald says, shows that she was willing to push herself beyond the general requirements to earn her bachelor's degree and demonstrates an ability to next-level work.
"The thesis is essentially a miniature version of a graduate thesis, so it's a way to show graduate schools and employers that I have taken time to develop my research skills and complete an independent project and that I have the capacity to take on larger projects in the future," she says. "I think that showing this type of initiative and work ethic will set me apart on future applications."
McDonald's honors thesis, titled Altitude Sickness,focuses more on a creative aspect, as she produced a collection of 32 poems. The project's general themes include recovering from trauma, religious questioning, and modern coming-of-age. She focused on her personal experiences of the world throughout her childhood and time during college by drawing on the confessional poets' idea that the personal is political.
The inspiration for her project's theme came from McDonald examining the works of famous poets including Adrienne Rich, Anne Sexton, and Sharon Olds. Her final collection ultimately represented the internal conflicts she faced during her college years before transitioning into adulthood.
McDonald admits she had no plans of completing an honors thesis until discussing the possibility with English Professor David Kirby, who became her thesis advisor.
"Kendall is an absolute crackerjack," Kirby says. "She has a mind that will go anywhere and one that always comes back smarter and sharper than it was when it left."
He requires students in his class to turn in one poem a week, which he admits does not allow much writing time for them.
"As a result, I get a lot of two-dimensional poems, which is fine: we can always work on them together and add what's needed," he says. "But Kendall always skipped a level: her poems are fourth-dimensional. As a result, her thesis was richer, fuller, thicker than most. She's a joy to work with. I wish we could do it all over again."
Kendall is an absolute crackerjack. She has a mind that will go anywhere and one that always comes back smarter and sharper than it was when it left.

— David Kirby
McDonald views herself as a type of a perfectionist other than the usual perception of one. She found that she didn't plan the majority of her time around academic tasks but still accomplished a great deal.
The rigorous requirements of attaining the OSS title put additional stressors on even the best of students who take on the added pressures of earning one of the university's top distinctions. McDonald says she faced typical struggles that many college students endure throughout their time at FSU. One of the struggles that McDonald dealt with head on as a busy college student was overwhelming at times.
"Throughout my life, I had always been someone who had a strong drive for achievement and was a pretty strict perfectionist, and while those qualities served me well in my academics, they also led to severe anxiety that manifested during my sophomore year," she says.
She even overcame a medical setback that required her to withdraw from a past spring semester, yet she still persevered to complete the three exceptional academic achievements.
McDonald looks back on her struggle with emotional battles in a raw way.
"When I returned to school for the fall of my junior year, I was ashamed of what had happened to me," she says. "I was even more ashamed of my inability to just go back to normal and be the person I had always been before I became sick."
Balancing her good study habits and devoting time to work on school early on during her years at FSU, McDonald excelled once she dealt with her second-year setback. Although McDonald fought this particular struggle, she managed to maintain straight A's throughout her college career.
She reflects on her thesis project, saying that the work presented a personal and creative outlet that freed her from the emotional battles she faced.
"It became a very personal work of art that brought me not only academic success, but a sense of personal closure as I finished my college journey," she says.
Looking back on her college experiences, McDonald advises other students to have confidence in their abilities and to take their studies seriously the moment they step on campus for their first semester. She also recommends that undergraduate students take advantage of the opportunities presented to them, including the thesis project.
I'm excited to combine the creative and analytical skills I acquired through my English degree with a graduate degree in business, and I think having such different degrees will make me a more well-rounded individual.

— Kendall McDonald
Having now completed her undergraduate studies at FSU, McDonald doesn't have plans to leave the Tallahassee campus anytime soon. She is enrolling in FSU's accelerated Master of Business Administration program, which is a one-year program geared toward increasing one's workplace skills and marketability to future employers.
"I'm excited to combine the creative and analytical skills I acquired through my English degree with a graduate degree in business, and I think having such different degrees will make me a more well-rounded individual," she says.
As she continues her educational journey, McDonald may not have a specific plan for what will happen in the future, but indications are clear that she will ultimately succeed.
Ashley Schrader is a junior majoring in both English on the editing, writing, and media track, and international affairs with a minor in Portuguese.
Follow the English department on Instagram @fsuenglish; on Facebook facebook.com/fsuenglishdepartment/; and Twitter, @fsu_englishdept