English Department Alumnus Barry Jenkins brings If Beale Street Could Talk to the screen
---
English Department Alumnus Barry Jenkins brings If Beale Street Could Talk to the screen
Award-winning director Barry Jenkins is creating a buzz about winning more Oscars. The positive energy surrounding Jenkins' new film If Beale Street Could Talk, in turn, is generating renewed appreciation for the Florida State University alumnus, especially in the English department.
Jenkins, whose 2016 film Moonlight won three Academy Awards, including Best Picture and Best Adapted Screenplay, graduated from FSU in 2003. And the Miami native spent many hours in the Williams Building, majoring in English on the creative writing track, before adding film as a second major when he was a junior.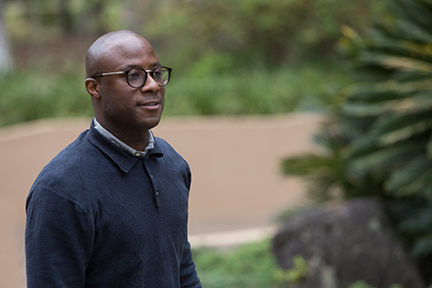 In several interviews he gave after the release of Moonlight, Jenkins mentioned Professors Elizabeth Stuckey-French and Ned Stuckey-French as being influential teachers of his at FSU. Jenkins was a student in Ned Stuckey-French's Advanced Article and Essay Workshop in the early 2000s, and Elizabeth Stuckey-French taught Jenkins in her Advanced Fiction Writing class during the same time. She remembers him as a talented and dedicated writer.
"There was a focus and intensity about him," Stuckey-French says. "He didn't take himself seriously, but he took writing very seriously."
Jenkins, she says, took her up on an offer she makes to all students, a more in-depth discussion during her office hours of her feedback on the stories they wrote for her class.
"The few students who do this are the ones I know will go far in whatever they choose to do in life," she says. 
If Beale Street Could Talk is Jenkins' third feature-length movie and he adapted the screenplay from James Baldwin's 1974 novel of the same name. The film premiered September 9, 2018, at the Toronto International Film Festival and is scheduled for release in the U.S. on December 14, 2018. In addition to the films, Jenkins has directed several short films and has credits for two television series.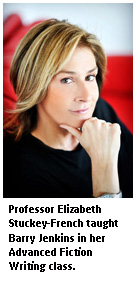 In conjunction with the upcoming release of If Beale Street Could Talk, English Assistant Professor Ravi Howard will lead a talk about Baldwin's novel and the film adaptation during the November 30 meeting for the department's U.S. Literature Discussion Group. The talk begins at 1:30 p.m. in Williams 415.
Film critics across the board are giving glowing reviews to Jenkins' take on Baldwin's work. The story focuses on a relationship between a young woman and young man in Harlem in the early 1970s. They become engaged and she becomes pregnant, and Baldwin further explores the familial relationships among the principal characters when the situation turns on the man being falsely accused of rape.
"What Jenkins gets most right—what astonishes me the most about this film—is Baldwin's vast affection for the broad varieties of black life," wrote K. Austin Collins in Vanity Fair. "It's one of the signature lessons of Baldwin's work that blackness contains multitudes."
Collins points out that Jenkins pushes past one possible ending for the couple and their family, and writing the conclusion as such "wouldn't be the whole story" and "wouldn't account for the persistent struggles for joy, progress, intimacy, hope, laughter: the stuff Jenkins's film is full of."
"I watched the entire film, end to end, with a smile on my face, wondering what Baldwin—who was, as it happens, a remarkable film critic—would have made of it," Collins writes. If Beale Street Could Talk is Jenkins' finest work, he continues, "an experience so rapt with an aura of love that even as it trawls the dark, the film is somehow bright."
Jenkins directed his first full-length feature, Medicine for Melancholy, in 2008. Eight years later and 13 years after earning his two majors at FSU, Jenkins' status in the film world soared with the critical success of Moonlight. Winning the three Oscars in February 2017 solidified his place among the best, and FSU invited him to campus about six weeks later for a night of celebration and appreciation, from both sides.
"That's pretty damn cool," Jenkins said from the Ruby Diamond Concert Hall stage when he received a standing ovation after being introduced to the crowd.
Stuckey-French says she reconnected with Jenkins after the theater release of Moonlight, and her former student invited the Stuckey-Frenches to a dinner with FSU Film School luminaries. The two English professors sat with Jenkins during the dinner and talked about the director's creative writing classes.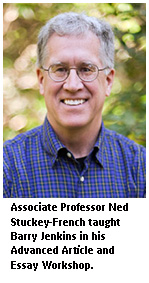 "He was great and we felt honored that he remembered and said he had been influenced by our classes," Ned Stuckey-French says. "He said that he felt it was really important to his development as a filmmaker that he had been a creative writing major and a film major as an undergraduate. Film classes focus on production and film, but his writing classes taught him about writing as well."
Six other FSU film school alumni worked with Jenkins on Moonlight. André Holland, who earned his bachelor's degree in fine arts at FSU, had an acting role in Moonlight.
"André read one of Elizabeth's short stories, 'Interview with a Moron," for a special edition of Public Radio International's Selected Shorts that was part of FSU's Opening Nights in 2016," Stuckey-French says.  
At the dinner, part of discussion was about the Oscars presentation snafu when Warren Beatty and Faye Dunaway were given the wrong envelope and mistakenly announced that La La Land won best picture. Jenkins and his colleagues who worked on Moonlight knew the La La Land team since both had already been through several awards shows such as the Golden Globes, where Moonlight won the Best Motion Picture – Drama award.
"He was happy for them," Ned Stuckey-French says, "but said that when the mistake was corrected and Moonlight was announced as the winner he was even a little bit happier."
The Stuckey-Frenches also attended the event at Ruby Diamond.
"In the sixteen years since I'd seen him, he'd matured into an assured, gracious person who wore his fame lightly," Elizabeth Stuckey-French says. "He was an outstanding, confident speaker. He answered the students' questions in such a generous and thoughtful way."  
Jenkins' presence in the English department continues in Assistant Professor John Ribó's classes, where Ribó has shown Moonlight to his undergraduate and graduate students.
"Moonlight's themes, music, and visual style spoke to my students," Ribó says. "We talked at length about how well Jenkins captures the sights, sounds, and even the weather of Florida. It was a powerful experience for the class to see the film's portrayal of details that make life here particular."
Before he made his home in Los Angeles, closer to the movie-making environment, Jenkins made his life, at least part of it, in Tallahassee while studying and taking classes in the English department. With all of the deserved acclaim for Moonlight and his film career in general, those who helped guide him to his current places of praise continue to root for Jenkins.
"Of course I was thrilled that his film won an Oscar and I can't wait to see If Beale Street Could Talk," Elizabeth Stuckey-French says. "I'm sure he'll continue to do more innovative and moving films. I just can't say enough good things about him."
Assistant Professor of Literature John Ribó discusses why he teaches Moonlight in his classes
At the beginning of the semester, several students who had already seen Moonlight asked why we would watch the film in a class on Afro-Latinidad. Their questions were a lesson in themselves. They revealed how easily Afro-Latinidad can be overlooked despite its importance in fully understanding the film.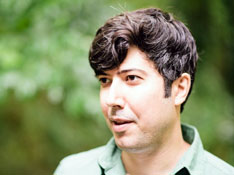 Latinidad has been theorized by multiple scholars as a framework that queers race by revealing race's constructed nature and by blurring strictly defined racial categories such as black, white, etc. I believe Latinidad's queering of race becomes even more important in discussions of Afro-Latinidad because Afro-Latinxs often migrate across different local, regional, and national racial formations disrupting and exposing the limits, specificity, historicity, and constructed nature of race. This is readily apparent in the case of US Afro-Latinxs who migrate to the US and encounter a black-white racial binary that often disregards their Latin culture, language, heritage, etc. 
Moonlight's portrayal of Afrolatinidad participates actively in this queering of race. At a crucial moment, Little, the film's young queer protagonist, and Juan, Little's mentor and protector, are at the beach. Juan teaches Little to swim. After the lesson Juan reveals that he's Cuban but most Cubans in Miami reject him and other black Cubans. Juan then draws a parallel between his Afro-Cubanidad and Little's queerness. Juan explains that even though his identity as an Afro-Cuban is often denied by the Cuban community, only he knows who he truly is. Juan explains that Little, like Juan, must discover and claim his own identity for himself. 
Later in the film, when Little, now known as Black, returns to Miami as an adult to seek out his former friend and lover, the film plays Caetano Veloso's rendition of the song "Cucurrucu Paloma." The choice of soundtrack is not superfluous. The Spanish lyrics of the languorous song, famously featured in a memorable scene from queer Spanish director Pedro Almodóvar's Hable con Ella, speak of a dove singing passionately in the night for a lost love. The image slowly melts between an overhead shot of Black's 1978 Oldsmobile Cutlass Supreme cruising south on I-95 toward Miami and a group of black children playing in the waves on a beach under the moonlight. 
Like Little's earlier swim lesson, the soundtrack and images of this short montage juxtapose blackness, Latinidad, and queerness in ways that challenge stereotypes and expand our understandings of Afro-Latinidad. The hyper-masculine Black seeks out his long lost queer love driving his ghetto fabulous ride across a distinctly tropical South Florida setting to a lovesong made iconic by a queer Spanish filmmaker. Black children, who historically have been excluded from segregated public swimming spaces such as pools, lakes, springs, and beaches in Florida and elsewhere in the US South, frolic happily in the water in the beautiful night. 
Sights and sounds such as these are powerful and transformative. They challenge the way we see. They offer a new vision of the world—a vision in which Afro-Latinx and queer people can be seen in all their human complexity and contradiction. That's a vision of the world and a kind of filmmaking I can really get behind.