English Associate Professor Michael Neal wins a University Undergraduate Teaching Award
---
English Associate Professor Michael Neal wins a University Undergraduate Teaching Award
By Marianna La Riva
English Associate Professor Michael Neal believes that "by the time students enroll in his courses, they are often disengaged and worn down by the monotony and tedium of their formal education." Neal's first priority at the beginning of each semester is to break those students out of their routines and get them excited about learning.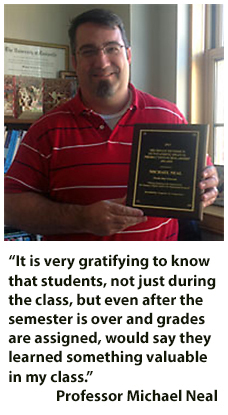 Because of his attentive and caring approach in the classroom, Florida State University honored Neal with a University Undergraduate Teaching Award for the academic year of 2018-19.
This award recognizes faculty for excellence in both undergraduate teaching and facilitating successful learning environments. The process of selecting the recipient begins with student nominations as well as professors' scores on their course evaluations.
Neal is passionate about giving his students the opportunity to apply what they learn in class, which coincides with his desire to teach a class that is both engaging and worthwhile for his students.
"I have found that most students like to make things, they like to build, they like to create and put into practice the things that we are reading and learning in class," he says.
In Neal's classes students are able to read about concepts of multimodality as they write with words, sounds, and images. The students also apply their knowledge of visual rhetoric by using what they know to create cultural documentary videos.
"I describe this course in the editing, writing, and media major as praxis-oriented," Neal says, "meaning they emphasize the application of knowledge and skills in practice."
As a teacher Neal defines himself as "a little bit more casual in terms of [his] approach." His goals as teacher are to help his students feel comfortable, valued, and open to experiment with new ideas in his class. Students resonate with this approach, especially after dealing with structured and formulaic writing in their secondary education.
Ashley Falzoi, one of Neal's former students, says his teaching style leads to "an open-minded classroom, where it's OK to make mistakes."
"He never once judged a student for their questions, answers, mistakes, and took every opportunity to dive deeper into what someone was trying to say. He valued everyone's opinion, and as a student that can be refreshing and encouraging." — Ashley Falzoi
"He never once judged a student for their questions, answers, mistakes, and took every opportunity to dive deeper into what someone was trying to say," Falzoi says. "He valued everyone's opinion, and as a student that can be refreshing and encouraging."
Even though his award is a major accomplishment, Neal is modest about being a recipient.
"My first response was surprise. When you see your name on the list of recipients, it's shocking," Neal says, about winning the award this year. "Many faculty, including myself, are nominated for several years in row, so receiving the award is gratifying but also humbling. I know there are so many other faculty in the department and college who are deserving of this award."
Neal is the recipient of other awards, including the Michelle Kendrick Outstanding Digital Production/Scholarship Award and the Ralph Stair Prize for Innovative Education, both in 2013. Those awards acknowledge the work he does with students on FSU's digital Postcard Archive.
The digital production award was for a collaboratively written multimedia article about its production and the innovation award recognized my creativity in building and working with students in the archive," Neal says.
Although Neal has been recognized for his other works, his teaching award "is special because it is a testament to the relationships I have built with students and the satisfaction they feel from the courses."
Even so, being nominated for or winning an award is not a primary objective for Neal.
"It's very flattering and it's a treat to be recognized with this award, but it's not what motivates me to spend the time and energy I do with my students," Neal says. "That motivation is internal and is fueled by a desire to help students recognize their potential, improve, and reach their goals."
Neal's hope as a teacher is to leave a positive impression on his students and to help them connect with and care about the material. Through projects and readings, he wants students to carry this knowledge and confidence to places beyond the classroom.
"It is very gratifying to know that students, not just during the class, but even after the semester is over and grades are assigned, would say they learned something valuable in my class, that they found the material engaging, and that they took something away from it that still matters to them today," Neal says.
Neal says the satisfaction of seeing his students learn and apply their new knowledge motivates him to deliver the best courses he can. The Undergraduate Teaching Award is special, he says, because it is a testament to the relationship he has built with students.
"As faculty we don't win a ton of awards, that's not what we do," Neal says. "The students have enjoyed the class whether I get the award or not, and I enjoy interacting with them whether I get it or not."
Marianna La Riva is a senior majoring in English, with a concentration in editing, writing, and media, along with a minor in communication.