English alumnus Neil St. John Rambana's career earns him distinction as 2021 Grad Made Good
---
English alumnus Neil St. John Rambana's career earns him distinction as 2021 Grad Made Good
By Elizabeth Chailosky
When Neil St. John Rambana was young, his mother worked as a legal secretary. As he listened to his mother talk about her job, Rambana knew then he wanted to be an attorney.
Rambana, who originally is from Jamaica, has now been practicing immigration law for the past 20 years, and he is a 2021 honoree of Florida State University's Grads Made Good award. Rambana and two other alumni were recognized for their accomplishments during the April 9, 2021, Spring Alumni Awards ceremony.
Initiated in 1974, the Grads Made Good award honors alumni who have made positive impacts in their community or chosen profession. More than 100 graduates have been recognized as Grads Made Good.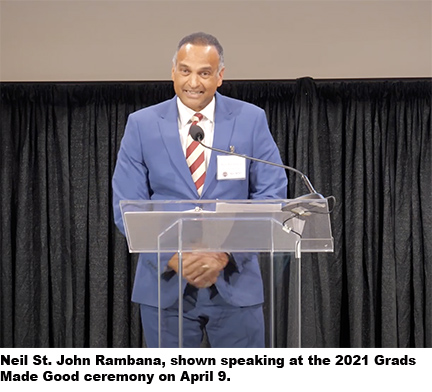 Rambana started his college education at Tallahassee Community College when he was 16, earning his Associate of Arts degree. After graduating in 1992 with  Bachelor of Arts degrees in English and political science, with a minor in public administration, he continued at FSU and earned his Master of Arts in international affairs in 1996. He then attended Shepard Broad College of Law at Nova Southeastern in Davie, Florida.
Rambana is now senior partner at Rambana & Ricci, PLLC Immigration Attorneys in Tallahassee. Rambana shares the law practice his wife, Elizabeth, and they primarily focus on deportation defense and high-skilled visas.
"I'm helping families stay together and that, to me, is some of the most rewarding work when I can succeed," Rambana explains.
As an undergraduate, Rambana says he recognized that in order to achieve his dream of practicing law, he would have to work hard in school and enroll in college courses that would best prepare him for law school.
"I needed to enroll in courses that would put me on the right track. That's why I picked political science," he says. "I was then introduced to the literature route and I just fell in love with that."
Rambana acknowledges his background in English and political science as being key for him to tackle the extensive reading and writing necessary in law school.
"Undergrad allowed me to focus on a profession that I always wanted to enter into," Rambana says. "It allowed me to meet so many people and to be involved in many different activities and organizations on campus that broadened my horizon and gave me the confidence to interact with people I didn't know."
With only $5,000 to their name, Rambana and his wife Elizabeth began building their practice and clientele in 2001. Now, the couple works to keep families together while also helping FSU's College of Law.
"We will help and assist them with their immigration projects and anything that they have that's going before the immigration court," Rambana explains.
In addition to helping immigrants in the Tallahassee community and offering his legal help to other lawyers and organizations in Florida, Rambana gives free legal advice to students from St. Maarten who are attending FSU and other colleges in Tallahassee. He currently serves as treasurer for the Tallahassee/St. Maarten Sister City Foundation, and he also regularly speaks at the FSU College of Law, where he provides aspiring attorneys with valuable advice.
Rambana's accomplishments and his contribution to the Tallahassee community, as well as the essential representation he gives immigrant families, make him a true Grad Made Good.
Elizabeth Chailosky is a double major in English, on the editing, writing, and media track, and Women's Studies.
Follow the English department on Instagram @fsuenglish; on Facebook facebook.com/fsuenglishdepartment/; and Twitter, @fsu_englishdept