English alumna Lauren Gibaldi discusses book banning issues, looking at the controversial topic as a librarian and YA author
---
English alumna Lauren Gibaldi discusses book banning issues, looking at the controversial topic as a librarian and YA author
By Madison Maley
As an author of Young Adult books, public librarian, and former high school English teacher, Florida State University English alumna Lauren Gibaldi is able to give insights from multiple angles to the recent controversy over book banning.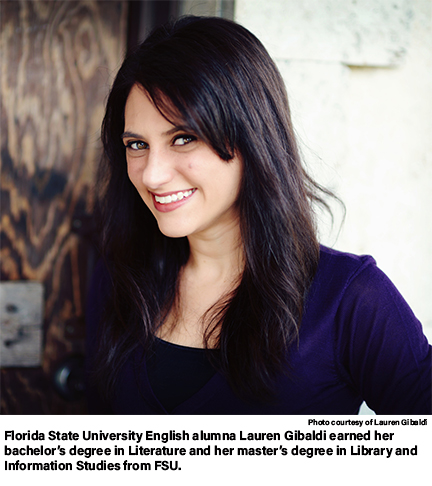 Picturing the writer behind a book as a tangible person can sometimes be difficult, but authors are often members of the communities they write about in their books. The experiences and feelings that go into their books, fiction and nonfiction alike, are windows into what it is like to live with their identities.
"Heartbroken" is the term Gibaldi uses to describe having certain works made inaccessible to student readers.
"A friend of mine wrote a memoir called Brave Face, and it's been challenged quite a bit lately, too," Gibaldi shares. "It broke my heart when talking to him about it, because they're saying not just a work of fiction is bad and should be banned. They're saying his life is [bad], because it's a memoir."
To say someone's life and the obstacles they have overcome are not appropriate for students to read feels like a personal act of judgment, she remarks with sadness. Gibaldi, who earned her bachelor's degree in Literature and her master's degree in Library and Information Studies from FSU, and others in her profession fear that students who are experiencing similar obstacles will no longer have access to those personal perspectives with a soon-to-be-enacted Florida law.
On Friday, March 25, 2022, Florida Gov. Ronald DeSantis signed HB 1467. The legislation intends to allow for more parental involvement in school libraries' book selection processes. Parents, and other community members, would have access to a searchable database of a school library's materials and, should an objection occur, the title would be removed for review. 
The complaint is reported to the Department of Education and the title is shared with other schools to consider removing as well. Children are unable to check out a title during the time taken for the review, which could be weeks or months.
Florida's legislative action comes on the heels of a similar movement in Tennessee to scrutinize books.
A county school board in that state banned Maus, the Holocaust-centered graphic novel, after a conservative parent group challenged it for being "inappropriate."
"The bottom line is if parents are concerned about something, politicians need to pay attention," said Tiffany Justice, a founder of Moms for Liberty in Indian River County, Florida, in an article for The New York Times.
Midtown Reader, a popular independent bookstore in Tallahassee, recently hosted a public discussion centered on Maus, but also book banning and the challenges of educating young readers on difficult subjects.
"We like to expose our students to challenges," said Nancy Floyd Richardson, a School for Arts and Innovative Learning educator, chronicling how her students receives thought-provoking information. The main takeaway from her comments was that students are mature enough to handle challenging subjects.
The overwhelming consensus of the discussion was that removing access to certain titles because of inappropriate or graphic subject matter did a disservice to the students. The panelists all agreed that students should be able to take in this content with the socio-political contexts an educational institution can provide.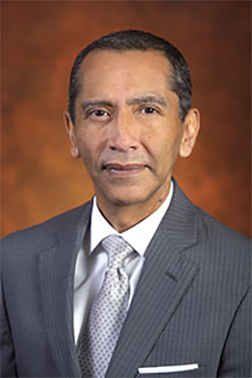 Now, as such movements to challenge library materials are spreading across the country, proponents of the new law in Florida, effective July 1, 2022, say that the allowance of community involvement in the book selection process will provide transparency in the materials available to children. Opponents fear this law will be the sanctioned silencing of literature featuring voices of racial and religious minorities and LGBTQ communities.
The differences will be noted in general knowledge as well as in critical thinking skills.

— English Associate Professor Elias Dominguez Barajas
"Removing, censoring, or withholding books from their intended audiences is tantamount to holding the latter in arrested development; no intellectual growth comes from having one's ideas comfortably confirmed instead of organically challenged," says English Associate Professor Elias Dominguez Barajas, who also is director of FSU's College Composition Program.
He believes students who go through their academic careers without access to challenging material will be left playing catch-up to students who did not suffer the same circumstance.
"The differences will be noted in general knowledge as well as in critical thinking skills," adds Barajas, who earned his doctorate degree in Language, Literacy and Rhetoric.
Gibaldi, who works in a public library branch in Orange County, describes the rigorous review process already in place that a library goes through when someone objects to a book being in a certain section—or even the library entirely. A form explaining the reason for the objection is filled out and given to the collection development librarian—the person responsible for choosing the book for the system—and a team is created to assess the objection.
"So, it's that librarian and then an assistant manager, a librarian from a branch, several people, to get like a full view of this complaint. We take everything seriously," Gibaldi explains. "They do a lot of research into why the book was there in the first place and, you know, what they think should happen [to the book after review]. And in the end, [the group] makes a decision."
Gibaldi believes an added workload of essentially re-reviewing books that have already passed the collection development librarian's standards would only further encumber the school library system, which already operates with minimal resources. (See the end of the article for a partial list of books recently pulled for review.)

Even after the "fair share" of complaints Gibaldi's library branch receives regarding books on its shelves, she doesn't believe any team, after a rigorous review, has decided in favor of the objection."
"I've been there for 10 years. And I don't remember a time that we've removed a book," she says.
Now, with the passing of HB 1467, chances of removal will likely be higher.
You know, the school library is such a phenomenal place. Because it's accessible for every kid, every kid can find something," says Gibaldi, who also is a mother of two children. With the multifaceted perspective on this issue all her roles provide, Gibaldi thinks allowing the general public to dictate the literature children have access to "is kind of scary."
Children's books are almost always the ones contested, Gibaldi says. She recalls an incident in which a patron objected to a picture book, The Hips on the Drag Queen Go Swish, Swish, Swish. The complaint stated that the book did not belong in the children's section of the library.
"It's an adorable little picture book," she says. "And the patron didn't want it in the children's section, which we [the librarians] were like, 'I'm not quite sure where we would put it otherwise.'"
Her insights are similar to sentiments shared at the Midtown Reader discussion on Maus: these pieces of literature are written for these age groups in mind. Authors take great care to tailor their words to their target audience. Librarians take great care to choose titles they believe represent perspectives from all members of their community and will be appropriately written for their students to experience such perspectives.
A lack of access to perspectives other than their own will limit the scope of students' empathy and understanding, Barajas says. But not only will this affect the emotional development of students, also their intellectual development, he adds.
Barajas and Gibaldi agree that it is important to make students aware of differing perspectives and to give them access to marginalized perspectives that may mirror their own, which can help some children feel less alone.
English Professor Celia Caputi teaches literature at FSU and shares similar opinions.
"I am not a specialist in early education, so can only speculate here," says Caputi, who earned bachelor's degrees in both Literature and Communication, and a master's degree and a doctorate degree in English before entering academe. "My gut is that some students will be less excited by reading, as they will not encounter books that excite and/or speak to their experiences and questions and curiosities."
For these and other reasons, Gibaldi reiterates her belief that parents should not have the level of influence HB 1467 allows.
"I trust my kids' school media specialists to choose books for my kids to read," Gibaldi says emphatically, citing again the need to trust in the librarians whose job is to focus on acquiring books they believe benefits their students. "The media specialists are beautifully trained, they know what they're doing, they know what they need to get."
Gibaldi recalls her friend's challenged memoir, Brave Face, thinking the book belongs on library shelves because of the representation it could provide for students. Students living a life like her friend would have had access to the shared experiences in the book, and now that feeling of being understood will be limited by the new law.
"We try to represent our entire community," Gibaldi says about books her library carries. "We want to make sure that everyone feels welcome here and feels represented here."
Madison Maley is an English major, on the editing, writing, and media track, with a minor in communication.
Follow the English department on Instagram @fsuenglish; on Facebook facebook.com/fsuenglishdepartment/; and Twitter, @fsu_englishdept
An April 26, 2022 article in The Ledger, "Florida's book bans: Which titles are being pulled from school media centers?" listed these titles that are under review.
Brevard County
Damsel by Elana K. Arnold
Forever by Judy Blume
Lucky by Alice Sebold
Monday's Not Coming by Tiffany D. Jackson
Not My Problem by Ciara Smyth
Red Hood by Elana K. Arnold
Sold by Patricia McCormick
This Book is Gay by Juno Dawson
This One Summer by Mariko Tamaki
What Girls are Made of by Elana K. Arnold
A Court of Mist and Fury by Sarah J. Maas
Crank by Ellen Hopkins
Infandous by Elena K. Arnold
Push by Sapphire
The Haters by Jesse Andrews
The Nowhere Girl by Amy Reed
Tilt by Ellen Hopkins
Triangles by Ellen Hopkins
Tricks by Ellen Hopkins
Osceola County
Out of Darkness by Ashley Hope Perez
Me and Earl and the Dying Girl by Jesse Andrews
All Boys Aren't Blue by George M. Johnson
Looking for Alaska by John Green
Pinellas County
The Pinellas County School Board pulled the LGBTQ-focused book Gender Queer: A Memoir by Maia Kobabe, after the parent of a high school student raised concerns. The School Board's review of the book found the content to be inappropriate for high school readers.
Polk County
Two Boys Kissing by David Levithan
The Kite Runner by Khaled Hosseini
Extremely Loud and Incredibly Close by Jonathan Safran Foer
Thirteen Reasons Why by Jay Asher
The Vincent Boys by Abbi Glines
It's Perfectly Normal by Robie Harris and illustrated by Michael Emberley
Real Live Boyfriends by E. Lockhart
George by Alex Gino
I am Jazz by Jessica Herthel and Jazz Jennings
Drama by Raina Telgemeier
Nineteen Minutes by Jodi Picoult
More Happy Than Not by Adam Silvera
Beloved by Toni Morrison
The Bluest Eye by Toni Morrison
Tricks by Ellen Hopkins
Almost Perfect by Brian Katcher
Volusia County
In Volusia County, a book about the life of Civil Rights activist Rosa Parks was pulled from elementary school classrooms after a teacher voiced concerns, but was returned after the district reviewed the state-approved text.
Walton County
This One Summer by Mariko Tamaki
Forever by Judy Blume
Dreaming in Cuban by Christina Garcia
Outlander by Diana Gabaldon
The God of Small Things by Arundhati Roy
George by Alex Gino
Real Live Boyfriends by E. Lockhart
Tricks by Ellen Hopkins
The Truth About Alice by Jennifer Mathieu
Extremely Loud and Incredibly Close by Jonathan Safran Foer
Dead Until Dark by Charlaine Harris
Unravel Me by Tahereh Mafi
Sloppy Firsts by Megan McCafferty
Drama by Raina Telgemeier
A Court of Mist and Fury by Sarah J. Maas
Beloved by Toni Morrison
The Hate You Give by Angie Thomas
Killing Mr. Griffin by Lois Duncan
Thirteen Reasons Why by Jay Asher
Nineteen Minutes by Jodi Picoult
The Bluest Eye by Toni Morrison
The Absolutely True Diary of a Part-Time Indian by Sherman Alexie
The Kite Runner Graphic Novel by Khaled Hosseini
Almost Perfect by Brian Katcher