English alumna Emma Moody makes the transition from undergraduate to graduate studies at FSU
---
English alumna Emma Moody makes the transition from undergraduate to graduate studies at FSU
By Jessie Colegrove
When recent Florida State University graduate Emma Moody decided to further her education and pursue a master's degree, she made a list of universities to consider.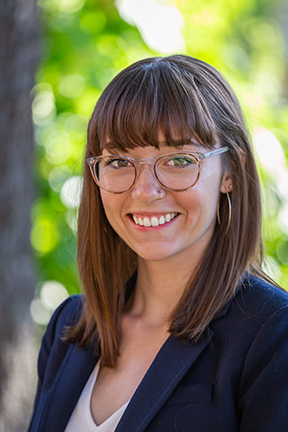 Ultimately, though, she decided to apply to only one graduate program—at her alma mater.
"The pieces fell into place for me to stay here," Moody says. "I'm so happy that I did."
Moody earned bachelor's degrees in English, on the editing, writing, and media track, and in media communication studies, graduating in May 2020 as an Outstanding Senior Scholar. She is now enrolled as a graduate student in FSU's Integrated Marketing Communications (IMC) Program through the School of Communication, which is part of the College of Communication & Information.
She says that Associate Professor Patrick Merle in the School of Communication "was a really big fan for me to stay and he's the reason why I considered going to grad school in the first place."
Due to the COVID-19 pandemic restrictions, Moody and the rest of the students and faculty at FSU have been adapting to remote learning and working. Despite the struggles that come with this change, Moody has come up with ways to help her succeed.
"A big thing for me has been setting boundaries," she says.
Shortly after getting accepted into the IMC program, Moody received an email from Kate Blosser, assistant director of marketing and special events with FSU Campus Recreation, about a graduate assistant position in marketing. Once Moody read the description, she knew this was her "dream job," and she has been balancing academics and work since the beginning of the fall semester.
"It would be easy for me to leave my employee or student email up all day, and even outside of a shift or outside of class, work on things as they come through," Moody says. "But I have to remind myself on Fridays I log into the office from 8 a.m. to noon, so that's the time I'm committing to work. That takes some self-control."
Moody took an Outdoor Pursuits trip through Campus Rec her first weekend at FSU, when she met her best friend, and Moody has since held the student-focused sports, fitness, and outdoors organization close to her heart. She currently works in her new position with Blosser to create all of the marketing content for the organization.
"Kate has been like a guiding light and the rest of the team is more than willing to help me and answer all of my questions," Moody says. "My favorite part is how much I get to do. Even early on, Kate put a lot of trust in me to start building and running with my own projects, which has been a really liberating experience for me and one that I've not really had before in a work setting."
Through the transition from being an undergraduate to graduate school, Moody says working now with a few of the same faculty members and instructors that she worked with as an undergraduate has set her up for success. She appreciates those mentors who invested themselves in her personal growth during her studies.
Particularly, Moody says Katelyn Stark, a doctoral student at FSU in Rhetoric and Composition, was a role model for her. Stark told Moody to never apologize for working hard.
Emma Moody is an exemplar student, but even more than that, she is an exemplar person. She is driven by creative pursuits that have led her to new insights and great adventure.

— Katelyn Stark
"Emma Moody is an exemplar student, but even more than that, she is an exemplar person," Stark says. "She is driven by creative pursuits that have led her to new insights and great adventure. I am so thrilled to see what she is able to create next,"
Moody also completed two courses with Associate Professor of English Michael Neal. He says the most memorable project of Moody's was a short video project she produced about enneagram tests, which reveal personality types.
"In all of her production work, I thought Emma showed a high capacity for applying the principles from class to her projects," Neal says.
This project focused on project management, structure/progression, and beginning audio and video editing. The work required primary and secondary research, filming, and editing. Neal says Moody's narrative was about coming to terms with results of her personal Enneagram test, especially the parts that she believed did not fit her or conclusions that were too universal.
"In exploring these tests further, she critiqued both their limits and her initial perceptions," Neal says. "She came to understand her own results were move favorable than she initially thought."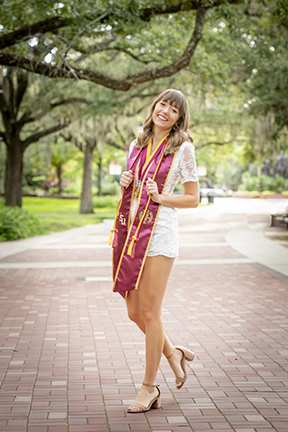 Moody says her master's program was the logical next step as an English-EWM and communication double major in her undergraduate studies.
"FSU offers one of the only IMC-specific masters programs in the country," she says. "I'm excited for the ways that this program will prepare me to step into the ever-developing field of communications and I hope to eventually work for a behavior change marketing firm."
Moody has several recommendations for current undergraduates who are considering furthering their education as a graduate student at FSU: slow down and enjoy the time as an undergraduate, and benefit from activities outside of school. She also stresses to "commit yourself, respect yourself, and apply yourself to your education because not everyone gets to pursue a college degree."
She became involved in several extracurricular experiences during her three years as an undergraduate student, including positions as a photographer and editor at the FSView & Florida Flambeau. She also studied abroad in Florence, Italy, in the Communication program.
"I think my undergrad career was this mad sprint to the finish line," Moody says. "I look back on it now and I'm like why was I rushing? What was so important for me to get to so quickly?"
Now, as she begins her next phase at FSU as a graduate student, she will continue her journey while gaining experience and making more memories.
Jessie Colegrove is a senior majoring in public relations with a minor in psychology.
*This is the first in a series of occasional profiles that highlight recent graduates from FSU's Department of English who chose to continue their studies at FSU to pursue a graduate degree.
Follow the English department on Instagram @fsuenglish; on Facebook facebook.com/fsuenglishdepartment/; and Twitter, @fsu_englishdept